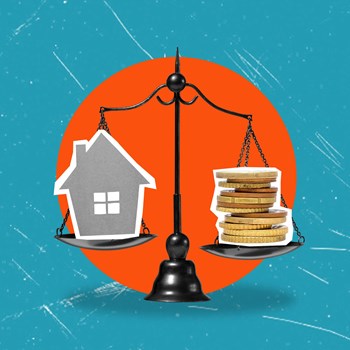 As we head into the final quarter of 2023, what factors are contributing and controlling the co-op and condo market? To a great extent, the same factors that have controlled it for the past few years: stubbornly high interest rates, the lingering effects of the pandemic, and the indefatigable desirability of the New York City and New Jersey Gold Coast markets.
Interest Rates
As economic pundits predicted, the Fed opted this week to not to raise short-term interest rates again - at least for now, though a future increase is still possible. That move, or non-move, may have conflicting effects. It may stabilize - or even slightly decrease - mortgage interest rates. It may also rattle Wall Street, which views inflation fighting as the Fed's main responsibility. But the question stands in either event: will it have any effect on co-op and condo sales?
Diana Sutherlin, a broker with Compass in New Jersey, points out that as a result of higher interest rates and seller resistance to lower pricing, "There is so little inventory, people are opting to stay put, or even rent out their homes unless they must move for work or family reasons. There are bidding wars and cash buyers, of course, as well as shadow inventory in Hoboken and Jersey City because of select high-end buildings that do not post on the MLS. Brownstones have gone up in value, too," despite interest rate pressures.
"There's always buzz around a spike in rates," says Vickey Barron, an agent also with Compass, based in New York with New Jersey experience as well. "It's absolutely a conversation that creates a pause with some buyers, but it also leads to sales. There's the sentiment that rates will go even higher, so let's just bite the bullet now. For those who want to buy and want to buy now, very little stands in their way."
Post-Pandemic Realities
"We continue to see a massive influx of people moving to Jersey City as a destination from Manhattan, Brooklyn and Long Island City," says Sutherlin of the trend that began during the pandemic. "Many people with considerable budgets are ready to sign on the dotted line - and Jersey City is so close to Manhattan without being in the city, it's the best of both worlds. Many who have rented for years have decided to pull the trigger and buy, which is happening within months of moving into high-end rentals in Jersey City and other nearby communities."
"Condos," Barron points out, "have always been in demand because of their approachability and flexibility of rules vs. that of co-ops, which often require arduous, and sometimes invasive, board packages. From the onset of the pandemic, it's been an unpredictable yet busy market. The end of the pandemic has seen non-stop bidding wars, as well as an unbelievably strong rental market. It is not uncommon for us to get several calls per week to find rentals for clients with budgets of $50,000 requesting to be in select condos. They know what they will be getting with this price tag: a home that really feels like a home with the convenience of not having to provide their entire life in the form of a board package."
The Fall Outlook
"The market is fluctuating," says Sutherlin. "Even those with more flexible budgets may now have less to work with. It's a reality many are facing, but it won't last forever. There are many buyers out there, and they're ready to pounce, so [for sellers] it is very important to listen to your broker and price your home appropriately. I warn sellers that many buyers are sticker-shocked, as their buying power is now less than it was just months ago. Many sought-after properties are sold off-market, and interest rates are playing a large factor in this. I make sure sellers understand that there are more factors now working against them. Eventually things will settle into an equilibrium. If rates ease up, more inventory will come on. There will be more buyers, more competition and more renters converting to buyers."
Barron adds that, "It's very important to put your best foot forward from the start. Invest in painting your home and staging it, and price it accordingly. There is never a market for an overpriced home, especially now. My advice is to hold on. The market is always changing and surprising all of us. That said, it should remain busy – New York will always be New York, and by extension this applies to New Jersey; there are always buyers and sellers."
The takeaway? Fall looks to be as unpredictable as the summer, spring, and winter of 2023 were.