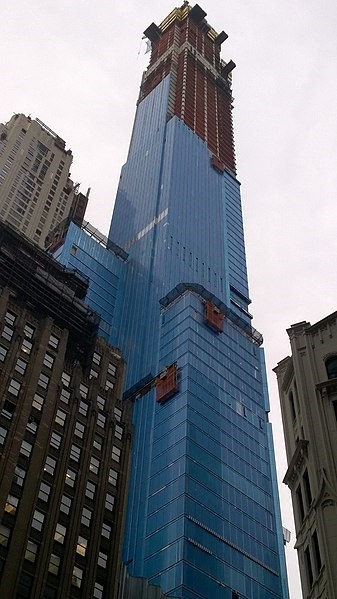 Last April, The Cooperator ran a piece about the most expensive home ever sold in New York City: a condo purchased by Dell Computers founder and CEO Michael Dell for $100 million at One57, a Central Park-adjacent skyscraper developed by Extell on what is popularly referred to as "Billionaire's Row." But if you google for "Extell" and "most expensive condo" today, this wouldn't even be the most recent hit.
"Stratospheric views, exquisite architecture, gracious layouts, and phenomenal service will make Central Park Tower one of the most prestigious addresses on earth," said Extell on its website about the development, which is expected to be completed in 2020.
According to The Real Deal, sales launched for the building's 179 residences in mid-October, with units ranging in size from 1,435 square feet to 17,500 square feet. The penthouse reportedly costs a staggering $95 million, while 20 other units each demand $60 million. Nordstrom's flagship Manhattan store will occupy seven stories at the base of Central Park Tower.
In addition to the assuredly jaw-dropping views of Central Park, the project promises 50,000 square feet of amenities spread across several floors, including a terrace for social events, indoor and outdoor pools, a gym, a basketball court, a squash court, and a screening room. The purpose of a final amenity space slated for the 100th floor is still hush-hush, but, as The Real Deal reported, the project's offering plan indicates that it may become a grand ballroom.
Adrian Smith + Gordon Gill Architecture designed the tower, with design firm Rottet Studio handling interiors.
Mike Odenthal is a staff writer at The Cooperator.