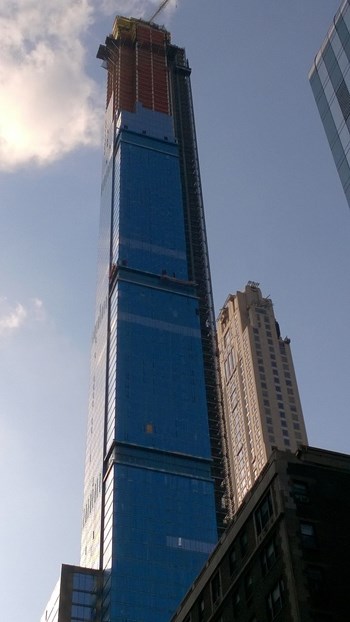 Manhattan's Central Park Tower has reached a special milestone.
Developer Extell said in a press release that its luxury condo project on West 57th Street – in the area known as 'Billionaires' Row' – has topped out at 1,550 feet, making it the tallest residential building in the world. Other reports have called it the tallest residential edifice in New York City, says Curbed, and the country, says Crain's New York Business.
The Adrian Smith + Gordon Gill Architecture-designed building consists of 179 residences ranging from two- to eight-bedroom apartments that begin on the 32nd floor and up, said Extell. The base of the building will be the home of a Nordstrom's department store, which is expected to open on October 24 of this year.
Crain's reported that prices for the building's condos range from $6.7 million for a two-bedroom residence to $63 million for a five-bedroom penthouse. The value of the apartments at Central Park Tower add up to $4 billion, earning the property the distinction of being the most expensive condo development in America
Extell Founder and Chairman Gary Barnett said in a company statement: "Central Park Tower is the pinnacle of development in New York and around the world. We would not be able to offer this level of design, quality and service without the contributions from the world's most talented architects, engineers and designers."
When asked by New York Magazine on what makes Central Park Tower a distinct New York building, co-architect Gordon Gill said: "The standards in New York are very high and so are the expectations. That leads to delicate detail and a lot of attention paid to where the columns are, the size of the glass, the proportions of the rooms, the acoustic isolation. It's not a loose design."
David Chiu is an associate editor at The Cooperator