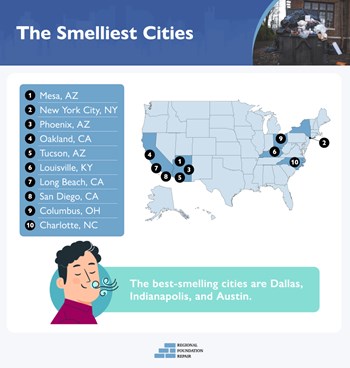 Every neighborhood - even every block, in some cities - has its own personality, its own charms…and its own issues, from lack of street parking to noisy construction sites to marauding feral cats. Whereas in decades past, neighbors might bump into each other while taking out the garbage or collecting the mail and chit chat about all of that in person, the rise of neighborhood social apps like Nextdoor, Nearlist, and others has enabled neighbors to connect and discuss (or just complain about) it in a broader, more open forum.

So what is everybody talking - and griping - about? To find out the most common complaints Americans across the country have about their neighborhoods, Delaware-based contracting firm Regional Foundation Repair recently commissioned a study that analyzed 58,735 posts and 354,972 comments on the Nextdoor app in 50 of the U.S.'s biggest cities, using the most popular neighborhood in a given city as the research focal point in that area.
Methodology
According to the report, "As diverse and unique as cities across the country are, we were able to find the most popular topics neighbors discuss, from dogs and cats to creepers and construction."
The study did that by searching for popular words found on neighborhood threads, like street, police, and found. "We also found the 13 most popular topics that are mentioned: dogs, cats, parking, cameras, traffic, noise, construction, kittens, smells, poop, barking, feral cats, and creepers," say the study authors.
"We analyzed the content of 58,735 posts and 354,972 comments published over 8 years in 50 of America's biggest cities," the authors continue. "Each city's data is represented, on average, by 1,175 posts and 7,100 comments. Specifically, we assessed the prevalence of more than 200 keywords that reflect community-wide interest in the various subjects reported.
"Users on Nextdoor are anchored to a specific neighborhood of residence, but posts on their feed are sourced from adjacent neighborhoods as well, making the sample more representative than any single neighborhood. To conduct our search, we selected a very popular neighborhood in each of the cities, as the focal point for community posts we analyzed.
"To better analyze the topics of discussion," the authors continue, "we looked at popular keywords and grouped them together into one category. For example, posts with the keywords bark, barks, barking, and barked were all put in the category 'barking complaints.' Using these categories, we were able to find out how cities ranked for each one based on the mentions of the keywords in that area."
Key Findings
The study found that pets and parking are the most-discussed topics among neighbors, regardless of region. That in itself may not be much of a shock - but New York City didn't claim a single top spot on any of the topics examined, including parking and odor complaints, which may come as a surprise to Big Apple dwellers. Some other interesting factoids:
Raleigh, NC, Oakland, CA and Virginia Beach, VA are the cities with the most barking dog complaints

Arizona has two of the smelliest cities: Mesa at #1 and Phoenix at #3 (NYC nabbed the #2 spot on this dubious list - more on that below)

Albuquerque, NM, Omaha, NE, and Tulsa, OK have the most creepers

California cities Sacramento, San Jose, and Fresno claimed the top three spots when it comes to neighbors complaining about traffic
What's That Smell?
New Yorkers looove their pups - but with pups comes poop, and the unhygienic, unsightly, and downright gross proliferation of said pet waste on sidewalks and in tree pits all over the city. According to the study, "While some neighbors may be great at picking up their pet's droppings, others tend to look the other way, leaving stinky surprises across community areas. There are also dogs and cats who roam the neighborhood naturally and do their business on people's lawns without a second thought."
And yet…poo-related chatter on neighbor apps was most common in Washington, D.C., Arlington, VA, and San Diego, CA - NYC was ranked 7th out of 10 cities. Could be that Gothamites are just inured to manure at this point - or that the residents of the abovementioned cities have yet to get on board with picking up their little darlings' sidewalk deposits.
Relatedly, the report notes that "Walking outside and taking a whiff of the neighborhood also gets people talking. As a densely populated urban area, there are many factors that can contribute to the odor that residents of the concrete jungle frequently discuss. Things like garbage, the sewer system, food and restaurants, the subway system, and food carts can all impact the city's smell."
Surely this would be the complaint category where New York City would truly shine (or reek, as the case may be), but again, NYC was literally outranked, flanked by two Arizona cities: Mesa at #1, and Phoenix at #3. (No word on the source of the winning stench in either locale.)
Jeepers Creepers
Among the topics the study analyzed was that of 'creepers' - which the authors define as "People you don't know suspiciously hanging around where you live."
Given that life in New York City is pretty much 99.9% people you don't know hanging out around where you live (and 'suspiciously' being very much in the eye of the beholder), locals may take a certain amount of pride in not even cracking the top 10 cities for creeper complaints. Indeed, the most-bothered by loiterers, lingerers, and general gadabouts are Albuquerque, NM, Omaha, NE and Tulsa, OK.
In Conclusion
While the study reveals some fascinating data points, it's every bit as interesting for what's not there: namely, New York City as a hotbed of cross-talking neighbors venting their spleen to each other about the everyday nuisances of urban living. The reasons for this could include everything from less interaction between neighbors in large apartment buildings to the time-honored NYC ethos of minding one's business. Either way, no matter where you're from, if you're in DC or Arlington…watch where you step.