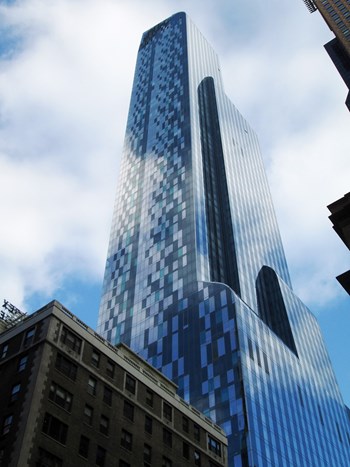 One could be forgiven for growing tired of reading about how expensive New York City real estate is. The prices trend ever upward--everybody gets it. But the curiosity of even the most cynical spectator might be piqued if he or she knew the details behind the most expensive home ever sold in the city.

Last month, it was revealed that Michael Dell, founder and CEO of Dell Technologies, had purchased a $100-million condo on the accurately-named "Billionaires' Row," an array of skyscrapers along the southern end of Central Park. Per The New York Post: "Dell snagged the ballyhooed, 11,000-square-foot duplex penthouse at 157 W. 57th St., for $100.45 million in a deal that closed in 2014, through a limited liability company, P89-90, that shielded his identity."
A Brief History
The building in question is known as One57, the first residential high-rise to clear 1,000 feet after many years of zoning and air rights maneuvers by Gary Barnett, the president of Extell, the building's developer. The property has had its critics, ranging from the preservationists who routinely bemoan the construction of yet another skyscraper, to Michael Kimmelman of The New York Times, who wrote of One57 in a 2013 piece:

"This one unravels as a cascade of clunky curves descending toward ribbons billowing into canopies. The conceit is falling water. The effect: a heap of volumes, not liquid but stolid, chintzily embellished, clad in acres of eye-shadow-blue glass offset by a pox of tinted panes, like age spots. It's anybody's guess how the building got past the drawing board."
(The address had previously gained notoriety during its construction phase, due to the collapse – and subsequent precarious dangling of – a crane in the immediate run-up to Superstorm Sandy in 2012).
Many of the building's amenities come via its attachment to the Park Hyatt Hotel, via which owners can access an indoor pool, spa, housekeeping and dry-cleaning services, not to mention The Living Room, a restaurant and lounge where you can apparently procure a $12 hefeweizen, should you be so inclined.
That Price, Again
But now back to the $100 million price tag.
For sake of perspective, there is apparently a higher-priced listing in the city as of this very writing. According to Curbed, there's a seven-floor penthouse with its own 400-square-foot, open-air observatory in the Woolworth Building that will currently run the extremely affluent buyer a cool $110 million. The next most staggering listing comes with an asterisk, as it encompasses all nine units on the 45th floor of the Atelier on 635 West 42nd Street in Hell's Kitchen. That will run a big spender $85 million. (Although it should be noted that the perks with the latter deal would include, among many things, two Rolls Royce Phantoms).
And for any needed further reference, the priciest sale of 2017 went to 432 Park Avenue, where three half-floor units sold to a single buyer at $91 million, with the intent of forming a larger,super-apartment.
A fun thing to note is that all of these apartments are worth more than the gross domestic products of either Tuvalu or Montserrat. And the year is still young, so watch out Kiribati and Nauru!
Mike Odenthal is a staff writer at The Cooperator.