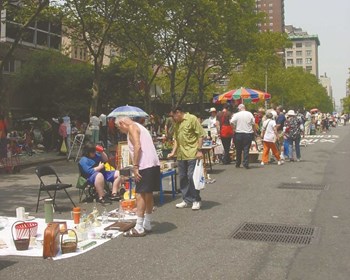 Crowded together though they may be, most co-op and condo buildings seem to operate as little communities or villages unto themselves. They have their own individual boards, residents, managers, and even their own doorman and/or security staff. What else do they need?
A few things, as it turns out. Even the most solvent, thriving co-op or condo community is not an island unto itself. For better or worse, it's part of a larger urban neighborhood—and that when they do reach out to that larger community, everyone benefits. Connecting with your building's neighbors through social programs, events, or other outreach activities can be a good way for your co-op or condo to give back to the community and improve it for all its residents. This article will explore ways that co-ops and condos have gotten more involved and contributed to their neighborhoods.
No High-Rise is an Island
With all its instability and problems, it's easy to complain about our present-day culture. However, one solution to that frustration is to get active in community service. With their sheer numbers and built-in communication systems and leadership structure, co-op and condo communities have the potential to be a significant positive force in their neighborhoods. In addition to leadership in the form of a board of directors, buildings may also have connections to the local police force and community groups, possible political ties, a physical presence in their neighborhood, and diverse groups of residents who have various talents and skills. These combined advantages give building communities some wonderful potential to get involved in improving and enriching their surrounding neighborhood.
Steve Stadmeyer, general manager of Peter Cooper Village and Stuyvesant Town, agrees. Although his development is a rental apartment complex rather than a co-op or condo community, the concept is the same. These rentals comprise 110 buildings, 11,200 apartments, 18 city blocks, and approximately 80 acres. It's one of the largest complexes in the city.
"We feel that we're very large and we can be almost an island unto ourselves," says Stadmeyer. "But we feel that it's very important that we reach out to our neighbors—not only for the stability of the neighborhood, but also just to be good neighbors."
Stadmeyer, a former Peace Corps volunteer, describes the many ways Peter Cooper Village and Stuyvesant Town has helped its residents reach out to the larger community. In partnership with Beth Israel Hospital, which is right across the street, and the 14th Street YMCA, his complex has set up multiple programs.
"We've formed a community health alliance with the hospital and the Y and tried to reach all demographics and age groups," explains Stadmeyer. "One of the programs that Beth Israel does is more geared toward the older age group, so we make arrangements with the hospital for visiting nurses to come in. And we've made arrangements for social workers to come in to explain different types of programs that anyone can avail themselves of, but especially seniors. A lot of times we find in our buildings people will kind of age in place—as the neighborhoods get gentrified, their neighbors move out and the new people coming in are younger. The older people can sometimes begin to feel kind of alone and isolated. So we've tried to offer services that get them help when they need it."
Another outlet that helps residents find opportunities for good works is the Favors for Neighbors program, which pairs high school or college students with older folks who might need a helping hand opening mail, running errands, and so forth.
In addition to working with local entities to provide residents with necessary services, Peter Cooper Village and Stuyvesant Town also have made financial donations to local parks and joined the boards of local organizations in order to keep their hand in what's happening in the local community.
"We've made a conscious decision to reach out to the community," says Stadmeyer. "We try to take advantage of our size, and I think all of our programs are very unique."
Small Ways Work Too
Katy Bordonaro, board president of West Village Housing—the WVH Housing Development Fund Group—tells a similar story. Her co-op in Greenwich Village only recently converted to co-op from a rental community. As such, Bordonaro says that they've "been focusing—and rightly so—most of our energy on ourselves."
Having said that however, Bordonaro goes on to list the many ways that she and fellow shareholders have reached out to their surrounding community.
"Greenwich Village has an incredible history of community activism and political involvement," she explains. "Many of us are involved. We have shareholders who are active in block associations, local political clubs, different grassroots advocacy organizations around issues of landmarking, parks, or the general issue of affordable housing. We are an affordable housing cooperative and started as an affordable housing rental."
So, while the board of directors has not had enough time yet to turn its attention outward into the neighborhood at large, individual shareholders have been leading the way by being involved and engaged in the community for years, according to Bordonaro. She herself has been a community activist for over 10 years.
"It's our neighborhood and we want it to look good," she says. "A lot of us have attended rallies. One issue has been the historic districting. Everyone believes that Greenwich Village was protected by the landmark law, but it wasn't. So a lot of our residents on an individual basis have participated in those events. We're proud of these achievements and being able to have an impact on the community in which we are so deeply embedded."
Another, more visual way of reaching out to the local community, as well as bonding together as a cooperative, is WVH's annual street sale. Each year, they take over a stretch of sidewalk and put out tables for each family to sell unwanted items. At the end of the day, they donate unsold items to the local hospice.
"Everyone can feel good about what they've done that day," says Bordonaro. "Not only did families clean out their closets, but also what they didn't sell was being donated to a very worthy cause."
In addition to the sales generated and items donated on that day, the street sale is also a great opportunity for community outreach on a more political scale. One year, the cooperative (which at the time was still a rental) set up a table with a petition to the mayor that pushed for historic districting.
"This is a little more informal, but it works for us," she states. "It's a tradition that makes everyone feel positive about where they live. It's very community-building for us and it's a community outreach as well."
"In Greenwich Village, it's very easy to get involved. I could go to three meetings every night. With New York City's community board system, we have a place where we can come and talk about issues and then bundle up resolutions to send to city government. You know, 'We need more police officers, thanks for cleaning up our parks, we have nightlife issues,' whatever. You can get a real insight into the life of a neighborhood through these meetings."
Village Within a City
Another cooperative development that operates with the mindset of treating both its residents and the surrounding area with care and concern is that of Penn South, or more officially, the Mutual Redevelopment Houses, in Chelsea.
This co-op runs between 23rd and 29th Streets between Eighth and Ninth Avenues, and is made up of 2,820 apartments and approximately 4,000 to 5,000 people.
"It's like a small city within a city," reports Brendan Keany, Penn South's general manager. "We are unique by virtue of our size and have done many things. For example, our board is involved in an organization called the Coordinating Council of Co-ops (CCC), in which we have sister members throughout New York City and the five boroughs."
The CCC allows cooperatives to work on legislative issues and get laws passed pertaining to this type of housing, says Keany. In addition to this affiliation, Penn South members aligned themselves with a number of other local organizations in a united front against the West Side Stadium project.
Additionally, Penn South is active in their local police precinct, with a number of shareholders attending the 10th Precinct Community Council that meets monthly. This allows shareholders to bring local community problems to the precinct on the spot, according to Keany, "[As well as] giving them face time with the powers that be and the local police department."
"We have a security force that can be helpful in getting information to them on a neighborhood level," he says. "We have a very close working relationship."
Similarly, Penn South board members get involved in the local community board, which allows them to air their opinions on developmental issues occurring in the neighborhood.
Penn South's community involvement extends beyond local activism as well. The co-op supports the Hudson Guild, which was set up around the turn of the century as an organization that provides social activities for less privileged children in the community.
"Penn South has always been a supporter of the Hudson Guild and has helped them in fundraising activities," says Keany. "We feel that this organization complements our community because then people realize that we are good guys—we have a social conscience and care about our neighbors."
More recently, Penn South took on a new endeavor. Coordinated by Bronx-based non-profit organization Per Scholas, the Community Computer Collection Project conducts collection and recycling events at buildings and developments throughout the city. Per Scholas refurbishes salvageable computer hardware, software and related components, then makes them available to low-income New Yorkers. In addition the organization educates and trains computer technicians. Tuition and materials are free, and nearly 80 percent of the graduates, many of them from disadvantaged areas themselves, are able to find employment.
Per Scholas held a collection event at Penn South in July 2006. The response from residents was overwhelming—some had held on to old computers or VCRs for 10 years, unable to fathom the idea of tossing away a still-useful piece of machinery. Penn South recently announced several initiatives to further efforts to make the cooperative a "green" community.
And it's that sense of community consciousness and outreach that can strengthen the social fabric of both buildings and their surrounding neighborhoods, creating a tight-knit village atmosphere, even in the heart of the big city.
Domini Hedderman is a freelance writer and a frequent contributor to The Cooperator.