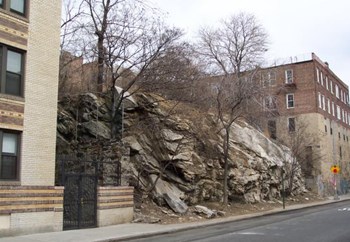 Along with other major criteria (location, square-footage, 'light,' 'air,' etc.) a good view from one or more windows can be a big selling point for an apartment. In fact, many a buyer has purchased their unit based on the view. Some will even boast about their view of say, the Hudson River, when one would literally have to climb out the window and be held by the legs to actually see it. Views are a big deal, no question – but is your view a part of your property rights? Can the owner of an adjacent lot construct a building that would affect or eliminate your view without regard? Clearly, such an action would affect the value of your unit – but whether you have any recourse against it can be a complicated question.
The Case the Cooper Street Rock
One case in point is the Cooper Street rock, located along Cooper Street in Inwood in upper Manhattan. Upper Manhattan – encompassing Inwood and adjacent neighborhoods Washington Heights and Morningside Heights – displays a unique geology that often includes large basalt outcroppings. One such 'bump' can be found at 184th Street and Overlook Terrace. The rocky neighborhood fixture resembles a small cliff that's been plunked down in the middle of an otherwise bustling urban block; its craggy face dotted with scrub brush and small, hardy trees. Birds flit from branch to branch, and the shareholders of an adjacent co-op at 60 Cooper Street have established a community garden next to the rock.
More than a decade ago, a developer attempted to excavate the site, remove the rock, and build a luxury condominium property in its place. The Great Recession ended that project, but the Cooper Street Rock is again in the sights of developers looking to hurl a Bronx cheer at nature and defy the odds to bring urban progress to a defiantly rural neighborhood feature. In this case however, it's not economic catastrophe that's standing in the way of developing the site; it's the owners at 60 Cooper Street, who contend that new construction there would cost them their light, air, and views.
Much has been written about the effect that removing or altering the outcropping and then building next to, or on top of it would have on the neighborhood as a whole and specifically on the residents of 60 Cooper. The broader question for co-op and condo owners that the dispute raises is whether their basic property rights extend to their light, air, and views.
Jeff Reich is a partner at Manhattan-based law firm Schwartz Sladkus Reich Greenberg Atlas, specializing in real estate law. "The answer to the question," he says, "is that property owners do not have an implied easement – or right – to light and air, which is one of the reasons waterfront property is so valuable. So unless the owner(s) or prior owner(s) of 60 Cooper Street obtained a written easement of light and air over the Cooper Street Rock parcel, a developer of that parcel would be free to construct whatever the NYC Zoning Resolution and Building Code would allow."
That, of course, is applicable to 'as-of-right' construction. Should the purchaser of the lot occupied by the rock desire a variance to build anything outside that for which it's explicitly zoned – more height, for example, or a different intended use – they would have to apply to the neighborhood community board for that variance. The board would then hold a public hearing and entertain arguments from neighborhood residents both for and against the request. The residents of 60 Cooper Street could protest the proposed building at that hearing, but doing so makes no guarantee they would be able to stop its construction.
The battle over the future of the Cooper Street rock is ongoing, and will likely take more twists and turns before it's resolved, one way or another. In the meantime, the debate serves as a reminder that in New York City, the urban landscape is continually growing and changing; it's a fact of life here. So when you buy an apartment or into a co-op, don't assume the light, air and view will remain the same forever – and make sure you know where your lot line is relative to your windows.