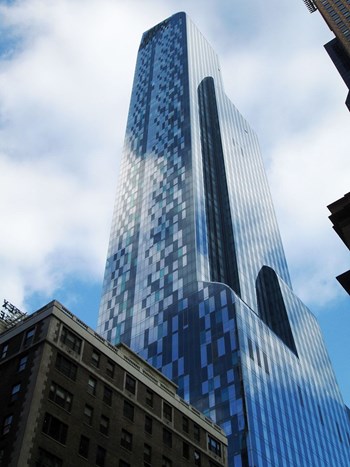 As reported by the Commercial Observer in January of this year, Elliott Management Corporation and GFI Capital Resources Group acquired the Parker New York hotel for $420 million, with hopes to renovate and add 67 condominium units to the hotel's existing 729 rooms. The new apartments will be available starting at $1.5 million -- a relatively low price point for Manhattan's 'Billionaires Row,' an area known for its ultra-luxury high-rises (It's also where hedge fund billionaire Ken Griffin recently bought what is considered the most expensive home in the United States, to the tune of $238 million).
The Parker's comparatively modest pricing may be prescient. According to a recent estimate by real estate appraiser Jonathan Miller, over 40 percent of the condo units on Billionaires' Row currently remain unsold. And these vacancies aren't all in brand-new, just-finished buildings; sales at One57, the city's first supertall residential skyscraper, launched in 2014, yet 48 of its 132 units linger on the market. Somewhere between $5 billion and $7 billion worth of available inventory remains unoccupied among six other nearby buildings, some with vacancy rates as high as 80 percent.
Real estate agent Dolly Lenz told the New York Post that she blamed the slump on exorbitant prices, and also cited construction, financing, marketing, and developers' contracts as factors: "When people come here from other parts of the country and from around the world, the first thing they want to see is Billionaires' Row. We toured them through the properties but many felt they were too pricey for the market — $7,000, $8,000 and $10,000 a square foot."
Gimme Shelter
Anemic condo sales aren't the only issue on Billionaires' Row; the people living in the area are dealing with another sensitive, citywide issue.
In late April, Manhattan Supreme Court Judge Alexander Tisch approved Mayor Bill de Blasio's plan to open a homeless shelter at the converted Park Savoy Hotel on 158 West 58th Street. Locals rallied via the West 58th Street Coalition in objection to the shelter, alleging public safety concerns and a lack of environmental review.
In a statement on its Facebook page last year, the opposition group posted: "While we understand the need to shelter the city's homeless, we believe the residents on our block deserve to be consulted before one of our buildings is filled with recently released parolees." Construction was halted by an appellate judge in late December to investigate complaints.
Ultimately, Tisch ruled that "The decision to open a homeless shelter at the premises has a rational basis and is therefore not arbitrary and capricious."
If all goes as planned, the shelter is expected to house 140 single men adjacent to One57 -- where coincidentally, billionaire Michael Dell purchased a $100 million penthouse. At the time, Dell's acquisition was the most expensive home in the Big Apple, before Ken Griffin's landmark purchase broke the proverbial bank.
Mike Odenthal is a staff writer at The Cooperator.