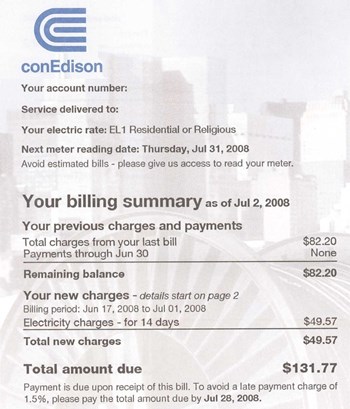 With the constant rise in energy costs, the use of "peak generating plants" and increased individual energy consumption, we are seeing a direct impact on our monthly electricity bill. According to Con Ed, July 2008 set a new record of 6.7 billion kilowatt hours, or approximately 350 kWh hours per customer. Going forward it will cost more and more to light, heat, cool, and live in our homes. What can we do to lower our bill, become more energy efficient in our homes and essentially become more "green"?
Rising energy costs are largely out of our control, but reducing energy consumption through conservation can offset these increasing costs and lower your energy bill. The most important step to conserving energy is to first understand the amount of energy you use and how you are being charged for it. Go and get your last few Con Edison bills to refer to as we go through how energy is used and charged. Con Ed's electricity charges are divided into two parts; supply charges and delivery charges, with the details of each broken down on your bill. Don't be afraid to call Con Ed to ask about rate increases or to clarify anything you don't understand
I recently had cause to call them when my electricity bill increased by more than 50 Percent in just one month. According to the Con Ed customer representative, my increase was part of a 22 percent raise in energy costs from last year at this same time, normal augmented summer use (fans/AC), a jump in price of kilowatts per hour (kWh), and the $4.25 rise in delivery charges per household. All these factors are contributing to the fact that "total spending on both electricity and energy is at a record high," according to Mark Zandi, chief economist at Economy.com.
Supply Charges
The supply charge is the cost for the energy you actually use. Electricity usage is measured by kilowatts per hour or kWh. One kWh will light a 100-watt bulb for 10 hours. Appliances list their respective wattage on them or use the US Department of Energy's "Typical Wattages of Various Appliances," found on their website, for average wattages and a formula to estimate energy consumption. Your kWh used multiplied by your rate constitutes your supply charges and are billed by an ESCO, (energy service company), who supplies electricity to customers. Traditionally, New Yorkers get electricity supplied and delivered by Con Ed, but you can choose to have another company supply your electricity.
The supply charge is also comprised of the merchant function charge, GRT (gross receipt tax) and other tax surcharges. The latter is basically a tax on a tax. The above combined with your usage makes up your total supply charges. The majority of supply charges are directly tied to usage, so as you conserve more energy you pay less.