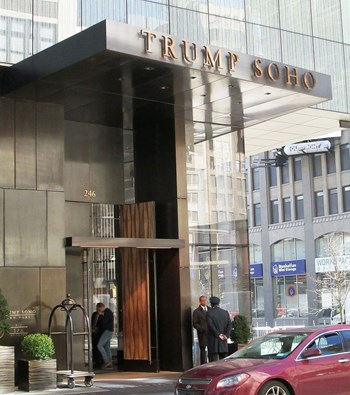 The Trump Organization will divest itself from a controversial and struggling luxury condominium-hotel in SoHo that carries its namesake, according to several media reports.
The Trump Organization doesn't own the property; a California real estate investment firm called CIM Group pays the Trump Organization for the licensing and management fees, and in exchange the Trump Organization handles the condo-hotel's day-to-day operations. CIM Group took over the property three years ago following a foreclosure auction.
The Trump SoHo development was first announced by Donald Trump on a 2006 episode of his reality TV show The Apprentice. Since then, the project has generated controversy over the years. Before Trump SoHo's opening in 2010, critics argued that the structure would violate zoning rules. In 2008 as construction was underway, a worker was killed in an accident after falling 42 stories.

In 2011, a group of Trump SoHo condo buyers filed a lawsuit to get their deposits back, claiming that Donald Trump, his children, and others "had inflated sales figures in what turned out to be a struggling project," according to the Times. Those buyers were ultimately paid back 90 percent of their deposits (The issue was being built into a criminal investigation involving Trump's children, Ivanka and Donald Jr., but it was later closed).