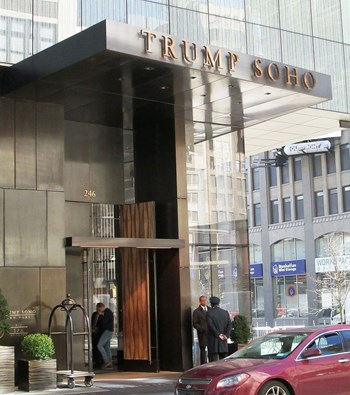 The Trump Organization will divest itself from a controversial and struggling luxury condominium-hotel in SoHo that carries its namesake, according to several media reports.
The Trump Organization doesn't own the property; a California real estate investment firm called CIM Group pays the Trump Organization for the licensing and management fees, and in exchange the Trump Organization handles the condo-hotel's day-to-day operations. CIM Group took over the property three years ago following a foreclosure auction.
The Trump SoHo development was first announced by Donald Trump on a 2006 episode of his reality TV show The Apprentice. Since then, the project has generated controversy over the years. Before Trump SoHo's opening in 2010, critics argued that the structure would violate zoning rules. In 2008 as construction was underway, a worker was killed in an accident after falling 42 stories.

In 2011, a group of Trump SoHo condo buyers filed a lawsuit to get their deposits back, claiming that Donald Trump, his children, and others "had inflated sales figures in what turned out to be a struggling project," according to the Times. Those buyers were ultimately paid back 90 percent of their deposits (The issue was being built into a criminal investigation involving Trump's children, Ivanka and Donald Jr., but it was later closed).
The Trump SoHo project has also been linked to Felix Sater, whom CNN described as a "Russian ex-con" involved in the licensing deal that spurred the development. The Times reported that Sater had lobbied for a Trump Tower in Moscow during Donald Trump's presidential bid.
There were also reports that the condominium-hotel had been struggling to attract business, leading it to reduce room rates; Koi Restaurant, which occupied part of the building's ground floor closed at Trump SoHo this past June.
According to NPR, "Owners of units [at Trump SoHo] can only live in their properties for a certain amount of time each year" (Zoning laws prohibited the property, which is located near the Holland Tunnel entrance ramp, to become a residential tower). Condo sales at Trump SoHo were also reportedly experiencing a slowdown as well.
CIM executive Bill Doak said in a statement, as quoted in the Times: "Under the seasoned management of the Trump Organization, the hotel has been established as one of the finest in New York City with recognition among top critics, including CondeNast Traveler Magazine and Forbes Travel Guide. We recognize and sincerely appreciate their contributions to this exceptional asset and the strong working relationship we have with the Trump Organization."
David Chiu is an associate editor at The Cooperator.