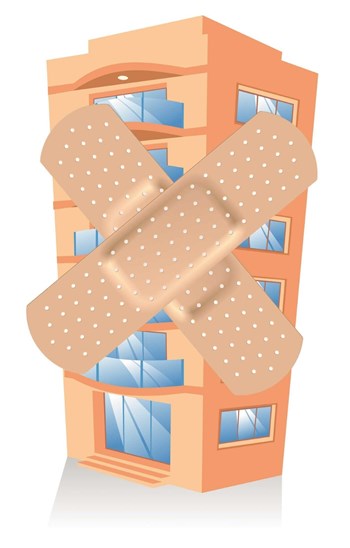 For most people, few things are as stressful—or exciting—as buying a new home. That can be especially true for buyers and residential unit owners who sign up to be among the first residents in a newly renovated or constructed condo or co-op complex. There is the smell of the fresh paint, the shiny new stainless steel appliances, the untouched bath tiles and pristine hardwood floors— nothing quite beats that feeling of knowing that such a beautiful space is ours.
For some new residents, though, that initial rush of ownership ends way too soon, when the flawless façade turns out to hide sometimes devastating construction defects.
We read about it in the papers and hear about it from friends and acquaintances. Nearly everyone has heard at least one horror story about a new building with an impeccable appearance that hides bad plumbing, the condo in Williamsburg that suffered from serious roof leaks, a Third Avenue condo that had buckling floors, water leaks and other problems, the Upper West Side condos with subpar windows that wouldn't open properly or new buildings that just simply did not stand up to daily wear and tear. What happens to the unit owners and shareholders who find themselves in the midst of these problems and what should be done to avoid the situation altogether? As with anything, it's all about looking before you leap—or in this case, sign financial documents that could hook you for thousands and even millions of dollars for a product simply not worth it.
The Test of Time
We've all heard the saying: they just don't make 'em like they used to. That's how Wayne Bellet, owner of the Manhattan-based Bellet Construction Co. Inc., describes the evolution he has witnessed in the building trade over the years. "I've lived in freshly built construction and now live in a postwar building and I've worked in all different variations thereof, including a church that is well over 100 years old," says Bellet, whose firm specializes in maintenance, repair and restoration of residential, commercial and industrial properties throughout New York City. "They don't build them like they used to. I visit buildings with roofs that my grandfather put on and they are still existing almost 100 years later." That longevity is rarely found today where cost and quick turnarounds are such huge factors.
Roofing, for example, used to have fail-safes built into it, Bellet says. He describes a process called Built Up Roofing or BUR, which involved laying down layers of tar, then felt, then tar and felt, then tar and slag. "The redundancy of that system was so good that if any of these layers went bad, it had the next layer to back it up." Today, he adds, "no one does the multiple ply anymore. It's all single ply." That means most roofs today only have 30 millimeters worth of protection from the elements versus layer upon layer of protective materials.