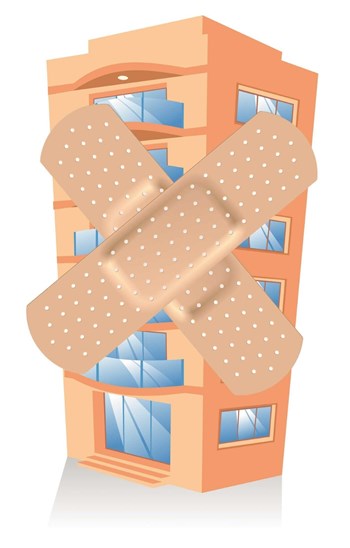 For most people, few things are as stressful—or exciting—as buying a new home. That can be especially true for buyers and residential unit owners who sign up to be among the first residents in a newly renovated or constructed condo or co-op complex. There is the smell of the fresh paint, the shiny new stainless steel appliances, the untouched bath tiles and pristine hardwood floors— nothing quite beats that feeling of knowing that such a beautiful space is ours.
For some new residents, though, that initial rush of ownership ends way too soon, when the flawless façade turns out to hide sometimes devastating construction defects.
We read about it in the papers and hear about it from friends and acquaintances. Nearly everyone has heard at least one horror story about a new building with an impeccable appearance that hides bad plumbing, the condo in Williamsburg that suffered from serious roof leaks, a Third Avenue condo that had buckling floors, water leaks and other problems, the Upper West Side condos with subpar windows that wouldn't open properly or new buildings that just simply did not stand up to daily wear and tear. What happens to the unit owners and shareholders who find themselves in the midst of these problems and what should be done to avoid the situation altogether? As with anything, it's all about looking before you leap—or in this case, sign financial documents that could hook you for thousands and even millions of dollars for a product simply not worth it.
The Test of Time
We've all heard the saying: they just don't make 'em like they used to. That's how Wayne Bellet, owner of the Manhattan-based Bellet Construction Co. Inc., describes the evolution he has witnessed in the building trade over the years. "I've lived in freshly built construction and now live in a postwar building and I've worked in all different variations thereof, including a church that is well over 100 years old," says Bellet, whose firm specializes in maintenance, repair and restoration of residential, commercial and industrial properties throughout New York City. "They don't build them like they used to. I visit buildings with roofs that my grandfather put on and they are still existing almost 100 years later." That longevity is rarely found today where cost and quick turnarounds are such huge factors.
Roofing, for example, used to have fail-safes built into it, Bellet says. He describes a process called Built Up Roofing or BUR, which involved laying down layers of tar, then felt, then tar and felt, then tar and slag. "The redundancy of that system was so good that if any of these layers went bad, it had the next layer to back it up." Today, he adds, "no one does the multiple ply anymore. It's all single ply." That means most roofs today only have 30 millimeters worth of protection from the elements versus layer upon layer of protective materials.
Sometimes the newer, cheaper, more accessible materials that have found their place in today's building market lack the staying power and quality of materials past. Bellet cites the example of EIFS or Exterior Insulation & Finishing Systems found in many residential condos. There were many EIFS cases in New Jersey, and it was quite prevalent throughout the country. "It's basically Styrofoam with stucco and wire mesh," Bellet says. "You could put your hands through it." The polystyrene of which it is comprised "are giving off fumes as they get older." All of this causes concern for homeowners who may find themselves coping with environmental fallout from less than exemplary materials.
Another nationwide issue concerns Chinese drywall. More than 2,100 U.S. homeowners have filed federal suits claiming their homes were damaged or ruined by defective drywall that gives off noxious odors and chemicals that can corrode wiring, plumbing and heating equipment. Most of the plaintiffs resided in the South, although a few instances have been reported in the Northeast.
Bellet says the question of workmanship is a big factor in the dissatisfaction of some property owners. In the rush to get buildings made quickly and cheaply, "everyone is overworked and underpaid these days," Bellet says. "When I pull up to a building and see it's a modern design built within the last ten years, I know there's going to be some problems. People hire the cheapest architect who gives it to the lowest guy in the office who gives it to the cheapest general contractor and so on."
And sometimes with new buildings, it's a matter of working out the kinks in the system. Water damage is among the most common issues, says Vincent Hager of JGS Insurance based in Holmdel, New Jersey. "During the course of construction, a pipe may get nicked by a nail or a fitting was installed improperly and the water break my not present itself immediately," he says. "We also see some water claims from refrigerator water lines that get crimped or installed incorrectly and cause water damage to the floors."
Professional engineer Peter Varsalona of Manhattan-based RAND Engineering & Architecture, tells Brick Underground, a real estate website, that the top most common construction-related defects are: 1) water leaks, 2) windows that do not work, 3) sloppily installed or defective wood floors, 4) inadequate or missing fireproofing, 5) bad ventilation, 6) heating and cooling problems, and 7) inferior material substitutions.
Avoiding the Problem
No one wants to deal with the headache of construction problems, especially after the papers have all been signed and the furniture delivered. The best way to avoid the issue entirely is to check, check and then check again to make sure that everything in the unit and the building is in order before the purchase is made. First, it's important to know what to look for and what questions to ask. "It's buyer beware," says Bellet. "Call every friend and family member who has gone through this experience and everyone you know who's experienced some nightmare of construction. Ring the alarm and say, 'We need help and we need opinions.'"
Bellet then suggests calling a general contractor and service providers you think you may want to approach later for renovations or any areas you might be worried about. "Call the people you think you're going to want to use before you buy the property," he says. He has fielded calls from prospective property owners who want him to come out and take a look at a roof before they buy. "A little pre-emptive work goes a long way." Varsalona also suggests you might want a licensed professional engineer to survey or inspect the building before it's too late.
Attorney C. Jaye Berger of the Law Offices of C. Jaye Berger, a Manhattan-based firm specializing in construction-related issues, agrees. "Have an architect come by so you know if there is anything that needs to be taken care of before closing," she says. "If you know beforehand, you can put it in the contract that these are things that need to be done." Or, if you have to close before those issues can be resolved, put it in the contract that those problems must be fixed within a certain amount of time. Bargaining before the papers have been signed, however, provides the most leverage for the buyer. The sellers "are not dying to have your money after closing," Berger says, and that's where buyers lose their prime motivational power.
It also helps to have thorough inspections so that even if there is no existing or immediate problem, any future potential problems can be documented. Berger recalls an instance where she suggested that a client have an engineer come in to examine evidence of past water damage. While the problem had been corrected at the time of the purchase, "it turned out to be an indication of a later problem but we had it documented."
When it comes to insurance, unit owners and shareholders should be diligent in understanding coverage as well, just in case an issue arises. Hager suggests obtaining "a fact sheet from the board or association's insurance agent. This document should spell out who is responsible to insure the interior of the units and to what extent the association's policy will cover interior damages. Even if the building policy insures what is known as 'single entity' insurance, which includes the interior walls, fixtures and cabinets if they were original standard options by the developer, the unit owner needs to purchase their own insurance."
When it comes to buying property, it is important to be extra vigilant these days, especially given the costs involved in purchasing prime new real estate. "Today you need to be sharper than ever," Bellet says. In this economy, people "are dying to get rid of properties." And while everyone loves to get a good bargain, Bellet adds, "you get what you pay for in real estate."
Berger agrees. If a buyer feels any reluctance at pushing for inspections or assessments by his or her team of professionals, they need to remember what an enormous investment they are about to make. "You have to put aside any inhibitions you have before you sign that million dollar check."
Turn to Your Advocates
Even if a buyer covered all the bases and did all the right things before purchasing their new property, the law of averages suggests there's always still a possibility something was missed and a problem still could arise. Should that happen, it's important to know where to turn.
"If the developer is still involved in the community, then I would definitely recommend (the unit owner) approach the developer first," says Hager. "They should notify the association manager, if there is one, and have them reach out to the developer. The damage may be the result of a construction defect or faulty workmanship by a subcontractor that the developer will want to address immediately."
If, however, the developer is no longer active in the community or if they do not respond in a timely manner, "then the manager should go through the association's insurance, if it is a condominium-style community. Some policies will only cover to the sheetrock within the units of a condominium so the unit owner should also notify their condominium unit owner's policy." Any construction defects and maintenance issues are specifically excluded from the unit owner policy as well as the association's insurance policies, Hager says, so these items would have to be addressed directly by the developer.
If problems are still ignored, it may be time to contact an attorney who can advise on options specific to the unit owner or shareholder's issue. If it is something that affects whole areas or floors of the building, there may be value in neighbors talking to an attorney about approaching the developer or sponsor en masse. Finding an advocate who will work on behalf of the property owner can make all the difference.
For most people, the dream of moving into a bright, shiny and gorgeous new apartment will end up being exactly what they hoped for. It never hurts, though, to be prepared and know how to protect oneself from those rare instances when that dream of home-ownership may start feeling like a nightmare.
Liz Lent is a freelance writer and a frequent contributor to The Cooperator.