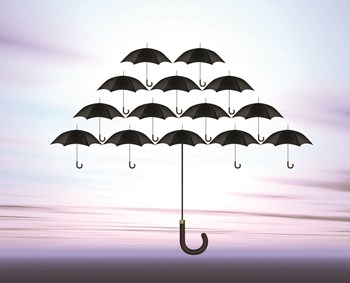 In August 1986, a Time magazine cover proclaimed America, Your Insurance Has Been
industry was in the midst of what was called a hard market. Policies were being canceled or non-renewed and premiums were escalating at an alarming rate for all businesses. Manufacturers were hard pressed to find insurance to cover their products at any cost. The Federal Government intervened and created the 1986 Risk Retention Act. This allowed groups of related businesses that were unable to obtain liability insurance through standard markets to form either Risk Retention Groups or Risk Purchasing Groups to provide for their liability insurance needs.
Since 1990, several risk purchasing groups have been formed and filed in other states and now insure co-ops and condos in New York. Although these programs are supposed to provide liability insurance only, most programs include property, crime and umbrella liability coverages.
The debate within the insurance industry as to the long-term validity of these programs is a hot topic for which, at this time there are no concise answers. The large wholesale insurance brokers that form the groups will attest to the comprehensive coverages that are afforded at premiums usually lower than individually designed insurance policies. Others in the insurance community point to the fact that Risk Purchasing Groups are loosely regulated by the New York State Insurance Department, and not covered by the State Indemnity or Guarantee Funds.
These groups are bad news, says Gene Danko, branch manager of The Utica First Insurance Company. According to Danko, coverages are put together in layers, with different insurance companies having responsibility for different layers of coverage. One insurance company may insure the first $100,000 of coverage, a second company the next $900,000, a third the next $10 million and so on.
Sounds great, but what happens when one of the insurance companies has had enough, and pulls out of the program? Danko asks. The public has three years to sue in New York (six years if a minor is involved) and who knows if there is going to be coverage when insurance companies are playing musical chairs without strict governmental regulation?
Insurance agents who specialize in co-op and condo insurance have mixed feelings regarding the Group Programs. Barbara Strauss, vice president of the Owens Group in Englewood Cliffs, New Jersey claims each building she underwrites and bids on is judged on its own merits as a risk. If the building and the association itself are good risks, there is no reason to consider a group program. I'll get them the premium credits they deserve from one of our companies which will be competitive.
Carla Vel, senior vice president of Distinguished Properties Insurance Brokerage in Manhattan, utilizes both individual policies and group programs when it serves the best interests of her clients. She admits she likes the flexibility and custom-designed coverages in group plans and she illustrates group programs when the premium savings are significant. According to Vel, it is her responsibility to present what coverages are available and at what premium, and to explain the pro's and con's of each. The board of directors will make the ultimate decision, she says.
A much gloomier picture is painted by Charles Weisblum, chairman of ffb Barkly Coverage Corp., the managing general agent for The Great American Insurance Company. Every building and association should have its own insurance policy to review, with coverages clearly outlined and limits clearly listed. He explains that group programs only issue certificates of insurance to insureds. Can you imagine any business paying thousands of dollars for the right to hold a piece of paper, with no policy language, or terms and conditions? It's crazy.
However, the insurance market in New York City for habitational buildings has tightened and premiums seem to be rising. The insurance companies that specialize in co-op and condo insurance are more selective than ever, which makes the group programs' lower premiums more attractive. It's a Catch 22 situation, explains Steve Mock, president of Steven Mock Associates in Huntington, New York. He states that the individual companies will bid aggressively for good buildings, which leaves the group programs (which don't underwrite as carefully) to write poorer risks. Groups are going to get a disproportionate number of poorer risks, says Mock. Most insurance agents admit they must write some buildings in group programs. Says one agent, I always try to place building insurance and basic liability in an individual policy, and then write an additional overlying $50 million umbrella liability policy. He claims that co-op boards only see the bottom line. You can show a lot of coverage for a small premium, in a group plan...besides if I don't someone else will.
Group Purchasing Programs were created in response to a crisis almost ten years ago and their popularity continues to grow, offering large limits of insurance at a lower cost than most individual policies. But the consensus is that there is going to be a fallout. Maybe when a natural disaster occurs, says Weisblum. Think about a monster hurricane rampaging up the East Coast, and before it arrives in New York, the limit of insurance for the entire group program is exhausted. The fallout from something like that is incalculable, and it could happen, according to Weisblum. So now more than ever, boards of directors and managing agents should heed the advice, Let the buyer beware, and purchase their coverage accordingly.
Mr. Mackoul is president of Mackoul & Associates, an insurance agency specializing in co-op and condo coverage.