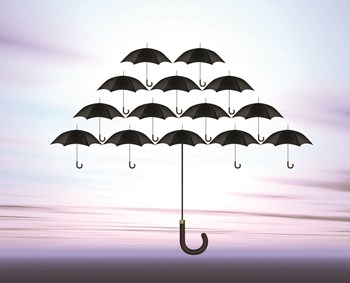 There is power in numbers, as the old saying goes - and that goes double for co-ops and condo buildings that are pooling their collective resources to reduce insurance costs under an umbrella known as a Risk Purchasing Group.
The idea of protecting a group of similar businesses under one insurance policy emerged in the mid-to-late 1970s because at the time, it was difficult - if not impossible - for many co-op corporations to obtain affordable liability insurance. To alleviate the woes of business owners, Congress created the Product Liability Retention Act of 1981, which was updated and expanded significantly in 1986. The law basically allowed unrelated companies in the same or related field with similar loss exposures to band together to buy liability insurance. The act also leveraged the insurance market for these business owners and their combined buying power resulted in higher liability limits and significant savings.
The updated legislation - known as the Federal Liability Risk Retention Act of 1986 - created two vehicles by which insurance buyers could more readily avail themselves of liability insurance: risk retention groups (RRGs), and risk purchasing groups (RPGs).
"Risk purchasing groups have really taken off since they came into being under the Federal Liability Risk Retention Act," says Gary Harker, attorney for the Brooklyn-based 3H Corporate Services, LLC. "In 1988 there were approximately 360 RPGs, but by the end of 2003, there were approximately 670."
It's important to note that both condominiums and co-ops are eligible for RPGs, explains Harker, and the reasons are compelling. "RPG membership can prove advantageous to condominiums and co-ops in several major respects, including tailor-made coverage, broader coverage terms, lower rates, and loss control risk management programs.
Understanding the Basics
Residential co-op corporations and condo associations aren't the only businesses to benefit from the Risk Retention Act - it's important, however, to define terms to gain the true understanding of the specific benefits. An RRG is a corporation or other limited liability association, essentially functioning as a captive insurance company and organized for the primary purpose of assuming and spreading the liability risk exposure of its group members. An RRG must be chartered and licensed as a liability insurance company in one of the fifty states or the District of Columbia.
By contrast, an RPG is an organization that purchases liability insurance on a group basis from an outside insurance company or from an RRG for its members. Unlike an RRG, an RPG is not an insurance company, and its members do not underwrite their own coverage. However, like RRGs, RPGs are subject to the similar tests pertaining to membership, exposures, and types of coverage offered.
RPGs in NYC
Gregory Carlson, executive director of the Federation of New York Housing Cooperatives & Condominiums (FNYHC), explains that the Federation has been exploring risk purchasing groups for its membership for almost two years, but has yet to find an appropriate carrier. "Twice we came close to having a provider, but the deal never closed. I know other real estate membership organizations are exploring or already have a purchasing group," says Carlson.
In short, Carlson says the basic benefit of an RPG is lowering policy payments while maintaining comprehensive coverage. "Due to the rapid rise in insurance costs and the mounting exclusions from coverage," says Carlson, "a purchasing group can provide bulk purchasing power and more comprehensive coverage. Carlson does point out, however, that since a recent court ruling in New York State holding all individual unit owners liable for common area risks, it's quite possible that this scenario could change.
Under the Hood of an RPG
RPGs are corporations, and thus have a board of directors and officers. The RPG is comprised of insurance buyers - members that are exposed to similar liabilities by reason of being in a common trade or operation - who then come together to purchase commercial liability insurance coverage from an insurer.
Typically, explains Harker, RPGs will use a third party management company to manage its affairs, including - but not limited to - selecting prospective members, supervising insurance brokers, insurance policy renewals and termination of policy agreements of individual members, maintenance of records, maintaining a risk management program, and billing and accounting services. In addition, the RPG appoints a licensed insurance broker to obtain insurance on its behalf from an insurer.
Similar to RPGs, is the "captive" insurance group, which is a corporate entity created and controlled by either a parent company, professional associate, or group of businesses for the sole purpose of providing insurance for that parent, association, or group. Captive insurance groups are an alternative to purchasing insurance under an RPG.
How Much Does It Save?
While some analysts have called RPGs a trendy alternative aimed at trying to find ways around large premium costs, most professionals point to the facts, which generally spell out savings for qualified parties. For example, if a co-op or condo presents a good track record from a previous underlying insurance carrier, (which normally requires documentation over a three- to seven-year period), then their chances of inclusion are good, according to Alnoor Ladha, executive vice president of Vanderbilt Properties Insurance Brokerage LLC in Manhattan. "One can realize a 25 to 30 percent savings immediately," says Ladha.
However, the percentage of saving is relative, explains Carlson. "To be conservative, my best guess would be anywhere between five and 10 percent savings. Each building would be evaluated on its own merits, such as the amount of claims, what type of claims inspection and so forth."
In terms of coverage, Harker says an RPG will cover any aspect of an insurance policy that pertains to coverage against third party liability, including general liability, errors and omissions, and directors and officers. Although he adds, "It does not, however, extend to property coverage or workers' compensation insurance."
Under worker's compensation insurance, members can join a number of safety groups in the New York area. A safety group, according to Alex Seaman, a senior vice president with Kaye Insurance Associates, with offices in Manhattan and Long Island, "involves pooling a number of properties in one group [written in the state insurance fund] thus combining the claims experience on those properties with the goal of achieving a better loss ratio and consequently greater discounts and higher dividends."
Who Approaches Whom?
There a few ways in which a property owner can approach an RPG, however the most common way for a building interested in buying into an RPG is to have a prudent property manager who can research and network with other participants and locate possible insurance providers.
In an RPG, according to Seaman, a number of properties can join together and acquire relatively high limits of liability at a lower premium by spreading their risk between a number of different insurance companies.
"Usually the property managers, who are familiar with the risk purchasing group, will be the liaison between the risk purchasing group and the board," says Ladha.
About the Federation's ongoing attempts to get a Federation-administered RPG off the ground, Carlson explains, "I can only tell you about what the FNYHC was negotiating. The group would be open to FNYHC members and the individual building's board or managing agent would deal directly with the [insurance] provider. The Federation would administer the program."
While specific numbers of participating condominiums and co-ops participating in RPGs in the metropolitan area are not available, Ladha says his conservative guess would be in the high hundreds, and more likely in the thousands. "Today there is no reason to go to an individual insurance carrier," says Ladha, "because if you were looking at pricing for a $10 million policy, for example, it would be prohibitively expensive."
Since liability claims can financially ruin buildings and cause big trouble for shareholders and unit owners, there could be apprehension in sharing an insurance policy with 10 or so other co-op or condo associations. However, RPGs are unique because each separate policyholder under the umbrella is held accountable for all claims, and these claims have no effect on members under the same policy. It's important to note that any member of an RPG can be dropped from a policy at any time. Conversely, a new member can join at any time, provided their insurance history meets qualifications.
"Whether the purchasing group's insurance carrier would increase insurance premiums depends on a number of factors," says Harker, "including the group's loss history as a whole and the amount of premium paid in relation to claims paid."
For example, Harker explains that if an RPG had a collective premium of $15 million, a single large loss would not likely have any significant impact on individual premiums. It's important though to keep in mind that every policy and carrier is different and a co-op or condominium management board should investigate all angles of coverage before joining an RPG.
"Members of an efficiently managed purchasing group will pay premiums based upon their overall loss experience," Harker continues. "A member with a poor loss history will typically not be subsidized by the group, but rather that member's premium will reflect their loss history and vice versa."
At the end of the day, say the professionals, if your building has a clean track record for claims and would like to perhaps save some money while boosting its insurance coverage, an RPG might be one smart route to take.
W.B. King is a freelance writer and frequent contributor to The Cooperator.