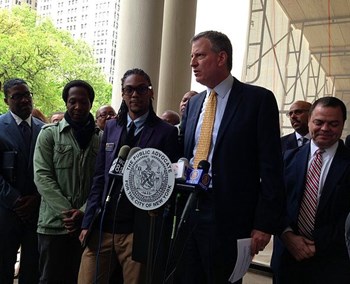 Homeownership in New York City is about to get easier for first-time homebuyers, while existing yet struggling homeowners are getting help in fixing their homes
Open Door will fund the construction of co-ops and condominiums for first-time homebuyers whose income is between $69,000 and $112,000. The program will build 200 new homes annually and serve 1,300 households for the next eight years.
"Through the new program, owners will be able to build limited equity in their homes over time, balancing the goal of asset building with the city's need for ongoing affordability for future generations," according to a brochure touting Open Door.
The other program, HomeFix, is designed to aid low- and moderate-income homeowners in one-to-four family properties in financing home repairs through low-interest loans. The target goal under HomeFix is 800 households also in eight years.
"Many of these owners are being barraged with cash offers from aggressive speculators who know that families with significant repair issues will be tempted to accept, even if it means leaving the neighborhoods they helped build, and being left without a viable housing alternative," said the brochure on the reason behind the HomeFix program.
In a press statement announcing Open Door and HomeFix, de Blasio said that the city wants to help working families own a piece of the Big Apple. "Affordable homeownership empowers families and neighborhoods and opens pathways to the middle class," he explained.
"Homeownership is a critical ladder to greater financial security for families, and a stabilizing anchor for neighborhoods," said HPD Commissioner Maria Torres-Springer in the same statement. "Through these new programs, more New Yorkers will have a shot at owning a piece of their city, and making the repairs they need to stay in their homes and communities."
As The Real Deal pointed out, officials didn't disclose on how much of the city's budget would be set aside for both Open Door and HomeFix programs.
Overall, de Blasio's Housing 2.0 plan aims to fund 200,000 affordable homes by the year 2022, and 300,000 by 2026. In addition to Open Door and Home Fix, other parts of the Housing 2.0 program include maintaining affordable housing for seniors, very low-income New Yorkers, and aging Mitchell-Lama buildings. Its other initiatives aim to help nonprofits to purchase rent-regulated buildings and keep them affordable for tenants, and require that areas and buildings that have been rezoned for residential purposes must have 20-30 percent affordable housing.
David Chiu is an associate editor at The Cooperator.