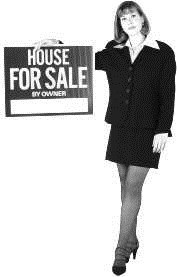 In the past several years, the real estate market has seen an increase in the number of women purchasing homes. Some of these women are first-time homebuyers entering the market on their own, while others are moving up or downsizing from a property they already own. The State of the Nations Housing: 2004 report, compiled by the Joint Center for Housing Studies of Harvard University, found that "social and economic trends have given women a more powerful presence in housing markets. Between 1980 and 2000, the number of households headed by unmarried women increased by almost 10 million."
This increase in women homeowners has not gone unnoticed. The 2004 National Association of Realtors Profile of Home Buyers and Sellers reveals that:
• Single women purchased approximately one in five homes in 2003, while more than one in ten were purchased by single men.
• 15.5 million women lived alone, compared with 11.8 million men who lived alone. Among this group, women were more likely than men to own their homes (56 percent vs. 47 percent).
From 1994 to 2002, the number of unmarried females owning homes climbed from 13.9 million to 17.5 million, according to statistics from the National Association of Realtors. While married couples remain the largest segment of homebuyers, single women made up the second largest percentage of home purchasers in 2006, at 22 percent, according to the National Association of Realtors' Profile of Home Buyers and Sellers. Single females account for 27 percent of first-time homebuyers and 18 percent of repeat buyers. In contrast, the same findings report that in 2006, single males accounted for only 9 percent of homebuyers. Overall, the percentage of single women homebuyers had increased from 1995 (when it was 14 percent) to 2006, while the percentage of married couples who own homes has declined (70 percent in 1995 vs. 61 percent in 2006).
Closer to Gender Equality
"Women are reaching a point of equality with men and making good money. More women have reached levels of independence and as time goes on they're becoming members of the highest-paid sector of society," says Irwin H. Cohen, president of A. Michael Tyler Realty Corp. in Manhattan and a board member of the New York Association of Realty Managers. "But it's not so much about a level of money," he adds. "Everything is relative. We see a lot of young women buyers who are earning an average income. These days women are more knowledgeable in the ways of real estate." He notes that home ownership is taking women to a level of independence that they did not have in the past. At the same time, they are also realizing that they do not need a partner in order to jump into the market, and therefore do not see the need to delay home ownership until they are married or in a relationship.
"There are more opportunities for women to own and today women are more financially independent than in the past," says Pat Vredevoogd Combs, president of the National Association of Realtors. "As many women graduate college, they are already savvy about making an investment to start in that wealth-building process. And there are many new mortgage products out there that allow women the opportunity to spend very little cash," says Combs.
As the number of women buying real estate grows, Combs does not see any one particular area of the demographic dominating the market. "I'm working with a widow in her 60s who wants wanting to buy a condo. And I've also helped the first-time buyer right out of college. Women buyers are really across the board." Cohen notes that women also are well represented in the buildings in which they reside: in the buildings he deals with, more than half of the co-op and condo board presidents are women.
While women are purchasing all types of homes, according to the National Association of Realtors, three out of every ten single women purchase either a condominium or townhouse because of the low maintenance costs.
"Most of the women I've sold property to have wanted condos," says Combs. "One reason is for safety. They want to be in a group where there's a lot of people around. There's also the maintenance factor that someone else is taking care of it. Some women want to be able to travel, and would like the flexibility of not having to keep up a large house."
Both Combs and Cohen note that most women are purchasing a home to live in, rather than as an investment property. However, there are some women making inroads into the investment market.
"I've seen some older women are buying investments, but there are very few. It's difficult to do unless someone has an in through an attorney or bank," says Cohen. "In Manhattan, it's very hard to find something that will make sense as an investment." In most cases, owning an investment property would still require a mortgage to be paid, and turning it into a rental will not cover the majority of the loan and maintenance costs.
Cohen says he doesn't see women giving preference to either a co-op or condo when choosing a home. "It really doesn't matter, although some women looking to purchase apartments in co-ops might be intimidated about the interview process. If that's the case she might opt for a condo, where she wouldn't have to deal with an interview by the board."
On the flipside, however, one gender stereotype may work in women's favor. Says Cohen, "Women tend to be considered responsible and conscientious neighbors. This is something a co-op board may think about during the interview process."
Making the Purchase
One roadblock women may face comes from their own interpretation of what the buying process is and how comfortable they are with it, says Cohen. "I think some women, unless they are very seasoned professionals, can be intimidated by it," he says.
"There are some women who don't feel comfortable doing things without advice; such as recent widows. But I really don't see any challenges at all to women in this market place, which is why I think you're seeing that statistic that reports 22 percent of home buyers are women," says Combs.
The help of an experienced professional can help make the process easier. Combs encourages women to find a realtor they trust and with whom they are comfortable. "I'd say who you choose depends on whatever your comfort level is," she advises. "SI suggest that buyers interview realtors and talk to friends who have used someone they liked."
When looking for a loan, Cohen advises women to go to the bank you're most familiar with and shop around without a broker. "Most banks will be willing to lend to you if you're a good credit and good credentials. But be careful of third-party lenders. If it's too good to be true, watch out."
That "buyer beware" sentiment should not be taken lightly, according to the recent report, Women are Prime Targets for Subprime Lending:Women are Disproportionately Represented in High-Cost Mortgage Market. The December 2006 study by the Consumer Federation of America reports that women are more likely to be put into higher-cost subprime mortgages than men. Patterns of gender disparity exist in home purchase, refinance and home improvement lending.
In general, the findings state that "women's lower wealth and income, historical barriers to credit for women and predatory lending, and lower confidence in women's own financial capabilities may contribute to the higher levels of subprime lending."
Discrimination is, sadly, nothing new. As the report notes, women have long faced an uphill battle in the home-buying process. "Prior to the 1968 Fair Housing Act, single women were considered poor credit risks on face. Until 1974, when the Equal Credit Opportunity Act became law, most women needed a co-signer to become mortgage borrowers, married women often could not obtain credit in their own names, single women couldn't get loans because they were thought to be somehow less reliable than other applicants, and, divorced or widowed women found it extremely difficult to obtain credit because their previous credit history was obtained in their husbands' names and was not taken into consideration when they sought credit in their own names."
Today, more women than ever are living on their own. In 2005, 51 percent of women said they were living without a spouse, according to a New York Times analysis of census results. Women are choosing not to get married or delay age of marriage, and women's longer life expectancy and financial independence also contributes to the large pool of women who aren't waiting for partners to purchase a home. Given these factors, it's likely that the number of women purchasing their own homes will continue to rise.
Stephanie Mannino is a freelance writer and a frequent contributor to The Cooperator.