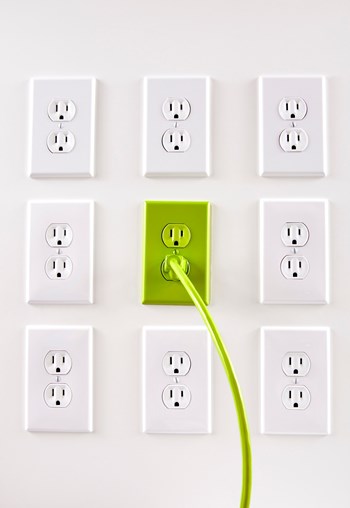 With the rise of environmentalism and recycling, and the renewed emphasis on energy efficiency since the 1970s energy crisis, has come the idea of the "green building," which are buildings that actively conserve energy. The idea first took hold in the commercial and institutional sectors, but is now gaining strength in the residential sector, including multi-family housing.
The saying "it's not easy being green" is only half-true—it all depends on how green you want your building to be. Even if you don't want to go green in a big way, you can take measures that can make your building a little bit greener, or more environmentally-friendly and energy-friendly.
The concept of a building that meets these criteria isn't really new. As a writer at Energy User News in the late '80s, we frequently wrote about buildings that used low-emissivity windows that cut down on heating/cooling costs, compact fluorescent lights, or, in some cases, solar panels.
Pamela Lippe, president of e4 inc., an environmental building consulting group, and executive director of Earth Day New York, dates the term "green building" to 1996, when the U.S. Green Building Council came into being.
"Since then," she says, "there's been a little bit of conversation among practitioners whether the term `green' is the best term. High-performance may be another choice. I work with developers, and I don't know if `green' speaks to the business community."
Generally, the term "green building" connotes environmentally responsible technology, high energy efficiency, use of recycled materials, attention to indoor air quality, and insulation that minimizes heat loss.
"Green" strategies, says Chris Mason, education director of the Northeast Sustainable Energy Association, can range from something as cutting-edge as solar panels on roofs to something as seemingly prosaic as low-flow showerheads.
Mary Kraus, of Kraus-Fitch, an architectural firm in Amherst, Mass., adds the cost of manufacturing and transporting materials—for example, transporting material manufactured in Westchester would use less energy than using the same material manufactured in Chicago.
The LEEDing Edge
Green requirements aren't written into law, but the aforementioned U.S. Green Building Council has a widely accepted voluntary rating system, known as LEED (Leadership in Energy and Environmental Design).
LEED, says the council's Taryn Holowka, looks at five different areas: Sustainable Sites (you get LEED points by not destroying a habitat); Water Efficiency (those low-flow showers and faucets); Energy and Atmosphere, a reduction of energy use; Materials and Resources, using materials with recycled content; and Indoor Air Quality, using materials that promote cleaner air.
Based on the building's "score," LEED has four levels of certification: certified, silver, gold and platinum. This rating system, according to the Green Buildings Council, "was designed to guide and distinguish high-performance commercial and institutional projects, with a focus on office buildings" although "practitioners have also applied the system to multi-unit residential buildings."
This summer, the Green Building Council launched a one-year pilot demonstration of the newest green building rating system-LEED for homes. "The new rating system," according to the council, "builds on the incredible success of the existing LEED rating systems that focus on commercial buildings, and addresses the unique needs of the residential market."
Appliances in your building, such as washing machines, refrigerators and air conditioners, have their own rating system, known as "Energy Star." Earning the Energy Star means a product meets energy-efficiency guidelines set by the U.S. Environmental Protection Agency and the U.S. Department of Energy.
Incidentally, one of the benefits of this city's ongoing revamping of its building code will be better energy efficiency and more friendliness and incentives toward "green" building strategies.
For example, says a Department of Buildings spokesperson, builders now must apply for a waiver to install a recycled water system (for example, using storm water captured from roofs and balconies, or "gray" waste water from office lavatories) for such uses as cooling tower make-up water, irrigation (say, plants on a "green roof") or flushing toilets. But the DOB's proposed Plumbing Code would allow for such systems, so a builder could easily apply for a permit.
(There is a difference between gray water, or water reclaimed from sinks, washers and so forth; and black water, water reclaimed from the toilets themselves. The DOB's proposed code would allow the use of both gray water and treated black water whose "treatment system is approved by other regulatory agencies.")
In Theory and in Practice
Because standards are voluntary and some builders don't seek LEED certification, it's difficult to say how many green multi-family residential buildings there are in the city. Here are some examples:
1) The Solaire in Battery Park City. The 293-unit rental building, according to its planners, "was designed to consume 35 percent less energy, reduce peak demand for electricity by 65 percent, and require 50 percent less potable water than a conventional, residential high-rise building." It was the first building designed in accordance with the Battery Park City Authority's "green guidelines," completed in 1999. A cost analysis by Energywiz of Croton, New York, found that annual electric use in The Solaire is on average 37 percent to 64 percent less than a typical New York City apartment of the same size.
Among The Solaire's strategies are photovoltaic panels, maximum use of natural lighting, a very advanced central HVAC system, centralized air filtration, photovoltaic cells integrated into the façade, Energy Star fixtures, occupancy and daylight sensors to turn lighting on and off, and on-site treatment of wastewater and recycling for cooling tower makeup and toilet flushing. The Solaire was the first high-rise residential building in the country to achieve a LEED gold rating, and rented 90 percent of its units within five months of opening in July 2003.
2) The Helena at 11th Avenue and 57th Street, which Pamela Lippe of e4 inc. worked on. The Helena, which is also a rental building, uses recycled water for cooling towers makeup, drywall made from recycled gypsum, environmentally responsible wood flooring, photovoltaic cells and Energy Star equipment and has installed water-saving faucets and shower heads. Cogeneration units provide some of the building's power and enough waste heat to supply the building's domestic hot water.
3) The 1400 on 5th Condominium at 116th Street in Harlem. An eight-story mid-rise mixed use development with 128 units, 1400 on 5th has a geothermal heating and cooling system that reduces the building's energy consumption and uses no fossil fuels, uses Energy Star equipment and low-emissivity windows with frames made from recycled aluminum, provides fresh air to each apartment, and uses gray water to heat its hot-water heaters.
4) The Nassau Ice House in Crown Heights was once just that—an ice house connected to a brewery—but now it contains six residential loft spaces. The designers completed a roof-integrated photovoltaic system, installed in-floor radiant heat, and have used recycled wood salvaged from the brewery for kitchen cabinets, stairs and on the exterior of the building. Low-emissivity windows, low-flow water fixtures and Energy Star appliances are utilized.
How Much, How Long
Do green buildings cost more to build than "regular" buildings? Observers say that it depends on how green you want to make your building—some strategies are more expensive than others. Installing solar electric panels, for example, will cost more than cross-ventilation in the rooms.
George Aridas of the Albanese Development Corp., the Solaire's developer, explains what "greening" the Solaire meant during construction. "In the case of the Solaire, we estimate that the environmental features (including the black water treatment system and associated plumbing) added about 17 percent to the costs." However, he describes this as "an investment in quality."
At 1400 on 5th, Carlton Brown of New York-based Full Spectrum of NY LLC, the building's developer, said the increased cost was partly offset by government incentives. "The enhanced design team and extended design phase increased the cost of the design by about 30 percent, but more than 50 percent of the differentiation was offset by grants from the New York State Energy Research and Development Authority (NYSERDA)."
Do green buildings take longer to plan and execute? Lippe says they "tend to take a little longer in planning, but the time you spend up front can oftentimes speed up the process at the end.
"When you're pursuing a green building, there's a lot more integration of the design team early on, and a lot of the things that you (ordinarily) end up discovering when the building is being built, are caught here during design."
If one moves into a green multi-family building, that person can expect lower energy bills, better indoor air quality and no fallout from toxic paint fumes, green advocates say. At 1400 Fifth, Brown notes that "each resident will spend $1,000 less on energy than competing affordable housing developments," an important factor in south-central Harlem.
On a larger environmental scale, how much of an impact do green buildings make? One way to look at this is economic. Holowka says that in a green building, utility bills are 20 to 50 percent lower. The building has less turnover, uses less water, and uses resources that have recycled content.
If every building in New York employed green strategies, much less energy and water would be consumed. In the long run, energy efficiency can help fight global warming.
Maintenance of green buildings may at times require more training because the equipment may not be familiar to the staff. However, Mason thinks that green buildings, in the long run, probably will need less maintenance.
For example, he says, compact fluorescent light bulbs, often used in hallways and stairwells, last much longer than incandescents. "I lived with one for 10 years without it going out." In another example, he says, if a builder puts his investment in well-insulated walls, "the furnace can be much smaller, much simpler."
With all the benefits to green buildings, would it cost more to live in one? "I don't have evidence to support this," says Holowka of the Green Buildings Council, "but anecdotally, I have heard that the resale value on these properties is higher."
Greening Your Existing Building
If you're living in, or managing, an older building, it definitely can be "greened" to some degree. There are many ways to do this—replacing light fixtures with high-efficiency ones, installing a more efficient boiler, painting with low-VOC (volatile organic compounds) paint that reduces harmful emissions into the air, and replacing older windows with low-emissivity ones.
"Just buying new refrigerators [can be effective]," says Mason. "If your refrigerators are five years old or more, you're wasting enormous amounts of energy."
If your co-op or condo is interested in "greening" your building or incorporating more environmentally friendly features and programs, a good place to start is with an energy audit from NYSERDA, which can be found at www.nyserda.org. Inspectors will go through your building and then you give information to make informed choices on energy-efficient strategies.
You can also go to the U.S. Green Building Council's web site at www.usgbc.org. The organization has chapters throughout the country, including one in New York City, one in New Jersey and one in Long Island.
Raanan Geberer is a freelance writer living in New York City.