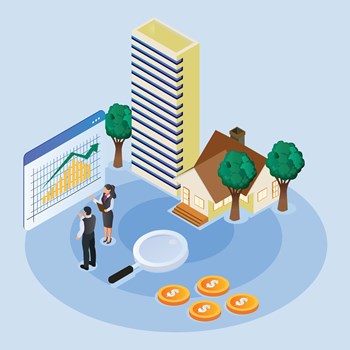 Over the past few years, the New York City condo and co-op market has experienced something of a perfect storm. Changes to the federal tax code and COVID-19 colluded to slow down the market, even as other areas around the country were soaring. The market staged a strong comeback as the COVID crisis receded, with prices rising and days-on-market falling throughout 2021.
But the question now is, have the nation's current economic woes, manifesting in inflationary pressures and interest rate hikes, dealt another uppercut to the market? Is this current slowing in fact a slowdown? Or is it more the result of the usual seasonal adjustments we see every summer than some harbinger of rough going ahead?
What's Going On?
"I believe the slowdown started in April," says Matthew Mackay, an associate broker with Douglas Elliman, a brokerage firm based in New York City, "[but] it went unnoticed until May. Listing times have definitely gone up," he says. "But to a great extent it depends on the specific property. A one-bedroom apartment in Greenwich Village priced under $1 million should still sell in two weeks. But a three-bedroom on the Upper East Side is not moving right now. That's because the potential buyer for that three-bedroom in that location is not in New York City. It's August, and that buyer is out of the city."
So, Mackay continues, that three-bedroom spending more time on the market "is more about the typical annual cycle than any economic slowdown right now." "Alternatively," he says, "the economy has affected time-on-market. Buyers are cautious and nervous. The stock market plays huge in the minds of New York City buyers, even if they are not heavily invested in it. Many don't feel confident at the moment. If the market gets stronger, buyers will feel better. The other factor is interest rates, which have nearly doubled in three months. We haven't seen a move to adjustable-rate product yet, but we may. Buyers coming back into the market in Autumn may look at seven- and ten-year ARMs, adjustable-rate mortgages, not the formerly preferred thirty-year fixed."
How to Proceed?
"The most important factor is to be priced appropriately and to have your apartment ready to sell," says Mackay. "Any unit that needs work or has high maintenance is harder to move. Buyers are uncertain. They want turn-key situations where they enjoy the unit immediately."
"If anybody tells you that they know what's going on in the market at this exact moment, they are lying," stresses Mackay. "We'll know more after the summer has ended, which is always a slow period. September will set the tone for the first quarter." In the meantime, if you're looking to sell quickly, the pros advise getting your unit in order and talking to an expert to determine appropriate pricing.