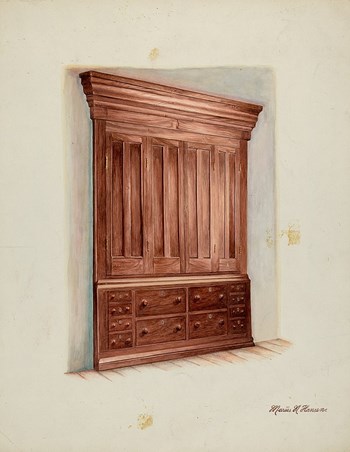 When it comes to co-op or condo, home improvements are a personal thing, reflecting the style and taste of the owner, and impacting the functionality of the unit. A prime example of this are built-ins; those personalized furnishings that provide closet space, storage, bed frames and cabinets where none existed before.
The Pros and Cons of Built-Ins
As with so many other things, beauty is in the eye of the beholder when it comes to built-in apartment features. While closet space is always at a premium in New York City apartments, and rooms – especially second bedrooms – tend to be on the smaller side, not everyone has the same taste. The wall of shelves or cubbies that one resident finds charming and handy may give the next owner of the unit hives.
"It's a matter of style," says Nicole Hay, an agent with Halstead properties in Manhattan. "The potential buyer may have different taste than the seller. It runs about 50/50." In some cases, she explains, the buyer will like the built-ins and keep them; in others, out they go. Built-ins won't necessarily increase the value of the apartment by the cost of the improvements, says Hay. "An owner shouldn't expect to get back what they spent."
As an example, assume an owner builds in shelving, closets, and bookcases in the second bedroom that are appropriate for say, a 10-year-old child. They might even have installed a full size bed, anchored right into the shelves. Some years later, after the child has grown up and left for college, the apartment owners decide to sell. The most interested buyer is a couple expecting their first child. While the added closet space might be welcome, the full size built-in bed frame in that second bedroom would crowd out a crib, and wouldn't be useful to the new owners for many years.
Larry Lubin, a broker with Klara Madlin Realty on Manhattan's Upper West Side agrees that built-ins can go either way with prospective buyers. "More often than not, they pull them out."
But that doesn't mean that a wall of built-in cupboards or a bed will drive down values or prices, either. Unlike a very old or outdated kitchen, which could easily discount the sales price of a unit, built-ins are viewed more like furniture. Echoing Hay's take, Lubin cautions owner-sellers, "Don't expect to get back what you spent." In terms of marketing though, if Lubin represents a seller, and therefore controls the listing, he will keep an eye out for a prospective buyer who might have more interest in the existing built-ins. "But," he stresses, "I will still show the apartment to all prospective buyers."
Another major consideration for built-ins is whether they work effectively for the size of the room in which they're installed. "If the room is too small, the built-ins can be overpowering," says Bruce Robertson, a broker with Compass in upper Manhattan. He has had buyers tell him exactly that, despite liking the extra storage space they provide. Like the other sales professionals interviewed, Robertson has seen both sides of the equation. Some built-in installations are really good fits, and others get removed immediately. "They can be a great selling point for the right buyer," he says, but notes that they don't necessarily add or subtract from value in a predictable way.
Another consideration is the age of the built-ins, and their overall condition. If the built-ins are well maintained and in step with classic or current design trends, they're more likely to be viewed positively by buyers. If they are old and beginning to look shabby, or require refinishing or repainting, they're more likely to be considered collateral damage upon sale; out with the old, in with the new and all that.
Nick Raffelo, also with Compass, cites the case of a lovely two-bedroom apartment with river views in Washington Heights that featured built-ins not only in both bedrooms, but also in the living room. As it turned out, the problem for buyers was the full-wall built-in in the living room. It cut into the width of the room by two whole feet, creating an proportional problem and making the space look long and narrow as a result. Potential buyers liked the built-ins in the master bedroom, but not in the living room, Rafello explains. They also didn't like the bunk bed installation in the small second bedroom. In this case the built-ins were a mixed bag. "But," he stresses, "don't do anything rash. Don't rip out your built-ins to sell."