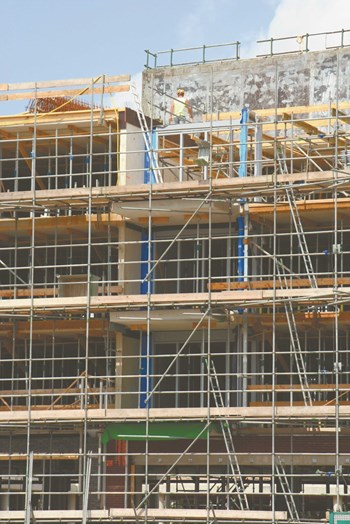 If you're part of a co-op and condo community, you've definitely had to deal with the New York City's Building Codes. They're a complex set of regulations, documents, amendments, local laws and more, regulating all sorts of things, from boiler maintenance to elevators to exterior walls.
On top of it all, there are several versions of the individual building codes—one in 1938, another in 1968 and a new construction code effective in 2008. Each one of these sets of codes has been amended any number of times. What may have been perfectly acceptable several decades ago may be illegal now and could lead to thousands of dollars in fines.
While the codes your building follows often depends on when it was constructed, in the event of a major renovation—you may be instructed to "bring it up to [current] code."
A Little History
The formal codification of safety measures for New York City's human occupancy and structural edifices dates back to the 17th century, when the first set of fire-prevention principles were established. In 1860, the city created a "superintendent of buildings" within the Fire Department, which then became a full-fledged Department of Buildings in 1936.
The 1936 codes were formulated to meet the growing number of skyscrapers and apartment houses, and the 1968 revisions were meant to address new technologies and building practices. Then less than four decades later, Mayor Michael R. Bloomberg signed an order to study the possibilities of a new code in 2002.
As far as codes, expressly for apartment houses are concerned, James Colgate, assistant commissioner for technical affairs and code development for the Buildings Department, says the first specific legislation regulating "tenement houses" was in 1867. This merely required a window in each room. Even this was an improvement— beforehand, many tenements only had windows in one room of each apartment, with backyard "privies" and no running water.
This was succeeded by the law of 1879, which created air shafts between the buildings and mandated that bathrooms be provided for each 20 residents. Unfortunately, however, the air shafts became repositories for trash. The 1901 Tenement House Act replaced the air shafts in favor of larger courtyards, either the rear of the building, and mandated individual bathrooms in apartments. The 1929 Multiple Dwelling Act authorized taller buildings in exchange for even bigger courtyards for residents.
Determining which government agencies regulate specific Building Code's can be quite complicated. Colgate says, "The building codes separate into several pieces—the New York City Building Codes, the New York State Multiple Dwelling Law and the New York City Housing Maintenance Code." The Building Code is primarily enforced, however, by the Buildings Department, "although the fire commissioner has the authority to enforce those portions related to fire safety."
Richard Ferrara, a Brooklyn architect and partner with DeLaCour & Ferrara, says the Fire Department is now taking a "proactive role" in enforcing fire-related provisions. Such items can include sprinkler system, smoke detectors and the like. "Theoretically," he says, "the Buildings Department is supposed to administer the Fire Code, but you'll see the Fire Department does its own inspections."
The Multiple Dwelling Law is concurrently enforced by the Buildings Department and the Department of Housing Preservation and Development (HPD). As for the Housing Maintenance Code, he says, "Ninety percent of the maintenance items are enforced by HPD, and only about 10 percent, provisions that are really construction-related, are enforced by the DOB."
Then there's also a fourth, related set of laws—the New York State Energy Code, which is amended by a combination of state rule-making and legislative action.
What Does It Cover?
The new building code, or construction code, covers a wide variety of items, including disabled access, elevators, outdoor signs, construction and demolition safeguards, plumbing, mechanical systems, energy efficiency, general building heights and much more.
Ferrara adds that "one can almost say that the Housing Maintenance Code takes over where the Building Code is finished. It covers housing maintenance, buildings maintenance, cleanliness, proper and adequate lighting, temperature control—all the areas pertaining to the interior environment in a sense."
Fire Safety and New Buildings
The most recent code revisions deal mainly with new construction and building and fire safety, according to Ryan Fitzgibbon, a press officer for the Department of Buildings. There are more safeguard requirements to protect the public safety, Fitzgibbon says, and a site safety manager must be on the scene at every construction site. There's also more oversight by the building department at construction-related projects.
Design requirements for steel and concrete construction have also been beefed up, Fitzgibbon says. "They have to be stronger. This allows buildings to withstand more extreme weather, heavy rain, high winds, things like that in preparation for the future so they can handle any disaster."
Additionally, several fire safety measures have been incorporated into the code for residential buildings. "All residential buildings 125 feet or higher, now have to have voice communications systems in them, as well as emergency power generators," Fitzgibbon says. "So this allows—in case of emergency—for the fire department to talk to residents in the building and it also allows for lighting and egress in the staircases to exit the building as well as for an elevator to operate. Also more sprinkler systems are required in more buildings," she says. Essentially they are required now in any residential building with three or more units, attached two-family homes, or one- and two-family homes that are more than three stories.
The construction code is basically for new buildings, says Colgate. Thus, its relation to older buildings is "a little complicated. For the most part, a building has to be in compliance with the laws that were enforced when it was built. So if your building is built in 1895, it's under the 'old law.'" When you decide to alter your building, then some of the later provisions may apply.
The city's new construction codes, which came into effective in July 2008, were patterned basically after the International Building Code, one of the International Code Council's (ICC's) family of model codes. The city modified the provisions to reflect the wide variety of buildings in the city and to be in tune with national standards, according to Fitzgibbon. The new codes are also more user-friendly and easier to navigate for those operating outside New York City, Fitzgibbon says.
The city's new code, Ferrara adds, is also "basically the same as" the New York State code, which, in turn, had its origins with the above-mentioned International Building Code. "New York City put into the code exceptions to the state code, so that it's compatible with the type of work that's done in New York City."
The codes—like any fluid document—have never stood still; they've been amended in response to catastrophic events like the World Trade Center disaster, fires and new technology. Building code amendments can be introduced by either the Mayor's Office or the City Council.
This is also true for the Housing Maintenance Code, says Colgate, but the Multiple Dwelling Law can only be amended by the state legislature.
When the code changes, it can radically affect the way professionals do their job. Wayne Bellet, owner of Wayne Bellet Construction in Manhattan, recalls the changes that happened after a series of major crane accidents.
"As licensed riggers," he says, "we have to not only do physical tests, be fingerprinted and all that, but [we] have to endorse our workers. Each one has to carry a fitness certificate, take a 16-hour course and pass a test. After they are fit to operate a scaffold, they now have to be endorsed by the licensed rigger, who has to distribute to them his own form. They also want a third person, a rigging foreman, who has to take a separate 32-hour course that costs hundreds of dollars." He outlined several other requirements, but stresses that he supports them because they mean increased safety.
One way interested parties hear about changes to the codes that affect their buildings, Colgate says, is through the City Record, that compendium of official notices read faithfully by bureaucrats and those who do business with the city. The Buildings Department also posts updates on its own website.
"Co-ops and condos learn of code changes that impact them through their managing agents, who in turn get the information from organizations like REBNY (Real Estate Board of New York) and from the press," says Marolyn Davenport, senior vice president of REBNY.
Bellet adds that board members who are interested in these subjects "should come to the building manager—who is overworked and underpaid, but an expert." Ferrara adds that many condo and co-op boards already retain their own architect, who reviews plans to make sure they're compliant with the current codes before the board president signs off on them.
Older Buildings
How does the new code affect older buildings? When a new item is introduced into any of the various codes, while most changes are not retroactive—some can be. Among those that necessitate upgrades are the requirements for smoke detectors and, more recently, carbon monoxide detectors.
In terms of compliance with new codes in general, the amount of work you're doing in your building is also a factor. "If you make changes that are more than a certain percentage of your building," says Ferrara, "you have to upgrade it. If you're doing a gut rehab, you're forced to do a lot more than you used to."
One of the major areas where this comes into play is disabled access. Prior to the 1980s or so, few buildings were constructed with this in mind. When new rules that are retroactive are instituted, the change doesn't necessarily have to be made right away— as buildings are given a certain amount of time to comply.
Ferrara adds that if a building is already under construction and the code changes, the builder has to comply, although the architect usually gets extra compensation for his effort.
Most of the time, builders, building owners, boards and managers accept mandatory changes in the code. But sometimes, one comes along that is unpopular. What recourse does the industry have to give input?
Even before an item is adopted as part of the code, chances are that the construction industry has already had input. City agencies and the City Council already consult various committees as part of the process. Professional organizations such as the Architects Council also meet with higher-ups in the city government.
But, Colgate reminds us, "In the end, the Buildings Department just enforces the laws that are already on the books. It's [changing the laws] really part of the legislative process."
Fines and Penalties
The Buildings Department institutes its own fines and penalties, which are specific to the types of violations. There are three categories of construction code violations, such as Environmental Control Board violations, Department of Buildings violations and Bureau of Electrical Control violations, says Colgate, with increased penalties depending on how hazardous the conditions are.
Fitzgibbon said enforcement has been stepped up. "We've actually reclassified the violation system so there's three categories based upon the severity of the risk they pose to the public. So the more severe, the more hazardous the violation is, and therefore it carries a higher penalty. The penalties have been increased as well in relation to that, so they're much higher. Penalties have been increased from $5,000, which used to be the max to $25,000, for example, for different things."
On the Buildings Department's main website located at http://www.nyc.gov/html/dob/html/home/home.shtml, you'll find an entire history of violations and complaints for many of New York City's buildings. Often, building managers, boards and owners correct these violations and/or pay fines. But at times, these complaints can enter the criminal justice system.
"What happens," says Connie Pankratz of the city's Law Department, "is that building inspectors issue a violation order. If they don't come into compliance, then we get a summons and we appear in court. What happens is that we either work out a plea bargain or go to trial—most times, we work out a plea bargain." But, she explains, the Law Department only gets those complaints that make it to the legal system—and those are a minority.
If you're interested in learning more about the building code and how it affects your condo or co-op buildings, there are many resources. Co-op and condo related organizations, professionals such as building managers and contractors and, of course, the city's online literature, may prove resourceful in your quest for answers to your maintainable, construction, renovation safety related questions.
Raanan Geberer is a freelance writer and editor living in New York City.