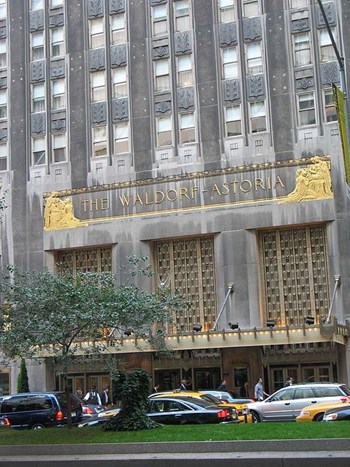 Last April, The Cooperator published an update on the conversion-to-condo project currently underway at Manhattan's famed Waldorf Astoria hotel. The precarious financial situation of Anbang Insurance Group, the Chinese company that had purchased the property, raised some questions as to the project's status, but the presence of a salvage company packing up hotel room wares indicated that the conversion of the hotel's 1,000 rooms was still going forward.
In the latest development, New York Business Journal reported last month that the Waldorf's reopening has been postponed until sometime in 2021 instead of next year as previously planned - "according to a statement from owner Anbang Insurance Group and AECOM Tishman (NYSE:ACM), which had been in charge of interior demolition since November 2017."
Despite the relatively short time frame of the postponement, things still appear turbulent in the world of Anbang. The Wall Street Journal reported last August that the company has put a $5.5 billion luxury hotel portfolio up for sale, including the Essex House on Central Park South (The Waldorf Astoria, which Anbang purchased a few years ago for $1.95 billion, isn't included in this portfolio).
Supersize Me
All that being said, if and when the Waldorf Astoria reopens, the condo units therein look to be enormous. The Real Deal got a hold of the floor plans last April and reported that while the average unit size will be 1,747 square feet, there will also be four "sprawling" units comprising more than 6,100 square feet each.
While these condo spaces have yet to be priced, The Real Deal reported that a two-bedroom unit reserved for the residential manager will cost $3.1 million, so extrapolate from that what you will. Furthermore, the offering plan for the property indicates that "condo owners can license 150 storage bins, 41 wine lockers and 34 parking spots. Storage bins cost $180 to $1,440 for the year; wine lockers run $1,500 a year and parking spots are $6,000 a year."
There will also be a staff of 29 doormen, concierges, and valets whose salaries are included in the condo's payroll of $3.7 million.
The Cooperator will continue to follow the Waldorf condo saga as it develops.
Mike Odenthal is a staff writer at The Cooperator.