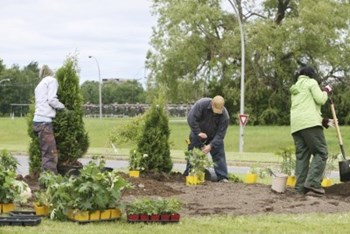 Whether trees are categorically lovelier than poems, as Joyce Kilmer famously suggested, is a matter of debate. If pressed, I'll take Ode on a Grecian Urn over Charlie Brown's Yuletide entry any day of the week. New Yorkers will agree, however, that there is a certain magic present when, in the asphalt jungle that characterizes the groundscape in Gotham, a tree grows in Brooklyn—or, for that matter, in Manhattan, Queens, Staten Island or the Bronx.
It is the practice of this arboreal magic—which is to say, the protection, preservation and enhancement of New York's street, park and forest trees—that inspired the establishment of the New York Tree Trust.
Begun in 1996 by then Commissioner of Parks Henry Stern, the New York Tree Trust is a program of the City of New York/Parks & Recreation and the City Parks Foundation. Its mission, as stated on the Trust's official website, is "To foster public-private partnerships in urban forestry, raise public awareness of the importance of urban forestry conservation and stewardship, promote new technologies to enhance tree survival and advance innovative management tools and revitalize historically and arboreally significant municipal trees."
The Role of the Trust
The trees that enjoy the protection of the Tree Trust are the ones on public land—along city streets, in parks, in forested areas owned by the city—although the Trust does offer instruction in how to plant and care for trees on private property as well.
One of the first successes of the Tree Trust—and one of Stern's motives for establishing it—was to teach would-be vandals that if you mess with an NYC tree, there will be consequences.
"He was passionate about trees," says Jennifer Greenfeld, director of the Tree Trust. "Now people know they can't touch a tree without permission."
And if someone is caught harming a tree in some way? Like, say, stapling a poster to it?
"We can seek restitution for damages," says Greenfeld. "And we do."
Mainly, though, the thrust of the Tree Trust is, as the name suggests, financial.
"Originally, the mission was to protect, care for and promote the welfare of New York City's trees," says Greenfeld. "Really what that means is, we raise private funding with Parks to further the forestry mission of the agency."
In effect, the Tree Trust acts as a liaison between private donors—be they citizens, co-op boards or charitable organizations—and the Parks Department. The Tree Trust ensures that money that's earmarked for, say; Crescent Street in Astoria, Queens is actually used there.
The Trust can also help developers cut through the red tape by handling the requisite permits. On a smaller scale, co-op and condo boards can also benefit.
"If people want to put up metal guards, but don't want to deal with contracts, they can make a donation, and we handle it," says Greenfeld.
For all the Tree Trust does—more on its many programs in a moment—the organization itself is tiny. While there are shared support staff from the Forestry division of the Parks Department, Greenfeld, the director, is the Trust's only fulltime employee.
She is up to the task, bringing to the job a passion for natural resources and forestry, a Master's degree in Forest Science from Yale, and a decidedly appropriate surname.
Planting New Trees
This past April, Mayor Bloomberg announced the cleverly named PlaNYC, a blueprint for New York City to attain sustainable growth and improve the quality of life in the face of escalating population projections.
"The Mayor's plan—shaped by input from environmental, business, community and legislative leaders as well as thousands of New Yorkers—details 127 initiatives within five key areas of the city's environment: land, air, water, energy and transportation. Components of the plan include increasing access to open space, cleaning up contaminated lands, improving water quality through natural solutions, achieving the cleanest air quality of any big city in America and reducing global warming emissions by thirty percent," to quote the city's website.
What was an obscure division of the Parks Department has blossomed into a more significant entity with the unveiling of PlaNYC.
One of the goals of that sweeping and ambitious plan, which will be formally announced later in September, is to plant one million new trees in New York City in the next ten years. Some $391 million is in the budget over the next ten years to accomplish this goal. In addition, Bloomberg has funded for additional staff and millions of dollars earmarked for new forestry and horticulture maintenance.
But let's get back to the million trees over ten years. That is 100,000 trees a year for the next decade. That's, in short, a lot of trees. But what does that number mean exactly?
"There are an estimated 5.2 million trees in the city," Greenfeld says, a figure which includes both public and private lands. "Half of those are under Parks. 592,130 are growing along the streets. About 220,000 more can go on streets to fully stock it."
The rest of the million—a twenty percent increase in the number of trees—comprises some 300,000 in natural areas, which includes an extra 2,000 acres of forested areas.
"Current funding will take us to half the goal," Greenfeld says. "The other half is private. That's the next challenge for us."
For more information on the Tree Trust, or how your building can get involved with PlaNYC, call (212) 360-TREE.
Greg Olear is a freelance writer, editor, web designer, astrologer and stay-at-home dad living in Highland, New York.