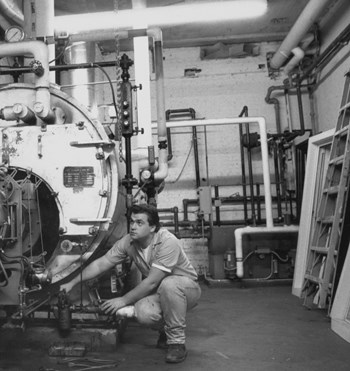 There are worse places to be than New York City in the winter — Minneapolis, for example, or Anchorage. Thanks to the North Atlantic current, the Big Apple doesn't tend to freeze as hard as some other northern cities, but it still gets darned cold, and if your building suffers from heating problems, darned cold is cold enough. Most managers and board members tend to leave heating issues to their supers or building maintenance staff, but when the pipes are hissing and residents are up in arms and suffering from hypothermia, it can be helpful to understand what the problem is and how it might be fixed.
The Hot Zone
Even in a small building, producing enough heat to keep everybody comfortable takes quite a bit of fuel. That fuel can be oil, gas, or electric. The vast majority of New York City's buildings are steam-heated, meaning that oil or gas is heated in a boiler and, the resultant steam distributed throughout the building.
"Electric heat needs the least maintenance," says Peter Grech of the New York Superintendents Technical Association (STA). "And with electricity, there are no leaks and no mess. In most cases, problems with electric heat don't affect the entire building—if something goes wrong, the heat usually goes out in just one apartment at a time. So maintenance-wise, electric heat is a no brainer, but it costs so much to produce, it's rarely used. Even if you take into consideration the maintenance, leaks and repairs involved with steam heat, electric heat would still cost more."
And that's why most of us have big, hulking boilers in our basements. In the most typical New York apartment building setup, fuel—usually oil or natural gas—is ignited in the boiler's combustion chamber and produces hot gasses, which then pass through metal "fire tubes," heating water on the other side of the chamber and producing steam. The steam then rises naturally through the building's heat pipes and risers, into individual radiators, heating them up and making everything cozy.
Burning fossil fuels for heat and hot water comes with its own set of maintenance challenges, however. And as anybody who's ever shivered through even one January night without heat knows, when there's a problem with the boiler, it's a big problem.