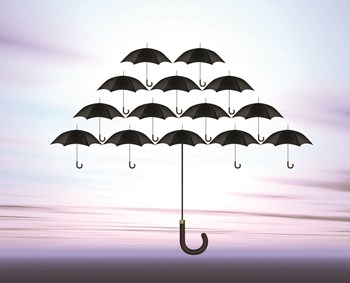 Any number of things can set off an insurance claim in a co-op or condo building. Someone can slip and fall in the lobby; there can be aesthetic damage from a construction project, or a leaky roof can cause major water damage— sometimes in multiple units. And while most building managers might understand the basics for filing a claim, the road it travels from the initial contact with the insurance company to a compensation check appearing in the mail can be a long one.
Filing the Claim
"As far as co-ops and condos are concerned, we immediately report the claim to the insurance company, regardless of whether it's a property claim or a liability claim," says Brendan Reilly, a claim manager at The Whitmore Group, an insurance firm based in Manhattan. "And we follow up on a property claim every second day until the adjuster gets there. On a property claim, we try to get a price on the damage within 30 days."
"On a liability claim," Reilly continues, "we report the claim to the insurance company and follow up with the examiner assigned to make sure that he contacts our customer and gets the story from our customer first. Then we follow up on a three-month basis to find out what's going on with the claim. When we get a copy of a check, then we know that the claim has been paid."
Usually the managing agent of a cooperative files the claim on behalf of the building. If a cooperative doesn't have a managing agent, the board president or specially appointed board member heads up the process and monitors its progress.
"Claims are usually reported by the management firm," says Robert E. Mackoul, CLU of Mackoul & Associates, an insurance company based in Long Beach. "In the case of a large building or complex, it would be the site manager, or in the case of a small building, an authorized board member.
Claims against the building follow much the same course—when dealing with claims made against board members themselves for example, the property manager is notified right away, since they're at the forefront of the building's operations.
"A lot of these co-ops and condos also have their own general legal counsel," says Jackie Anderson, managing claim director for Kevin Davis Insurance Services, which is headquartered in Los Angeles. "Directors and officers are volunteer board members [and protected by the co-op or condo's D&O coverage] so the on-site manager and legal people will handle the claims made against them."
The Word Gets Out
When a claim is filed against the building, it's almost inevitable that the bad news will travel fast. The management firm will immediately let the board president know, and then it's up to the board president to let the other members know.
A minor property claim will normally just be tabled until the next board meeting, but "if it's a large property claim affecting one or more units, then everyone on the board is going to know about it," says Mackoul. "And there is going to be a lengthy dialogue between the board, the management firm, the insurance broker, the insurance company, restoration firms, public adjusters and the cooperative/condominium counsel. If there is a management firm, usually the managing agent is the 'maestro' and coordinates everything in conjunction with the board president and other members of the board."
For liability lawsuits against the building or board, the lawsuit will be forwarded to the insurance broker, and usually the co-op or condo's attorney.
"The insurance carriers will answer the lawsuit," Mackoul continues, "but if that's not possible because of time restraints, or if it is immediately determined that there is no coverage or defense through insurance, then the co-op/condo's counsel will answer. If the building is self-managed, the board president would probably call either the insurance broker or their attorney for guidance."
Shareholders may also be made aware of claims at board meetings but never in confidential matters. "In some cases they may be the ones brining the claims against their own board," adds Anderson.
If there is a possibility at any time that a claim is going to result in a payout by the building and that the shareholders could be assessed, then clearly the shareholder/unit owners must be notified—and the sooner the better.
An assessment to unit owners could be the result of two things: either the building doesn't have enough insurance coverage for a enormous property or liability claim, or there is no insurance coverage for either a property or liability settlement. Either scenario is cause for alarm, and a building's residents have a right to know if such a situation exists—preferably before a huge claim is filed and throws the entire building's finances into a tailspin. Co-ops with an underlying mortgage are legally obligated to carry adequate insurance—condo owners however, must be certain to cover all their insurance bases to avoid having to pay out-of-pocket for expensive claims against their association.
Analyze This
Once a claim is filed, an adjuster must determine if it has merit. In the case of a property claim resulting from something like a busted pipe or a fire, the insurance carrier will assign an adjuster to determine if there is coverage under the policy, and the process of determining the amount of settlement begins.
"It's up to the adjuster to go out and investigate to see if it's a valid claim," says Reilly. "They come out, assess the damage and hopefully settle the claim."
Each claim has its own merits, says Reilly, and there are various standard aspects an adjuster takes into account when assessing a claim. The relative size of the claim is based on the value of the property, the damage that was done, whether there are issues of business interruption from the damage, and how much time it will take before the damage is repaired and the property is returned to the condition it was in before the claim.
"Depending upon the size and extent of the damages, and the complexity of the claim," says Mackoul, "the co-op or condo may want to have a public adjuster represent their interests. Public adjusters do the same work as the company adjusters and work in conjunction with the company adjusters, contractors and so forth to reach a fair settlement. A relatively small claim—under $10,000, say—can be relatively simple."
Liability claims or lawsuits are reviewed by the insurance company, and if it is determined to be covered, the carrier would have to provide a defense and pay any award up to the policy limit (usually $1 million).
"Most buildings have umbrella policies which extend that coverage from $1 million to up to $100 million," says Anderson.
Money Matters
When it comes time for insurance companies to determine the compensation and or damages resulting from a claim, there is no set number or magic dollar amount. The final figure can largely depend on an insurance carrier's willingness to adjust the claim fairly. Property claims are based upon a replacement cost basis.
"Arriving at the replacement cost to repair damages to the building is the harder part and open to negotiation," says Mackoul. "If it is a large, complex claim, many factors can enter into the mix. Issues such as loss of income and maintenance fees figure in, so it can be a process fraught with frustration on occasion. Liability claims are either settled by negotiation before or during court by the insurance carrier, or are awarded by a jury."
According to Mackoul, there's replacement cost coverage regarding serious claims where some money is held back until the work is done and then that money will be returned.
There is such a thing as actual cash value and replacement cost. Actual cash value is replacement cost less depreciation. When the work is done, if you have replacement cost coverage you are paid whatever depreciation is held back.
"The claim settlement on property is going to be paid to the co-op or condo," Mackoul continues. "It will reimburse the co-op for what the replacement cost of the property damage to the building is. The check is usually deposited back into the building's account, be it the operating account or reserve fund."
"If there's a mortgagee with a large claim, the mortgagee has to be named on the check," said Reilly. "Anything over $5,000—the mortgagee has to be named on it. Under $5,000, you issue the check to the cooperative."
Red Flags
Every cooperative and condominium insurance carrier by law must create a loss history for each building they insure, and most new insurance companies want to see the past five years of claim activity for any building seeking a policy.
Though a building's claims history has an impact on their premium (and ultimate insurability), insurers don't typically warn policyholders about claims that will result in long-term ramifications for their building. For that reason, it's important to be careful and not constantly file claims for every incident that may transpire—though it's relatively rare, insurance carriers do have the right to cancel a building's with just three month's notice.
"It's not like automobile insurance where a driver is rated," says Reilly. "If you have a consistent number of claims, or if your history shows that you are claim-conscious, your insurance company may give you 90 days to find someone else." Reilly adds that a building that has had a significant number of claims will be viewed as a poor risk, and will not have access to companies willing to underwrite coverage at preferred premiums.
Final Thoughts
Property managers need to be on top of things when a claim is filed on behalf of a building or when someone files a claim against them. It's important to stay proactive during the investigation process, supplying all the necessary information and documentation to ensure a timely settlement.
Anderson stresses one major point with any insurance claim. "Whether customers are dealing with D&O, general liability or any claim, I can't stress enough giving timely notice to your insurance carrier of any loss that they may be faced with. It's important to really cooperate with your carrier by participating in the investigation and responding to their requests." n
Keith Loria is a freelance writer and a frequent contributor to The Cooperator.