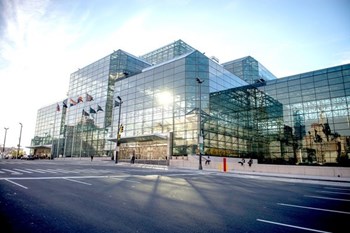 On Tuesday, October 29th, thousands of board members, managers, apartment building owners and co-op, condo, residents will gather at the Jacob K. Javits Center at 655 West 34th Street in Manhattan from 10:00 a.m. to 4:30 p.m. for another exciting, informative edition of The Cooperator Expo.
The Fall trade show is the autumnal counterpart to The Cooperator's Spring Expo, an industry fixture that has drawn hundreds of vendors, service providers, industry professionals, and attendees from all over the tri-state area for nearly 30 years.
In fact, the spring event has been so perennially popular since its inception, The Cooperator and its parent company, Yale Robbins Publications, launched the Fall Expo in 2017 to offer a second opportunity for attendees to take advantage of everything that has made the spring show such a must-attend event for so many years now.
Like its springtime counterpart, the Fall Cooperator Expo is an invaluable, one-of-a-kind opportunity for anyone involved in their building or association's day-to-day- operations to learn about the latest in building services from nearly 300 exhibitors, attend informative seminars, get free advice from legal and management experts, and more. (And did we mention that it's FREE to attend? Just visit coopexpofall.com and register – it's that easy.)
Come Learn With Us
Exhibitor booths, information, and demos are the heart of the Expo, but they're certainly not the only reason to swing by Javits. A full slate of relevant, well-curated educational seminars and expert panels will be running all day long, giving attendees the opportunity to take master classes on a broad array of timely topics. This year's roster includes:
Comfort Pets – How Boards Should Handle Legitimate Requests and Combat Fraudulent Ones
Presented by Schneider Buchel LLP
In buildings and associations that forbid pets or limit the number or type of pets owners may have, navigating the law and ethical issues around comfort pets can be tricky. Factor in the issue of residents claiming to be disabled and obtaining bogus paperwork designating their pets as 'comfort pets' in order to skirt community rules, and the picture becomes even more confusing. This seminar will clarify what the law actually says, what qualifies as a comfort pet and service animal, and how boards should deal with the requests in order to avoid liability in a discrimination lawsuit.
The Housing Stability & Tenant Protection Act of 2019 and its Impact on Cooperatives
Presented by Kagan Lubic Lepper Finkelstein & Gold LLP
The Housing Stability and Tenant Protection Act of 2019 contains significant reforms to New York State's rent laws, and may have implications for co-ops. This seminar will provide an overview of the reforms, and discuss how it may impact co-op communities, touching on issues including security and maintenance deposits, late fees, lanlord-tenant proceedings, duty to mitigate, and possible criminal charges and civil penalties for unlawful evictions.
The Economics of Solar in NYC's Multifamily Residential Buildings
Presented by Best Energy Power
When it comes to saving both money and the environment, solar is the future for multifamily buildings and associations —but many boards and managers have questions about how to make solar energy a reality for their communities. Come find out how solar works in the multifamily context, from costs vs. benefits and ROI to the incentives, financing and subsidies available for buildings that go solar, to the actual panel installation process.
Financing Solutions – Navigating Options for Your Building's Underlying Mortgage in Today's Market
Presented by Meridian Capital Group
In an ever-changing financial and regulatory landscape, making strong financial decisions for your building can be a challenge. This seminar will provide up-to-date information on lending and borrowing to help you manage your co-op's underlying mortgage in today's environment, and choose the best financial products and services available for your unique community.
What Boards Can Do When Talking Fails – Do's and Don'ts for Managing Problem Residents and Objectionable Tenants
Presented by Spolzino Smith Buss & Jacobs
There's at least one in every association: a compulsive litigator, a bully, a chainsmoking animal hoarder, or just a resident who ignores every house rule and seems impervious to every penalty. This seminar will offer tips on what boards can do to address these situations, and how to protect itself if aggressive action is needed. We will discuss when the "objectionable conduct" clause may be invoked, as well as other potential remedies. Panelists will discuss liability, board duties and limitations, legal considerations, and resources boards can access to help them deal with a problem tenant.
Efficiency Improvements for Your Steam System in NYC's New Landscape
With the passage of the Climate Mobilization Act earlier this year, it's more important than ever for NYC residential buildings to become more energy efficient. Led by experts, this seminar will discuss ways to improve the efficiency of your building's steam system, from regularly inspecting and maintaining steam traps to insulating pipes and valves, to insulating the building's envelope. Come find out how your building can achieve these steps while saving money and energy in the long run.
...and So Much More!
In addition to all that, of course the Fall Expo will include the amenities (and freebies!) that have made the Spring show so popular, including a convenient food court, free legal advice booths, product demos, and valuable giveaways from exhibitors throughout the day. There's also no better opportunity to simply meet colleagues, peers, and influencers from across the spectrum of services, organizations, and professions that make the New York multifamily housing industry the exciting, dynamic place it is.
The Cooperator and Yale Robbins Publications are thrilled to invite any and all who have a stake in a co-op, condo, HOA or apartment building to take part in this phenomenal opportunity. We invite you to join us on Tuesday, October 29th at the Javits Center; for FREE registration and more information, visit coopexpofall.com. We look forward to seeing you at the show!