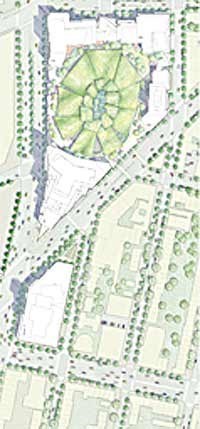 East of the busy intersection of Atlantic and Flatbush Avenues in Downtown Brooklyn, where the Long Island Rail Road and almost 10 subway lines intersect, one finds, in the shadow of the landmark Williamsburgh Savings Bank building, the Vanderbilt Rail Yard. At this rather unattractive open-air facility, trains that terminate at the LIRR's Brooklyn terminal rest between rush hours are cleaned and serviced.
A visitor would find that several nearby blocks look somewhat like a ghost town. One sees vacant lots, some vacant low-rise commercial and industrial buildings, several still-operating businesses (most notably the famous Freddy's Bar), and low-rise residential buildings with only a handful of occupants left. Once, more than 400 people lived in these blocks, according to activist Daniel Goldstein of Develop Don't Destroy Brooklyn—now, fewer than 100 remain.
The rail yard and the aforementioned blocks are in the "footprint" of the 22-acre Atlantic Yards development being planned by developer Forest City Ratner.
Big Plans for Brooklyn
The Atlantic Yards development project, if built according to plan, will center around a new arena for the New Jersey Nets, which Bruce Ratner, the CEO of Forest City Ratner, now owns. It also includes 16 high-rise buildings designed by famed architect Frank Gehry.
While the complex will be built in stages, Ratner forecasts that the Nets will be playing in the new arena by 2009. The centerpiece building, the futuristic "Miss Brooklyn," as Gehry calls it, was originally supposed to rise higher than the Williamsburgh Bank building, currently the tallest structure in Brooklyn at 512 feet. However, political pressure forced planners to scale it down so this will no longer be the case.
The high-rises will contain space for housing, offices and a hotel. Housing will be the largest component - there will be 4,500 rental units, of which half would be set aside for either middle-income or low-income families, according to Forest City Ratner spokesperson Loren Riegelhaupt. The plan also includes 1,930 market-rate condos and an indeterminate number of affordable single-family homeowner units.
Over time, several other elements have been added to the plans for Atlantic Yards, such as a grand entranceway to the arena and the subway/rail lines, more acres of open space and a new elementary school.
Dissenting Voices
A casual observer might indeed conclude that, in Borough President Marty Markowitz' words, the Atlantic Yards project would be "a slam dunk for the borough." It has been supported by Markowitz himself, Mayor Michael R. Bloomberg, Governor Elliott Spitzer, former Governor George Pataki and Sen. Chuck Schumer - as well as Nets stars Jason Kidd and Vince Carter. It has been approved by the MTA, the Empire State Development Corp., and the Public Authorities Control Board.
Moreover, according to Riegelhaupt, Ratner has a record of using union labor, and has formed a "community benefits agreement" with several mainly-minority advocacy groups. He has hired an African-American design and construction firm, McKissack and McKissack, to move the rail yard itself to a temporary location and construct a new state-of-the-art facility. And he controls an estimated 90 percent of the land in the footprint.
Yet, a feisty opposition movement began soon after the project was announced at the end of 2003. Several elected officials who represent the neighborhood or nearby areas, such as Assembly members Joan Millman and Jim Brennan, are critical of the development; and one, city Councilwoman Letitia James, is among its most fervent opponents.
What are opponents' objections to the Atlantic Yards plan? They are numerous, but here are some:
The monumental scale of the project, in the midst of predominantly low-rise Fort Greene and Prospect Heights. "People love Brooklyn because it is livable, because it is low-rise and because it has character," says Kate Suisman, spokeswoman for Councilwoman James. "This project would cover our neighborhoods in shadows."
The anticipated use of eminent domain by the state for what opponents stress is a private, not a public, project. For its part, Forest City Ratner says it wants to minimize the use of eminent domain as much as possible, and has given huge buyouts to many homeowners.
Concern over traffic impacts to the area, as well as the de-mapping of portions of streets.
The nature of the community benefits agreement, whose beneficiaries include the Association of Community Organizations for Reform Now (ACORN), a community housing group, and Brooklyn United for Innovative Local Development (BUILD), which would help provide jobs for low-income area residents. Councilwoman James called the agreement a "private benefits agreement" that favors some community groups at the expense of others.
The planned demolition of historically significant buildings. Brian Connolly of the Municipal Art Society points to the Ward Bakery, built in 1910 and an example of the "active industry that used to thrive near the rail yards," and the circa-1906 Long Island Rail Road Stable, which housed horse teams that transferred materials from trains to nearby businesses. "Both structures were found to be eligible for the National Register of Historic Places of Historic Places, and both … could be adapted for housing or other uses."
The fact that Atlantic Yards went through a state review process rather than the city's Uniform Land Use Review Process (ULURP), which mandates direct community board and City Council input.
Some people see the Atlantic Yards conflict as a racially charged socioeconomic issue, pitting poor African-Americans from Fort Greene who desperately need jobs and affordable housing against middle-class whites from Prospect Heights who worry about the value of their homes. One group of African-American ministers, the Downtown Brooklyn Leadership Coalition—co-founded by the Rev. Herbert Daughtry before he left to support the project—opposes it.
But in reality, there are blacks and whites on both sides, and the objections from various groups include an array of complaints. Several lawsuits have been filed, including the federal lawsuit (Daniel) Goldstein v. Pataki, which challenges the anticipated seizure of the remaining properties by eminent domain. Arguments began in early February, and many observers say the project can't go forward until the lawsuits are resolved.
Origins of the Issue
To understand both sides of the Atlantic Yards battle, we have to go back to the beginning. The rail yard and a small western piece of the footprint were part of the Atlantic Terminal Urban Renewal Area beginning in the 1960s, says Jim Vogel of the Council of Brooklyn Neighborhoods, a coalition of civic organizations.
Baruch College once planned to relocate there, but decided not to when the real estate market in Manhattan improved. Another firm, Rose Associates, planned a mixed-use development in the 1980s, but was unable to land an anchor retail tenant.
How did Forest City Ratner succeed, at least in the planning stages, where others failed? Some feel that it's because Bruce Ratner is a longtime political and business "insider" from way back, experienced in dealing with city and state agencies—and was willing to take a chance on Downtown Brooklyn when few other builders would.
A Harvard Law graduate from a Cleveland-based real estate family, Ratner served as commissioner of consumer affairs during the Koch administration. In Brooklyn, his firm developed the MetroTech office complex during the late 1980s and 1990s; the Atlantic Center mall (near the Atlantic Yards site) in 1996; and the nearby Atlantic Terminal mall in 2005.
Atlantic Yards may have had its genesis when Markowitz became borough president in 2002. At that time, he said Brooklynites should "fuhgeddabout" luring a major-league baseball team back to the borough—instead, an NBA basketball team was the way to go. Around the same time, the Nets were put up for sale. There were several bidders, but Ratner ultimately won. Reports of a new arena above the rail yard surfaced in the summer of 2003, and a formal announcement was made in December of that year.
The entire project would cost $4 billion. How would this be financed? According to Riegelhaupt, the city and the state would each contribute $100 million. Instead of property taxes, Forest City Ratner would repay the state with Payments In Lieu of Taxes (PILOTS).
In December, British-based Barclays Bank announced that it is investing $400 million in return for the "naming rights" for the arena, which will now be called Barclays Center. The rest would be financed by Forest City Ratner and its investors.
Opponents of the plan have supported several alternate plans. In 2004, after a series of workshops, architect Marshall Brown unveiled his Unity Plan, which would stick to the area above the rail yard and not tear down existing blocks. This plan would forego the arena and commercial office space, but would include 2,300 units of housing, 75 percent of which would be affordable, as well as 600,000 square feet of street-level retail, open space, a community center and a school.
The Unity Plan was partly the basis for a plan unveiled by Extell Development Corp. in 2005. The Extell plan would, like the Ratner plan, use union labor, would go through ULURP, and would include no buildings greater than 30 stories. Extell also offered to sell Ratner one of the yard's lots to build his arena. Even though Extell bid $150 million for the rail yard site and Forest City Ratner bid $50 million (later $100 million), the MTA, which owns the yard, chose Forest City Ratner.
Pros and Cons
So all in all, what are the pros and cons of the Atlantic Yards project?
On the pro side, Riegelhaupt, of Forest City Ratner, says, "It will bring thousands of jobs, housing and eight acres of public space, along with places for people to shop and eat. And, of course Atlantic Yards will have an 18,000-seat arena which will be the home of the Nets as well as a place for concerts, family events and graduations." Even many opponents concede that it would produce some desperately-needed affordable housing and construction jobs.
Also, the proponents of Atlantic Yards say that the rail yard area, with its access to the railroad and a plethora of subway lines, is perfect for an arena. That very site, they point out, was coveted by Dodger owner Walter O'Malley in the mid-1950s when he still was willing to build a new Ebbets Field in Brooklyn.
On the other hand, the project's opponents, such as Goldstein and Councilwoman James, say the high-rises would push out the remaining low-rise buildings by a "ripple effect," and create a traffic nightmare. James argues that the plan uses a sterile, outdated "superblock" concept that is out of scale with the surrounding structures, and would tear up the neighborhood with construction for years to come. Other critics contend that when Ratner built MetroTech, few of the jobs there went to low-income Fort Greene residents, as had been hoped. Goldstein says that the new plan would cause "instant gentrification," and mainly create low-wage unskilled jobs at the arena.
So, what will happen at the end of the day?
Will the Brooklyn Nets and the Barclays Center make Downtown Brooklyn a major sports destination, with the new apartments providing affordable housing and a new life to thousands of families? Will the project, instead, be tied up in court for years, with constant delays and possible defeat for Forest City Ratner? Will the arena and several other buildings ever be constructed? Or, will growing political pressure cause Forest City to drastically downsize Atlantic Yards?
There's no way of knowing for sure. Stay tuned!
Raanan Geberer is a freelance writer living in New York City.