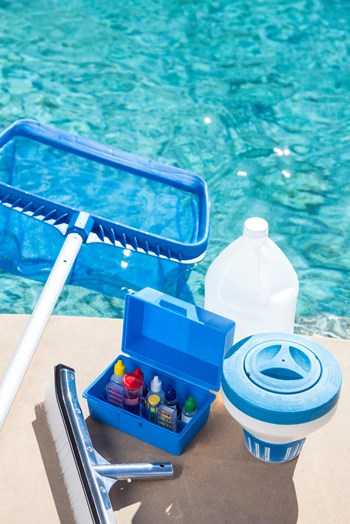 As we hopefully move into warmer weather, lucky New Yorkers living in condos or co-ops with pools can spend all day tanning and swimming in the indoor or rooftop pools housed in their buildings.
A swimming pool is a rare and valuable amenity for any New York City co-op or condo building, but maintaining a safe, sanitary and attractive pool area is no small undertaking.
There are many New York laws outlining what you can and can't do with regard to pools—and if you break any of those rules, you could be fined at best, or your pool could actually be shut down at worst.
So before clearing out a space for a building pool, it's important to know how much ongoing maintenance and law abiding will cost the building.
There are currently more than 150 residential pools in New York, and only about 15 of those are outside, according to New York's Department of Health and Mental Hygiene (DOHMH). Some buildings with pools include Riverhouse and the Visionaire in Battery Park City downtown, 40 Mercer Street in SoHo, 200 Chambers in Tribeca, the Atelier and The Strand in Hell's Kitchen, the Lucida on the Upper East Side, One57, Ariel, The Rushmore and 15 CPW on the Upper West Side, Oro in Brooklyn and the Viridian in Greenpoint, to name a few.
Mostly Indoors
The reason why there are so few outdoor residential pools in the city is because the outdoor pools are significantly harder to maintain than indoor pools, says Kent Doyle, owner of B&K Aquatic Consultants Inc. in Succasunna, New Jersey.
Since most people swimming in an outdoor pool are wearing sunscreen, the oils and the residue from the lotion comes off their bodies and goes into the pool water, causing a dirty build-up and scum lines around the tile.
But that's not the only problem with outdoor pools.
When the pools are outside, they're open to every type of dirt, including leaves, pine needles and bugs. All of those equate to higher cleaning and maintaining costs. These costs aren't a small issue. Having a pool in a building can cost upwards of $3,000 just in cleaning and chemical fees.
Pool Operation Management, a pool consulting and management company, it's possible to pay a la carte for their services. For a full seasonal service, which includes opening and closing the pool, 16 weekly visits, they charge between $1,375 and $1,574—and that number doesn't include the chemicals, which can tack on an additional $3,000.
To do a pressure wash for the winter, they charge $100 per hour. Removing the leaves from the pool cover prior to opening is $50 per 30 minutes, and filter cleaning is $100-$300 per hour depending on the filters not including chemicals. Pressure testing is an additional $200 per hour.
Cleanings and Inspections
Stuart Roaker, president of The Pool Therapist a commercial pool management company in Staten Island, says he typically charges $125 per month for an average-sized New York residential pool. The chemicals are an additional $3,000 annually.
"The chemicals are the most costly, because they have to be brought into Manhattan—and after 9-11, all trucks are checked," he explains.
There's no way to get around these fees.
"It's the law in New York," he says.
The New York City Health Department mandates that a pool be checked and possibly cleaned three times a day or every three hours. Outdoor pools need to be checked every hour.
In addition to the standard checks, there could be pool problems outside the norm which can quickly add up in terms of cost of pool maintenance.
Trevor Sherwood, owner of Pool Operation Management in Brick, New Jersey, says there are two problems that he continually gets called to fix.
"The pool is green or cloudy," he says. "If the pool is green, it is one of two things. It is algae or minerals in the water and nine of 10 times, it's algae."
To fix that, Sherwood says, "You should brush the algae off the walls, shock the pool and then use an algaecide."
The cost to fix that issue depends on the size of the pool."
If the pool looks cloudy, it is likely poor filtration or poor water balance, says Sherwood.
"The first thing would be to test the water to see if the chemicals are balanced," he says. "If you keep the water balanced and make sure the filtration is flowing properly, you will eliminate 99 percent of these problems."
Some co-ops or condos attempt to lower their costs by asking the super to take on the pool as one of his responsibilities.
You Need a CPO
By law, however, the super must be trained as a Certified Pool Operator (CPO) in order to maintain the pool.
It's not something that Roaker would recommend.
"If you have a toothache, you don't go to the eye doctor, you go to the dentist," he says. "If you have something that is regulated by the health department, you need to see a pool specialist."
The other problem is that most supers have enough on their plates, and can't devote the proper amount of time to maintaining a pool.
"They have to see if they have time to take care of it," Doyle says. "The amount of time it takes depends on the usage and the area that the pool is in (indoor or outside)."
Doyle says his company visits each of the pools under their responsibility four-five days a week. It takes at least an hour per visit to maintain the pools.
When maintaining the pool, the biggest job is to balance the chemicals.
Ever go swimming and smell the chlorine? That's not a good thing, Roaker says. What that means is that there's too much chlorine compared with the other chemicals, and it can cause health problems for the swimmers. If the chlorine number is too high, then it can cause red eyes and rashes on the skin.
You could also tell if there's too much chlorine if your bathing suit fades after you swim.
"Chlorine is a concentrated version of bleach," Roaker says. "If your bathing suit is fading, then the balance is off. You should shower right after swimming to wash it off, especially out of your eyes."
Buildings can choose to install a computerized chemical controller into the pipes for about $7,000. While that number seems high, it can save your pool from being closed down by the health department.
"A health inspector going to the pool to will check the chemicals," Roaker says. "With this devise, all the chemicals would be in the proper proportion."
Lifeguards Mandatory
Another pool cost is the lifeguard. Unlike other states, where lifeguards are optional, New York City requires them.
"If you don't have a lifeguard, you'll get a letter from the health inspector, and the pool will be closed," Roaker says. "Each pool has a permit, just like a restaurant. But unlike the restaurant, which gets letter grades, we get closed down."
Most lifeguards get paid an hourly wage for the hours that the pool is open, and nearly all pool maintenance companies offer a lifeguard as a service that they'll provide as part of the package.
Their lifeguards must be certified and up to date with all their testing and requirements to be qualified to work in a New York City residential pool.
According to the New York code, the Certified Pool Operator must complete daily operation records on forms approved by the State Commissioner of Health. A copy of the records must be kept at the facility for 12 months, and they may be required to submit reports periodically.
Compliance issues result in fees of $2,000 or closure of the pool entirely.
Since there are so many tasks, codes and rules to keep track of, it's important to hire a pool maintenance company that's well aware of how things run in New York.
They should be able to take care of every single thing relating to the pool and the area around the pool—if that's what your building requires.
Some companies, like NYS Pool Management based in Suffern, will take care of everything from caring for the pool to cleaning the spa and gym area around the pool to everything in-between.
They hire the lifeguards and Certified Pool Operators and if your building requires extra staff, such as the snack bar waiter, they could do that too.
NYS Pool Management also applies for permits and fills out the paperwork when it comes to the forms required in New York. They clean and vacuum the pool, power wash the deck and are available 24 hours in case any of the chemicals become unbalanced. They even clean the pool-area bathrooms.
It's up to the building to decide how comprehensive their pool maintenance company would be. They could cut back on costs by having their own janitors clean the bathrooms, the pool chairs and the deck area—but each of these duties makes having a pool more expensive.
The fees don't stop just because the summer pool season ends.
If the pool is outdoors and gets closed at the end of the summer, as the pool maintenance crew if they drain the water, do an acid wash of the entire pool surface, and clean and service the pool equipment.
They should also install antifreeze in all the piping and pumping systems, and they'd remove and store the pool furniture for 9 months.
And after all is said and done, residents can finally make a big splash.
Danielle Braff is a freelance writer and a frequent contributor to The Cooperator.