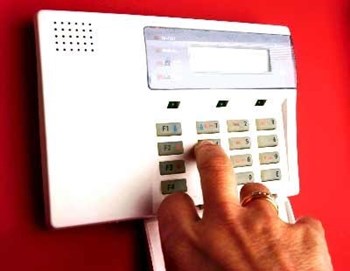 With so much talk these days about costly security projects designed to benefit buildings over the long term, it's easy to overlook a far more approachable option. Updating older video-based surveillance technology with a digital security system that is appropriate for your building can be a simple and cost-effective way to not only protect yourself, your neighbors and your property, but also your cooperative or condominium's bottom line.
The advantages of a digital surveillance upgrade are considerable. To begin with, newer technology makes for a safer building. Unlike the grainy black-and-white live-feed systems of the past— which in spite of being the standard of a bygone era are surprisingly abundant - digital video recording (DVR) is crystal clear, in color, and can be stored on a server just like a computer file. If you have digital cable with DVR on your home television, this simple yet revolutionary technology is already a part of your daily life.
Individuals captured on a DVR are more easily recognizable than on older recordings. The digital nature of the technology also allows surveillance feeds to be accessible for review for as long as the data remains saved, from any location with access to the server. As a result, weeks- or months-old recordings have the potential to be viewed by authorized individuals from anywhere.
The Perks
In addition to making your building safer, modernizing older surveillance systems with digital technology will make your building more cost-effective. It is the business of property insurers to understand how technology can affect their bottom-line. When your insurance company is confident that its risk in insuring you has been lowered, that confidence will be reflected in your premiums.
Moreover, while your building staff may be responsible for monitoring who comes in and out, making it apparent that someone is monitoring them while they are on the clock— and on your property— has its own advantages. As in many other work environments, theft and loss of productivity are major concerns.
Something as simple as a digital camera in your lobby can make a world of difference. Explaining to staff how the new surveillance technology works will carry an implicit warning in and of itself that will keep doormen and supers on their toes. Likewise, residents and their guests will have an additional incentive to maintain the overall condition of common areas.
The Homework
While digital system upgrades are highly affordable, the best bargain is not always the best product. Furthermore, New York real estate is famous for its wealth of building sizes and layouts across multiple architectural periods. Every building is unique, and deciding on a system that fits your particular needs is a process best done with the benefit of careful consideration and thorough product research.
In addition to researching various product options yourself, contact a reputable firm which offers products from multiple manufacturers and ask the sales representative to arrange on-site visits to their clients' buildings, as well as viewings from remote locations. This type of accommodation is an industry standard.
The most important feature in a security system remains its usability and ease of operation, i.e., the software should be user-friendly and intuitive. If you and your building personnel have trouble using the product then there is no point in spending the money, energy and time required to install it. You need not liquidate your prudent reserve, but a system that has been certified by the International Standards Organization (ISO) is generally the best investment. Better systems tend to function longer. They provide the right speed and hard drive capacity and are designed for expansion to accommodate new technology as it is developed. Most importantly, better-built systems work when you need them to work.
Additional considerations are the appropriate number of cameras necessary to secure your building and meet your objectives, as well as storage capacity. The system should have a hard drive that is large enough to work fluidly and allow for maximum storage of surveillance footage, as well as a dependable external back-up solution that will prevent loss of data and allow you to archive any footage you deem important enough to keep over long periods of time.
This may sound like a lot of research, but it is essential to choosing the best possible system to meet your building's unique security needs. You have already made a major emotional and financial investment in your home. It only makes sense to make that investment worthwhile.
Jon Ecker is president and chief executive officer of Peace of Mind Technologies, LLC, a Manhattan-based security firm.