As demand for more residential space in New York City continues to grow, real estate developers are turning to churches to satisfy that constant need.
Following a trend that has occurred in the Big Apple and other parts of the country, churches have become hot properties for developers to acquire and transform into condos.
"With the limited amount of real estate available, all building types are subject to conversion," said Nadia Meratla, senior vice president of design and development for Douglas Elliman Development Marketing. "I definitely think there's a sense of people being a little bit more nostalgic and really seeking interesting architecture that's a little bit more unique than our typical cookie-cutter product."
"There are a variety of reasons why houses of worship might seek to explore conversion to alternative uses," said Mitchell A. Korbey, a partner and chair of land use and zoning at the Manhattan-based law firm of Herrick, Feinstein LLP. "For example, the congregation might be dwindling. They find themselves in a situation where they need to explore a sale of a property or reuse of a property."
Unorthodox as living inside a church may be at first, there are several reasons why these former houses of worship—a number of them considered landmarks—are attractive to developers and buyers. "Churches tend to be in prominent locations," Meratla said, "be it either a corner site or a pretty publicly accessible location. They tend to occupy prime real estate in general. And I think people are drawn not only to the location, but the aesthetic of getting something that is a little less conventional that has intriguing spatial character and affords a bit of a special product."
The wide interior space of a church with its high ceilings and windows are perhaps the biggest drawing cards surrounding these conversions. "You're going to get distinct architecture and fenestration," explained Meratla. "There's usually some ornamental ceiling or window that is definitely charming. I think spatially the volume is what the greatest opportunity in terms of getting a large uninterrupted interior space that you can tailor to any possible number of residential opportunities."
Retrofitting for Modern Living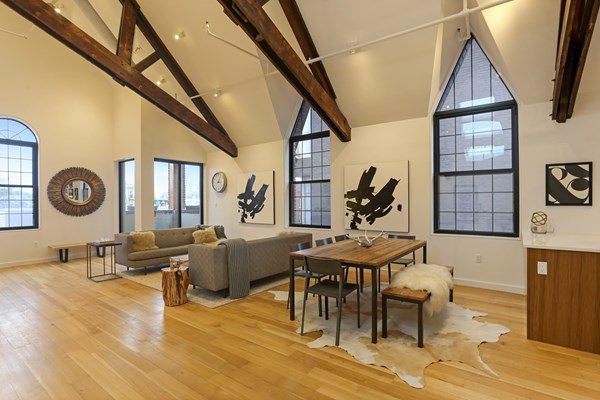 Manhattan and Brooklyn have been prominent areas in the Big Apple where these church-to-condo conversions have taken place. For example, a former Pentecostal church at 541 Leonard Street in Brooklyn's Greenpoint neighborhood is now a three-unit condominium. According to Deborah L. Rieders, an associate broker for the Corcoran Group, who represents the property, two of the apartments (ranging in value from $2.6 million to $3.1 million) have already been contracted, while an offer for the third apartment is being entertained. "It's three really spectacular apartments with ceiling heights ranging from 16 to 22 feet high and light on four sides," she said, "so they're really quite outstanding spaces."
Like Meratla, Rieders said that the attraction to church condos has to do with the amount of space they offer. "I don't think it has to do with the church per se," she said. "I think there is a cool aspect to living in a historical relic that is really appealing to people. I think it's really because they're built so differently than how a modern condo would be built. It just gives you a more awesome space to work with."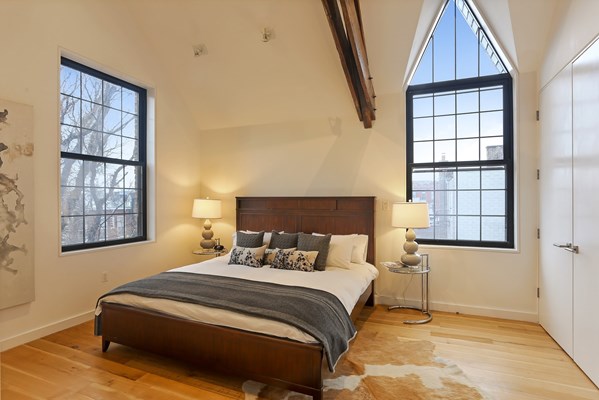 While the interior of a church-converted condo appear like any other luxury apartment, the facade for the most part still appear as they were years ago, an attempt by developers to still maintain the church's unique aesthetic properties. Rieders spoke of the care put into 541 Leonard Street by the developers. "They went to Italy to get the specific brick to do the facade with," she said, "to match what was originally there. They tried to keep all the windows the same. They kept the original beams. They definitely tried to do whatever they could to keep with the historical accuracy."
Hurdles to Climb
There is a physical challenge presented in this type of conversion since a house of worship wasn't originally designed for residential purposes, said Korbey. "Typically, a conversion to residential use is not a question of whether is a residential use allowed by zoning. It's a question of how do you physically convert the building to residential, relative to new floors and new windows in the building? Given the physical layout and building size or style, converting a house of worship is not like converting an office building."
When it comes to the renovation of a church for residential use, there's a lot of inherent costs, said Meratla. "You don't know if the structure is sound, you don't know if there are materials used that could be toxic, or that require remediation as per bringing things up to code compliance," she explained.
Trying to keep a church building's distinct architectural features while modernizing its interior for 21st century living can be a give-and-take for the developers, according to Meratla. Oftentimes, approvals are needed by various city agencies, including the Landmarks Preservation Commission (LPC).
"They definitely want to retain enough ornament to afford the nostalgic charm of the building but they also need to conceive a building that is compatible with a residential program. Defenestration, for example, is usually the biggest hurdle in terms of adding windows to a building. You have many, many more rooms in a residence than you do in church obviously, and the scale of that window and that modular rhythm is very different. So Landmarks is a big hurdle, and the developers want to retain enough but they need to market and sell it and also make it legally code compliant."
And there's also the bureaucratic hurdles than can sometimes accompany this kind of conversion, as Korbey experienced recently with 361 Central Park West, site of the landmarked former First Church of Christ, Scientist. His client, developer Joseph Brunner, tried to transform it into condos, but preservationists opposed the conversion, Last June, the New York City Board of Standards and Appeals voted down the plan. (On the building's future, Korbey said that the developer is exploring all options).
"When the building code requires larger windows and you want to preserve the building, there's a push and a pull, with the push being that you need to comply with the code, but the pull being that it is a landmark and you want to preserve it. In order to accomplish both the preservation objective—to maintain and restore the façade as much as possible and at the same time provide sufficient light and air for residential use—this project needed waivers. Hence, we had to go to the Board of Standards and Appeals."
More Church Living to Come?
Both Korbey and Meratla say it's difficult to forecast what the church-to-condo trend will be like in a couple of years from now. "There are a handful of things in the pipeline involve churches or synagogues," said Meratla, "but in terms of saying it's a trend, it's a little bit difficult because I think any building type is a potential conversion. In Manhattan especially, everything is vulnerable to conversion especially given where these buildings are located. They are on such prime—literally sacred—ground, not in the religious sense, but in the coveted New York sense that there's demand for the real estate."
"I've seen houses of worship become a different house of worship built for a particular religious affiliation or congregation switch to another," said Korbey. "It's also very difficult to generalize houses of worship—there are small properties in East Flatbush, Brooklyn that are thriving and doing extremely well. Those houses of worship are different in many respects, but they're no less important and they're thriving and doing really well. I don't know if these are going to be converted. In a place like New York City, it's kind of hard to paint a broad brush."
David Chiu is an associate editor of The Cooperator.