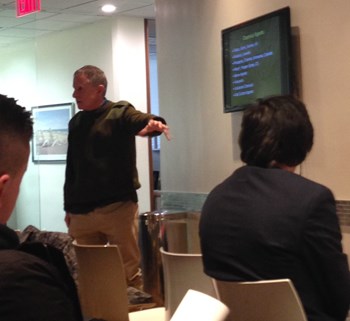 Emergency preparedness--especially for possible violent attacks at home, work and in public spaces--was the theme of a Manhattan symposium hosted last month by property management firm FirstService Residential and aimed at property managers, superintendents and board members. The event was a sobering reminder of the world we live in, and of the steps a proactive manager can take when the worst-case scenario becomes reality.
Active Shooter Situations
One of the two notable sessions from the symposium was titled "Active Shooter: Run, Hide, Fight!" Presented by security specialist Dino Iuliano of Planned Companies, the session provided an overview of potential responses to an active shooter scenario in a building. Iuliano emphasized that the seminar was not a "training," as that must be sanctioned by the federal Department of Homeland Security.
The seminar included several video dramatizations of active shooter scenarios, including one involving a workplace being terrorized by a gunman while several employees lock themselves in an office; another video featured a man stalking an unidentified public or government property with an automatic weapon. Statistics about violence in public spaces flashed across the screen.
Although the slogan "run, hide, fight!" ostensibly lists the available options in an active shooter situation in order of priority, Homeland Security is still evaluating the viability of hiding; some research indicates that it may put bystanders at greater risk. Another point that stood out was that upon arrival, first responders are focused solely on neutralizing the immediate threat -- not tending to any victims who may be present. Additionally, most fatalities occur during the first three minutes after the shooter opens fire, when people are still realizing what's going on -- and well before most even truly have a chance to run, hide, or fight.