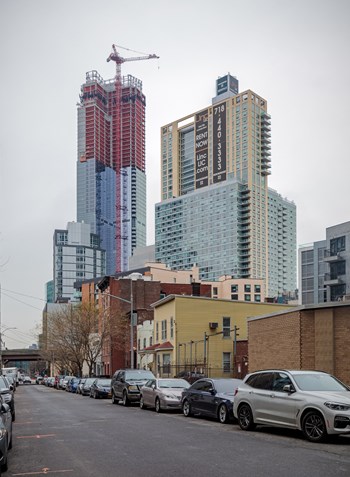 As condo associations and co-ops across the nation (and the world) contend with establishing reopening procedures and monitoring protocols for their existing amenities after COVID-related shutdowns, buildings that are still in development - or that are contemplating common-space renovations - have a different question before them: Do historically popular amenities still have the same appeal in the wake of a prolonged pandemic?
Mid-Development Shifts
In Long Island City, Queens—which has seen a surge of new development after two decades of changes in zoning laws and increased attention from buyers and renters interested in living in a safe, vibrant neighborhood close to Manhattan—builders of buildings in the planning or early construction stages are rethinking their development and marketing strategies to align with a new, post-pandemic reality.
For example, according to a recent report in The New York Times, a planned movie theater theme intended to correlate with nearby Kaufman Astoria film studios is now on the cutting room floor at an upcoming 70-unit project in the Dutch Kills neighborhood. Rather than an in-house cinema, the building will now feature a "sanctuary" environment with state-of-the-art air purifiers and an emphasis on wellness.
At Skyline Tower, a new LIC luxury condo that at 778 feet is now Queens' tallest building, according to the Times, the building's proximity to Midtown offices -- once a key selling point for prospective buyers -- has much less caché now that its target demographic is largely working remotely. This shift has developers questioning how to market their 802 units, many of which were designed more to showcase high-end finishes and access to common amenities (like a 75-foot indoor pool) than square footage and individual outdoor space.
Some developments with the flexibility to alter previously-designed apartment floor plans to reflect the seismic shifts triggered by COVID are looking to include home offices and decontamination rooms in their layouts, foregoing the once popular open floor plan to create more separate, private spaces, the Times indicates. And while common amenities like gyms and playrooms remain closed or tightly limited, private outdoor space is sure to be a big draw. Even the use of public parks that once offered New Yorkers access to (more or less) peaceful space, recreation, and nature is now constrained by the need to practice social distancing and enforce mask-wearing. Proximity to these parks—once so desirable—may not have quite the same marketability as a private terrace, balcony, yard, or roof space in the wake of the pandemic.
Jennifer White Karp, a writer for real estate blog Brick Underground, reveals that her own home search in April took a u-turn from favoring "a big, full-service rental building [with] lots of amenities and [proximity to] a subway with a short commute to Midtown Manhattan" to something more along the lines of "[b]outique buildings and townhouses, [with] pet-friendly policies, apartments on the first floor, and apartments with private outdoor space and home offices."
New Marketing Techniques
So how can the developers and marketers of residential real estate contend with this rapid about-face of priorities?
For buildings too far along in their construction to drastically change floor plans, marketing may be the way they distinguish themselves from the ever-expanding competition. At the Rowan, a new construction condo building in the Ditmars section of Astoria, half of the 46 units will have private outdoor space, according to a separate Brick Underground piece. According to Stephen Kliegerman, President of Brown Harris Stevens Development Marketing, promoting this aspect, along with other in-unit amenities like washer/dryer machines, has provided the Rowan with "strong interest despite the recent shutdown."
Real estate pros contend that developments with plans for a robust cleaning and sanitization practice - or a track record of having one even before the pandemic - should tout this as an asset in their sales and marketing materials. Similarly, keyless entry and other automated building features will be a subject to highlight in sales listings.
As time goes on and we understand more concretely about COVID-19, its spread, its prevention, and its effect on residential real estate, developers and brokers will be looking for other selling points for their properties. Some will require architectural overhauls; others merely some creative Streeteasy spin.