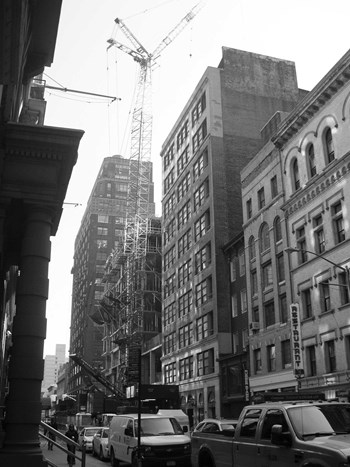 Despite the collapse in housing prices in much of the country and a definite slowdown in sales, new residential development in New York City—and Manhattan in particular—continues, though at a much more modest pace than in recent years. The Big Apple may not be experiencing the all-out freeze on new growth that's stalled other markets, but the impact of the mortgage crisis and financial meltdown is definitely being felt in the form of fewer new projects, slow sales in projects near completion, halts to some new condos in the pipeline, and a much tougher market for developers trying to get financing for new buildings.
New Projects Scarce
According to market watchers, the market's hunger for residential units—long fed by a seemingly endless supply of new projects planned or coming online—has dwindled significantly over the last year.
"There's a steep decline," says Dan August Cordeiro, managing partner for Corcoran Sunshine Marketing Group. In 2007, 8,500 new units went on the market in the city. In 2009, there will be fewer than 1,000 new units. "There's really going to be no new supply. We should be at an equilibrium kind of level," Cordeiro says, adding that the market is experiencing downward pressure on pricing, but by the end of 2009 should have stabilized somewhat.
One of the reasons—indeed, the primary reason—for the reduction is the fact that so many developers are facing difficulties in getting funding for new projects. Experts like Cordeiro say that financing for such projects has nearly dried up, and across the city construction projects have stalled, been plagued by liens and threat of foreclosure, or are being transformed into rentals, new affordable housing, commercial and institutional uses, or just sitting empty.
In its February 2009 issue, The Real Dealsurveyed some 26,000 units of new construction in the five boroughs and identified more than 50 projects as "in trouble." According to the magazine, some of the more notable developments include Hudson Blue in the West Village; the West Side's Sheffield 57, Lev Leviev and Shaya Boymelgreen's much-heralded 20 Pine and The Exchange by Swig Equities downtown, among others.
The condo-building craze of the last few years transformed Brooklyn, but the current fiscal collapse has stagnated the Williamsburg and Greenpoint markets, bringing sizeable price cuts to high-profile condo developments like Northside Piers, and forcing builders behind the Magic Johnson-funded Viridian to file for bankruptcy. They're not the only ones feeling the chill of the changing market. Be@Schmemerhorn, Forte and Oro are struggling, stalled or going rental, Carlton Mews and One Hanson Place in Fort Greene, the Clermont in Clinton Hill and The View and Fusion in Long Island City are also scrambling for a strategy to weather the recession in one piece.
Some of the new condos are being rebranded as hotels or turned into short-stay housing, co-housing or student housing. Others are becoming, variously, a diplomatic consulate, possibly a school and even a youth hostel, as in the case of Harlem's Lotta Condominiums. Midtown South's M127, which has only two units reportedly sold, according to the magazine, is said to be advertising rooms for $385 a night.
While developers are exploring more creative options for their struggling projects, TRD says that many of the units that have failed to sell are being converted to rentals or rent-to-own properties. The Decora and Northside Piers in Brooklyn and The Solaria in Riverdale, for example, are enticing buyers to consider the rent-to-own route.
Another good example of developers switching gears from condo to rental is 34 Berry Street, in Williamsburg. LCOR, a national developer, has closed on construction financing for the new 142-unit rental property. The $69 million development will be located at the corner of North 12th Street, opposite McCarren Park, adjacent to the Brooklyn Brewery.
Even with all that, New York City is a relatively bright spot in the nation's real estate market, with property values that are expected to mostly hold steady and slowly increase over time, despite the recession's chilling effect on prices and new projects.
All in all, though the slowdown in new development and the concurrent softening of prices for units might seem devastating, it's not surprising to the pros. "Given the fact that there's little or no product coming online, it's not alarming that sales here have slowed," Cordeiro says. "The projects that are on the market right now will be the bulk of what is offered in the next few years."
Projects Progressing
Even with the obvious problems facing the national economy, real estate professionals, developers and others involved with the industry are cautiously optimistic about many of the projects underway or ongoing in New York City, including activity on and around the High Line in Chelsea on Manhattan's West Side. "There's a lot of development throughout town," says Richard Lebow, director of sales and marketing for development firm Worldwide Group. "A lot of the new developments tend to be in [Manhattan] on the Far West and Far East Sides, and far downtown, because that's where there's space for projects."
Starting toward the top of Manhattan, new developments are definitely on-track, though in far less profusion than in recent years. 119 Third Avenue Associates LLC is launching 119th & Third, a 12-story, 90-unit condo tower in Harlem. The glass-enclosed building will feature amenities previously available more commonly in buildings downtown, such as a 24-hour doorman, refrigerated storage in the lobby, and a gym.
At 145 Lexington, Green Circle Construction is putting on the ritz with Gramercy 145, a 13-story, 12-unit luxury condominium, designed by architect Manuel Glas. Prices for the one-, two- and three-bedroom homes start at $848,000. The penthouse units have private elevator entrances, glass walls and private terraces, and amenities include a roof deck, private storage units and high-end security systems. Buyers also get the perk of a complimentary one-year membership to concierge service Abigail Michaels.
Across the street from the Met, 995 Fifth Avenue, a building designed and built in 1926 by noted architect Rosario Candela, is having its interiors rebuilt and renovated into half- and full-floor apartments that buyers can essentially customize to their tastes. Prices begin in the $10 million range and go up from there. At 40 East 66th Street, on Madison Avenue, another historic Rosario Candela building is getting a 21st century overhaul. The building includes a restored marble lobby and a play center for residents' children.
Across town, on Manhattan's West Side, prewar spaces have been renovated and restored at the Avonova building at West 81st Street and Broadway. Floor plans have been expanded and updated from their original state, and new appliances and finishes have been added to each unit. On the Upper West Side, you will find 535 West End Avenue, Extell Development's 20-story, 22-unit luxury condominium, designed by Lucien Lagrange Architects. The exclusive full- and half-floor apartments, five-, six- and seven-bedroom homes range from 3,753 to 13,825 square feet in size. Residents will be able to enjoy amenities such as a lounge, courtyard, billiards room, indoor pool and fitness center. Occupancy is slated for fall 2009.
As for Chelsea's High Line area, "I think it's jump-started the corridor," Cordeiro says, noting that world-renowned architectural firms and top-shelf developers are still building in that neighborhood. "The High Line has excited development in that part of town."
The West Chelsea/High Line area has had a great amount of demand for residential living and a great amount of development activity, Lebow agrees. "Most of those projects have done very well. The expectation is that will continue," he says.
Some of the other projects coming online this year are further downtown, in the Financial District. There was a huge residential development boom all over the city in 2007, but now the bulk of Manhattan's new development is happening in Lower Manhattan, with much of the new product coming online in 2009 coming in the form of conversions in the Financial District, Cordeiro says.
New Economy, New Strategies
With funds and buyers no longer unlimited, developers must be more strategic in their planning and proposals for new projects. According to Lebow, in this challenging economy, picking the right location and doing extensive research before breaking ground is key to a successful project. "You've got to study your market, research your location, and build the best product you can, and you'll sell it," he says.
One of the projects Lebow's company is working on is a 76-unit condo at 255 East 74th Street. The project, in the heart of Manhattan's Upper East Side, features intentionally created three-bedroom, four-bedroom, and five-bedroom "family-sized" condo units. The building includes a 40,000-square-foot Equinox health club, and 15,000 square feet of space dedicated to children's activities, including interactive games.
"When we identified the location [for 255 East 74th Street], we did research regarding what the demand was in the neighborhood," Lebow says. "The economic environment is difficult, but the fact that our building is a long-term investment—possibly a multigenerational investment—helps. It also helps that people want to send their kids to the schools in the neighborhood."
Because of the proximity of sought-after public and private schools in the neighborhood, Worldwide thought family-sized condos would be a good sell, and they have been. So far, 255 East 74th Street is 90 percent under contract. The company's pipeline of potential and planned future projects is full, Lebow says, though he declined to elaborate on specifics.
Slow Cash Flow
Developers aren't the only ones feeling the pinch of banks' reduced lending activity. Not only is financing for new developments scarce, but some buyers are having a tougher time getting financing to buy units. In past years, purchasers often got 80 percent mortgage financing, but now, 70 percent financing is more the norm.
The tightness in credit markets, while obviously impacting developers in search of funds for speculative projects, also has had an effect on what purchasers can buy, Lebow says. "In more newly developed locations, developers and buyers may be feeling more pain due to the credit cycle," he says.
Most industry insiders agree that it will take a bit of time for the market to ride out the recession. Since most new residential developments take at least three years to plan, finance, and build, the ultimate impact of the credit crisis won't be felt in just one year—there will be a ripple effect that could take years to be fully appreciated, according to Cordeiro.
"We're in a unique economic situation right now," he says. 'We're looking for inventory to go down" rather than up, as it has in recent years. "This will be a less severe real estate recession than past recessions, because of lower new inventory, and lower mortgage rates."
Jonathan Barnes is a freelance writer and a frequent contributor to The Cooperator and other publications.