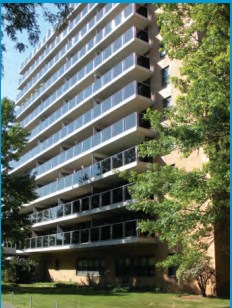 Significant change rarely manifests without those who are willing to lead by example. In an era when climate science is increasingly under scrutiny, it's becoming more and more important to tackle this dire issue at a local level.
One way that a green-thinking property manager can galvanize residents and staff in an eco-friendly manner is to promote bold and innovative recycling initiatives within their association. And one such manager is FirstService Residential's Victor Berrios, who has been enthusiastically combating waste for the past seven years at Jamie Towers, a 620-unit Mitchell-Lama co-op in the Bronx.
The Cooperator spoke to Berrios about the inspiration behind this initiative and his plans for Jamie Towers going forward.
What was the recycling situation at Jamie Towers before you were handed the managerial reigns?
On recycling day, I saw a porter put out a single bag of cans and bottles on the curb. For 620 apartments. I live in a house with my wife and two kids, and we put out a lot more than that. Eventually I asked the super what the deal is with the recycling, as I didn't see much material going out. He said he'd step it up. The next week, there were two or three bags.