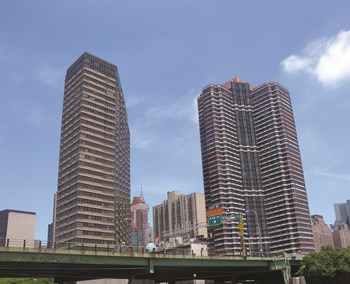 Murray Hill, a respectable traditional neighborhood in Midtown Manhattan, started as a small farming community but soon became a playground for the wealthy with industrialists like J.P. Morgan and John Jacob Astor building their townhouses and brownstone mansions there. Today, it is a bastion of young professionals and graduate students looking for a vibrant sometimes rowdy Manhattan lifestyle away from the Brooklyn or Queens boroughs many millenials call home.
Where It's At
Manhattan Community Board 6—of which Murray Hill is part—defines the boundaries of the area as East 34th Street to the south, East 40th Street to the north, Madison Avenue to the west, and Third Avenue to the east. So it runs approximately from 40th Street down to about 27th Street, and from Fifth Avenue over to the East River, according to the Murray Hill Neighborhood Association.
The small Murray Hill Historic District between Lexington and Park Avenues is largely made up of 19th-century brownstones and rowhouses, while Park Avenue has towers with co-ops and high-end rental apartments. Third Avenue, with its retail shops, restaurants and bars, has a mix of uses but less residential housing stock. Housing to the east trends mainly towards large rental and condo buildings, drawing in recent college graduates and young professionals. Around 41,500 residents live in a roughly 85-block area, according to the 2010 U.S. census, though Murray Hill today is becoming more and more popular with families.
The Name Says It All
As one can surmise, Murray Hill derives its name from the Murray family, who were 18th-century Quaker merchants that dealt with the shipping and overseas trade. Irish immigrant Robert Murray was the family patriarch, who rented land from the city to build a house and farm. His great house, he named Belmont, but others referred to it as Murray Hill, since it was built on a since-leveled hill at what is today Park Avenue and 36th Street. The house, with a total land area of just around 29 acres, was surrounded by trees and three sides with verandas that commanded panoramic views of the East River and Kips Bay.
All's Fair in Love and War…
Legend has it, according to a historical account from the Murray Hill Neighborhood Association, that the most famous party given by Mary Murray during the time of the Revolutionary War was an attempt to divert the British so the Americans could escape and regroup at the Battle of Harlem Heights.
The Murrays, according to the account, were patrons of that day's wealthy New York society. They entertained frequently at their country home, where George Washington and other prominent Americans were guests. So on September 15, 1776, the Battle of Manhattan began at Kips Bay, as five British warships surprised the untrained colonial troops under the command of General Putnam and Aaron Burr and sent them scattering northwest in disorderly retreat. British troops followed close behind, hurling insults at the undisciplined Americans. According to legend, Mary Murray invited the British commander General Sir William Howe and his men to rest at Belmont and enjoy a pot of tea. Their time spent in the company of Mrs. Murray and her charming daughters allowed the Americans to escape. The next day, they would triumph over the British in the Battle of Harlem Heights.
One of the mainstays of the neighborhood over the years has been an interest in the historical and architectural heritage of Murray Hill. This in fact is the impetus behind what became known as the Murray Hill Restriction. Descendants of the Murray family acquired and owned property in the neighborhood from the area of 34th Street to the south side of 38th Street and from Madison to Lexington Avenues. This restriction, in essence, banned the use of the land for the building of anything other than a "brick or stone dwelling." This restriction in the property deeds continued to thwart developers for more than a century.
Keeping Up Appearances
The association, which was formed in 1914 by J. Pierpont Morgan and his wealthy neighbors, sought to keep the restriction in force but they couldn't stop the onslaught of high-rise apartment buildings that were cropping up all over Manhattan. A 15-story apartment house built in 1920 was the first salvo fired at the neighborhood in somewhat of a reverse gentrification pattern. More and more co-op buildings were newly built and lots converted but the restriction did successfully prevent wholesale demolition of entire blocks and the influx of office buildings.
That emphasis on preservation continues even today. The Murray Hill Neighborhood Association's preservation and design committee will hold its Architectural Preservation Awards on October 29th in Volvo Hall at Scandinavia House, and present awards to five Murray Hill building owners. According to the association, the core historic residential area of Murray Hill includes 88 buildings in the Murray Hill Historic District, 239 buildings listed on the National Register of Historic Places, and 14 individual landmarked buildings.
Housing Today
According to Stribling, condos in the neighborhood generally start around $700,000 to $800,000 for studios and run up to $2.9 million or more for three-bedrooms. Most housing in Murray Hill is made up of co-ops, with studios running from $400,000 to $500,000; one-bedrooms from $600,000 to $1.1 million; two-bedrooms from $1.2 million to $1.8 million; and three-bedrooms from $1.9 million and up.
According to Trulia.com, the median sales price for homes in Murray Hill, New York for June to September 2015 was $1,145,000 based on 29 sales. Compared to the same period one year ago, the median sales price increased 31.2%, or $272,500, and the number of sales increased 45%. Average price per square foot for Murray Hill was $1,360, an increase of 16% compared to the same period last year.
And the area is still ripe with new construction as well. A new 42-story mixed-use 429-unit building is planned for 212-222 East 44th Street, between Second and Third Avenues. There will be 87 apartments for lottery-allocated housing. The existing 11- and 7-story buildings are now being demolished to make room for the 42-story building scheduled to be completed in 2017. Restaurants in this tree-lined neighborhood are as diverse as its population from Curry Hill Indian to Koreatown barbecue fare to a vibrant bar scene marked by hip cafes, several new wine bars and trendy coffee houses.
So if you looking for an historic neighborhood with world-class cultural, educational and medical facilities supplemented by fine dining, retail and nightlife, Murray Hill might just be the place for you.
Debra A. Estock is managing editor of The Cooperator.