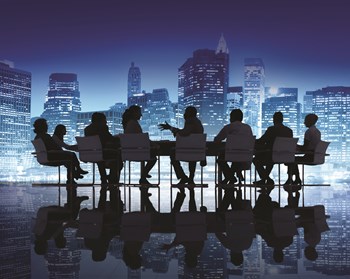 In the post 9/11 world, building owners and managers have to feel a little bit like "Big Brother" the tyrannical, all-seeing, all-knowing holographic presence that George Orwell chillingly wrote about in his classic sci-fi novel 1984. In Orwell's fictionalized setting in a futuristic society, citizens were monitored by huge telescreens that contained the visage of Big Brother and police interpreted facial expressions and voice intonations to determine a person's truthfulness.
In the aftermath of the September 11th attack on the World Trade Center, the Federal Bureau of Investigation (FBI) and other government officials have warned that high-rise apartment buildings in New York City loom as potential targets of the terrorists. And now building managers, supers, security guards and doormen have unwittingly become the first line of defense in protecting your residential domain during an emergency situation.
Stick to the Basics
The most important thing a building manager can do is use common sense, according to New York City Police Dept. Sergeant Peter Picarillo, a senior planner with the New York City Office of Emergency Management (OEM). Picarillo was one of ten panelists who participated in an emergency preparedness seminar in May sponsored by the New York Association of Realty Managers (NYARM). Also represented were members of the New York City's police and fire departments, the American Red Cross and private security organizations.
NYARM, according to executive director Margie Russell, will follow up on their successful seminar with Emergency Preparedness - Part II during a luncheon meeting September 25 at Tavern on the Green. There managers, board members, real estate professionals, shareholders and unit owners, will be able to get the most updated information available from experts affiliated with the FDNY, the NYPD, the American Red Cross, OEM and other agencies, says Russell.
Since the first seminar, building managers and co-op and condo boards have been meeting with officials and among themselves to determine the best course of action. And, says Russell, they are looking to organizations such as NYARM and the Council of New York Cooperatives and Condominiums (CNYC) to help them develop appropriate security procedures. "The managers have to have an organized communication vehicle with the agencies that are putting out the advisories," Russell says.
In response to the FBI warning, NYPD's newly formed Counter-Terrorism Division met in June with landlords and other real estate professionals to provide advice and training in how to deal with this new, ever-changing threat. AKAM Associates, Inc., a residential management company, also arranged in June for a special agent from the FBI to address nearly 100 of their resident managers and superintendents at a terrorism awareness and preparedness seminar. According to the FBI, the advisory was issued because al Qaeda terrorists in custody admitted under interrogation that the organization was discussing bombing residential buildings.
Knowledge of the building and its inhabitants is a critical component. Teams of emergency personnel, including the OEM, the police and the FBI, will need to know the status of the occupants: which residents need assistance in leaving their apartments, for example, those who are elderly or disabled, and which apartments are empty. According to AKAM, the FBI detailed the profile of individuals who might be engaged in subversive activities. This would include people who do not have a job; keep irregular hours; pay in advance and only with cash; tenants receiving unusual amounts of packages and insist on handling the parcels themselves; and tenants who insist on first floor apartments.
Heightened Sense of Awareness
The watchword is observance, noticing anything out of order, according to Doug Weinstein, vice president of operations for AKAM. It's important for the building super to be aware of people entering or leaving the building, and if they observe anything suspicious to notify police. Limiting or restricting access to contractors or making them wear or present identification cards is a good practice, he says.
"There have been no specific threats, nothing the FBI can put their finger on. But the gist of the meeting is to be aware," Weinstein says.
"In accordance with FBI recommendations, AKAM is carefully screening new tenants by verifying identity, running complete credit checks, and confirming former residency," says Leslie Kaminoff, AKAM's chief executive officer.
"Security in our buildings has always been a top priority, but in light of the current situation we are instructing our staff and client properties to be even more diligent in order to maintain a safe and secure environment."
"By upgrading the physical security of our buildings, keeping doors locked, maintaining proper lighting in common areas, limiting access to sensitive areas to essential personnel only, keeping security cameras functioning properly and advising residents and staff to practice a heightened sense of awareness, our buildings will be less vulnerable and therefore, according to the FBI, undesirable targets," Kaminoff says.
Rick Kreps, a retired police officer, and the general manager of Croker Fire Drill, said that after September 11th everyone is most definitely on alert. "We have to be able to train people that live in residential buildings to be aware of their surroundings. They have to be able to self-evaluate what is happening around them. They have to know that suspicious people or people they don't know should not be coming into their building. They should know not to hold doors for strangers." Be wary also, says Kreps, about a suspicious item or package left in the building. The best advice is to notify the police, he says.
Evacuations in residential buildings are very critical but sometimes difficult to achieve. Few buildings have alarm systems, intercoms or public address systems to alert residents but that is something that should be considered, Kreps says. Disaster education is also important as is having an emergency evacuation plan.
Be Prepared
As the time-honored Boy Scout slogan goes, building managers must prepare for any eventuality, whether it's stormy weather, vandalism, crime, a workman accident or a potentially damaging flood or fire. And those types of incidents are precisely what OEM's mission is, according to Picarillo. OEM is the conductor whose job it is to coordinate emergencies, he says.
Common hazards OEM reports to include severe weather such as flash floods, hurricanes, coastal storms, heat waves, snow or ice events, utility failures and blackouts, fires, building and structural collapses, labor unrest, hazardous materials incidents, and now terrorism.
"September 11th basically changed the way most of us look at the world. I think that's pretty clear. But what I feel is that we're starting to lull back into a sense of complacency," Picarillo says. "Complacency is our worst enemy. That's something we seriously need to prevent. The world as we knew it a year ago is gone. It's a new world and this is going to become a way of life for us for a while."
Planning and preparation are good first steps, Picarillo says. Deterrents, such as background checks of residents and prospective tenants, are advisable. Building managers, security directors and supers should set up a crisis/safety committee within the co-op or condo community, comprised of management, maintenance, security, hospitality staff and commercial and residential tenants. Apply common sense approaches to improving everyone's safety, he says.
To combat crime, the Association for a Better New York (ABNY) has established Operation Interlock, a radio communication program that hooks security directors, building managers, supers and doormen directly to their local precinct. ABNY, according to Program Director JoAnn Polise, owns and operates a wireless radio network in Manhattan and Queens to allow building personnel in offices, condos and co-ops to speak directly to the police precinct. The radio has an ID chip inside that instantly identifies for the police dispatcher or patrol officer, the building location and all pertinent contact info, says Polise. This essentially bypasses the city's 911 system, and depending on the type of emergency, fire or EMS can be dispatched as well. "It's more direct," she says, and enables the appropriate personnel to respond more quickly.
Be Secure
It's no secret that after September 11th, security concerns moved to the top of the list, according to Lucien Bohbot, president of Unitone, a Manhattan-based firm that provides security and video intercom systems. "While concerns about security post-September 11 were most manifest in Manhattan office buildings, the message has not been lost among residential properties and suburbanites," says Bohbot. Some building managers now are looking to install more sophisticated security systems as a result, he says.
"Many owners and managers of new residential buildings who were scheduled to use a simple intercom through the telephone are now having second thoughts," Bohbot says. "Instead, they are looking beyond the easy and less expensive route to a product that will provide residents with more privacy, security and amenities."
Larry Dolin of American Security in Manhattan notes a phenomenal interest in new security products. "We've seen an increase in card access. They're not letting keys out. That way they can keep a trail of who enters and you can program into the system when you can go and when you can't go."
Another sought-after product is color closed circuit video cameras. Managing agents can now view and monitor building activity remotely by computer from the comfort of their own offices, Dolin says.
Security guards are certainly an important component but now buildings complement their personnel with sophisticated technological equipment, according to Ken Schwartz, president of Lockman Security Systems in Richmond Hill, Queens.
The technology available today includes voice and video intercom systems, closed circuit television, paging systems, computerized access control panels, digital card readers and biometric, fingerprint or hand readers. "Really up to 9/11 security was a sales object. "˜Yeah, put a camera in the lobby.' But after 9/11, it became, "˜how do we really secure our building and property?'" Schwartz says.
Where There's Smoke, There's Fire
Local Law 10 governs fire safety procedures in New York City office buildings and dwellings. There are generally two types of buildings - fireproof and non-fireproof - according to Fire Lt. Joseph Torrillo, the FDNY's director of fire safety education. Most high-rise buildings are constructed to be fireproof, says Torrillo, who was also on the NYARM panel. Fires are extremely hot and can reach temperatures of 1,500 degrees in a very short period of time. However, in a residential fireproof building, the aim is to contain the fire and keep it from spreading.
In a fire, common sense dictates an evacuation, "but in a fireproof building that's really not what we want people to do," Torrillo says. "We don't want them to evacuate unless the fire is in their particular apartment. Obviously you'd have to get out if the fire is in your apartment. But if it's a fireproof building we want all tenants to stay right inside the building.
"By and large, they're very, very safe," adds Torrillo. "And as long as it's contained to that apartment, 98 percent of the time we don't have a problem."
Fire safety requirements are different for residential and commercial buildings. In residential properties, a placard explaining the fire regulations and emergency evacuation procedures is required to be placed on the inside door of every dwelling unit. Usually the placement of the sign is the responsibility of the managing agent or the co-op or condo board. Commercial buildings are required to have a fire safety plan and designated fire safety directors, along with regular testing and inspection of the fire alarm systems but that is not mandatory for residential buildings, according to Torrillo. FDNY is concerned with preventing hazardous conditions but lacks the manpower to visually inspect every multifamily dwelling, he says.
"Nobody really knows whether or not they're putting this $2 sign on their $10,000 front door. We just don't know that because when the New York City Fire Department inspects multiple dwellings in New York City, we probably only do that once every five years now because they're not considered a type of hazardous structure. We really have to focus our attention on buildings that are more serious fire hazards," says Torrillo.
Fire prevention and fire safety is a partnership between the New York City Fire Department and the building managers, owners and landlords, Torrillo explains. "What you do or how good you do it can mean the difference between a successful operation or a disaster. What you do to assist us can mean the difference between life and death in that building." Building personnel, adds Torrillo, should meet the FDNY outside or in the lobby to inform them of where the fire is located, the condition in the building, whether residents have been evacuated and any other special circumstances, such as people with disabilities that live in the building, or perhaps, the presence of hazardous materials that would warrant an unsafe condition.
Another good option is hiring a security service to do a risk assessment, according to Pamela Newman, chief executive officer of Israeli Security Services, a private high tech security firm based at JFK airport. Building security "really needs to be an integrated approach," says Newman. "The typical physical deterrents such as the lock and the intercom, must now be high tech. Anything else can be triggered and bypassed. You must use a skilled professional. Anyone in New York can take an eight-hour test and become a security guard. But we highly recommend someone that has military training." Some prudent tips for building management, she says, are constant screening of visitors and tenants; ensuring that delivery persons provide a picture ID; and installing in large apartment buildings sophisticated access control systems with swipe cards or biometric identification panels.
Debra A. Estock is Managing Editor of The Cooperator.