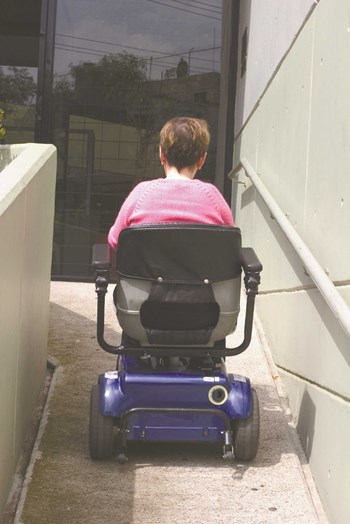 Of all the responsibilities that come with being a manager of a residential building, few are as important as ensuring the safety of your residents.
"Safety is part of our job description," says Bob Grant, director of Management at Manhattan-based Midboro Management. "We're entrusted to make sure the building is as safe as it can be."
In addition to day-to-day concerns like premise security and fire prevention, managers and boards must also keep in mind the safety and security needs of any disabled residents living in their building. Those needs might require alterations to building policies, or possibly alterations to the building structure itself to comply with the federally-mandated Fair Housing Act. Non-compliance is not only a hardship on differently-abled residents, but can result in very expensive litigation as well. It's therefore imperative that managers be aware of the various codes and requirements involved in safety and accessibility for all residents.
Safety and Renovations
Virtually any renovation project brings up some type of safety concern. Grant cites several examples, including changing doors on apartments or building-wide projects that involve outside workers entering apartments.
Take the painting or replacing of doors—both projects which require doors to sit open for lengthy periods of time.
"Now you have an interesting situation where every apartment door has to be open, and then it has to be left in the open position while the door is being painted and while the paint is drying," Grant notes. "Who's watching the apartment during that time?"
In those instances, Grant says he frees up the schedules of employees who have worked in the building for a while and are known to residents. Any time a door is open, the building employee is there supervising. He then hires temporary workers to cover the employees' regular duties, like working the door or as a porter.
"That has to be built into the budget because it's an essential cost," Grant says. "You can never open up someone's door and let a contractor in unless someone's there with them the entire time until the door is closed."
Another building of Grant's embarked on a project to replace every heating coil in each of the building's 187 apartments. It was a lengthy project, starting in the spring and continuing through the fall, with a break over the winter until the job was completed the following year.
"I had a crew of skilled mechanics in each person's apartment for hours," Grant says. "I had to bring in temps to cover certain shifts, and I had to have my most reliable men stand in each apartment while a crew was in there. That's what you have to do—you can't skimp on security."
Fire Safety is Key
Jim Milito, an architect with The Falcon Group in Bridgewater, New Jersey, says that when it comes to renovation projects, the primary safety concern from the architect's point of view is fire.
"Fire safety is always the Number 1 issue," he says. "The whole design of a building basically revolves around that. From the type of construction that is used for it -- whether it's steel, concrete or wood—it all comes down to fire safety."
Areas of concern involve how many people are allowed into a certain space, how they would evacuate in case of an emergency, the required number of doors in a building to the size of stairwells and the number of stairwells.
Several experts point out that building and safety codes are designed to spell out the bare minimum of what's required to render a building "safe." Milito notes that more up-market buildings often go above and beyond code requirements when it comes to things like the width of hallways or amount of lighting in common areas.
Perhaps building codes require common hallways to be 44 inches wide, says Milito, but a five- or six-foot-wide hallway is more aesthetically pleasing. "When you take it to the next level and you start getting your aesthetics involved, you have more opportunity to improve upon the codes," he says.
While there are municipal requirements that buildings must adhere to, Milito notes that that the Uniform Construction Code (UCC) is often updated, and many buildings that would otherwise be in violation of the new regulations are grandfathered in. A major renovation project, however, can require the building to meet requirements it was previously exempted from.
"There are requirements where once you start certain reconstruction work, you're then required to meet the codes," Milito says. "But if you're not changing anything, you can keep it the way it was. And then there are exceptions to everything there. For example, you have a lot of buildings with stairwells. Typically, it's not possible to make the stairs wider to meet today's codes. It's just not feasibly possible; you'd have to knock the whole building down basically." But let's say you're renovating a common room and the required number of sprinklers needed for its size has been increased, you may need to meet that new code because it's possible to do.
According to Matthew Sapolin, commissioner of the New York City Mayor's Office for People with Disabilities in Manhattan, sometimes safety and aesthetics do intersect. Wider, more handicap-accessible hallways may be more appealing, but the roomier passageways also go hand-in-hand with fire safety issues.
When asked if safety concerns ever interfere with aesthetics, Milito says not really—"There's room for creativity within the codes. And besides, cost is usually the overriding concern of building managers."
"The whole idea in being creative is to make something safe and meet code while still having a pleasing look to it. I think you work around what you have and what you're allowed to do," Milito continues. "I wouldn't say the codes ever inhibit creativity or aesthetic design. Obviously aesthetics are important—but safety should always come first."
Renovations and Compliance
According to Brian Peters, a co-chair of the National Council on Independent Living's housing sub-committee in Milwaukee, Wisconsin, and the Housing Policy Advocate at IndependenceFirst, a center for independent living, the Fair Housing Act covers areas of discrimination against protected classes, including people with disabilities. The act requires new multifamily dwellings of four or more units to have certain features, including: an accessible entrance on an accessible route; accessible common and public use areas; and doors sufficiently wide to accommodate wheelchairs. Accessible routes into and through each dwelling are also required, in addition to light switches, electrical outlets, and thermostats in accessible locations; reinforcements in bathroom walls to accommodate grab-bar installations, and usable kitchens and bathrooms configured so that a wheelchair can maneuver about the space.
Peters says that the physical requirements of the Fair Housing Act came into play in March 1991.
"In short, developers, builders, and architects had about three years to understand the new law and to comply with it," he says. "Yet even today, we're seeing cases of brand-new buildings not complying with the law. It's like seeing new automobiles without seatbelts—that kind of thing just isn't allowed, yet we have to fight to make sure that the accessibility laws are followed."
Peters says many people have the mistaken idea that the Fair Housing Act falls under the Americans with Disabilities Act. He adds that "The ADA has very little to do with housing, other than in sales/marketing offices and common areas…. When people refer to ADA in housing, they're probably thinking of the Fair Housing Act."
One of the biggest concerns co-op and condo association boards and managers should have when it comes to renovations is complying with the provisions of the act. One of the most important things when it comes to Fair Housing compliance, according to Sapolin, is understanding the difference between civil rights policies (such as people with disabilities being discriminated against or being treated unfairly during the application process) and what he calls the "housing perspective." The housing perspective relates to whether or not the building is in compliance in terms of construction. For example: Is the building fitted with a strobing CO detector for deaf residents? Are residents allowed in with service animals, etc.?
Grant says that when it comes to entering the lobby, if there's space for a ramp, a building is required to meet the standard regardless of any renovations. That's the case even if the building has no handicapped residents. In one of Grant's buildings, a handicap-accessible elevator was put in from the sidewalk to preserve the look of the lobby in a re-design.
"We literally had to create a shaft right through the sidewalk wall and put in a special lift, where you come into the vestibule right off the sidewalk and this lift takes you down to the lobby level, which is five steps down," he says.
Outer Borough Issues
Grant says buildings in outer boroughs often face a potentially costly situation in that they have enough space in front of their entry doors to build a ramp—so therefore, they must.
"If a building does not have enough space between the entry door and the sidewalk and there are steps, the law does not require that you rebuild the building and have it set back an extra 10 feet," says Grant. That's the reason ramps cannot be found in front of every building.
"But as soon as you leave Manhattan and you go to say, Queens or Brooklyn, these buildings tend to have a lot of space in front of their entry doors, set back from public sidewalks," he says. "In those areas where it is possible to have a ramp, as soon as one person complains that they want one, you're pretty much stuck with the expense. It is a real financial burden, but the law requires it. ADA greatly affects multiple dwelling buildings in the outer boroughs in terms of the outside access, the entry access."
To illustrate how the issue might play out, consider the expense if a garden apartment complex has 50 entry doors, each of which could require a ramp because they all lead to a different group of apartments. Grant says that ramps can cost $4,000 to $5,000 each—a significant burden in a complex with lots of middle-income residents.
Apartment Check
Buildings also have to be aware of what individual owners and shareholders do their individual apartments. This applies to both safety and Fair Housing compliance. In regards to safety, issues can arise that affect not only those living in an apartment, but their neighbors as well.
"We've run into a lot of issues where an owner is looking to expand a bathroom or re-do a kitchen and we'll look into how that's going to affect the rest of the building's heating, plumbing and ventilation," Milito says. He points out as an example an owner who wanted to install a large six-burner Viking stove in a rather small kitchen in a building without exhaust fans.
"I had a concern about the carbon monoxide exposure that could happen with all those burners going," Milito says.
Major renovations in bathrooms can lead to an individual owner or shareholder having to meet accessibility requirements, which can increase the cost of a project. In those instances, Grant says the management company will give the plans to a building architect for review.
"As soon as [you] start moving the fixtures, or let's say you're taking a shower stall and turning it into a tub and you're enlarging, chances are the ADA code is going to require you…now [that] you've enlarged the bathroom… to enlarge the door going into the bathroom," Grant says.
Fair Housing laws regarding work done in individual apartments will apply to every apartment as it is being worked on. It's not a situation where if a certain percentage of your apartments are compliant, future apartments don't have to comply.
"Once you've hit a certain threshold in that apartment, it has nothing to do with how many others have been done in the building," Grant say. "In order to get approval [from]… the building management and the board, if they're doing a large renovation where they're gutting bathrooms, they're going to have meet ADA compliance, that's the law."
"As managers plan for repairs and renovations, one thing to consider is the use of Universal Design, which is a design philosophy affecting the built environment—everything from the buildings to the scissors you use," Peters says. More information can be found at www.design.ncsu.edu/cud. "It's not accessible design, but it fits the needs of not only people with disabilities, not only people who are aging, but just about everyone else."
Making Changes and Keeping Safe
It's important that managers keep up with changes to requirements. Peters suggests developing relationship with an area fair housing group or push professional associations they may be members of to keep an eye on changing trends.
"Building managers should educate themselves on reasonable accommodations and modifications; many of the cases that I've heard about are because the management refused to do something, or allow something to be done, that, legally, is allowable," Peters says.
Safety is an ever-constant concern, or should be. It shouldn't take a renovation project to get you thinking about the security and well-being of your residents. There are always new innovations to look into and safety issues to keep up on.
One recommendation from Grant is looking into a phone system that features phones that can serve as an intercom to communicate with the doorman or central desk, or as a loudspeaker during a building-wide emergency. Such systems aren't much more expensive than regular phones. In addition, buildings are advised to keep up on emergency lighting; testing it regularly, Grant says, is critical.
"The key is you have to have an emergency list," to make sure the building is up to speed and date with all necessary safety features. "That's part of what managers have to do. They have to search the Web, they have to stay on top of their own industry," says Grant, to keep their building and the safety of all residents as a top priority.
Sapolin says there are various ways to find out about what's required of your building in terms of fair housing compliance and how to improve conditions for residents with disabilities. Information is available at his office's website (www.nyc.gov/html/mopd/ html/home/home.shtml), through the federal Department of Justice, and independent living centers and local advocacy groups where you can talk with experts current on Fair Housing and ADA issues.
"Managers have to be able to advise the board," Grant says. "A manager has to be knowledgeable. A manager has to let board know, 'This is what you're getting into. And I'll help get the costs [reasonable]," he says. Finally, he adds, it's important to be prepared and have a five-year plan.
But safety is not just an occasional occurrence or a seasonal inclination when you're plowing roads and clearing sidewalks after a fresh snowfall; it has to be forefront in the minds of managers, boards and homeowners 24 hours a day, 7 days a week, 365 days a year. Then everyone can be truly safe.
Anthony Stoeckert is a freelance writer and a frequent contributor to The Cooperator.