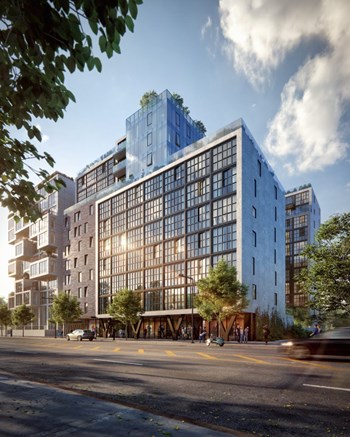 One such project is Galerie, a new luxury condo building from developer Adam America that is set for occupancy earlier this year. Designed by ODA New York, Galerie is located at 22-18 Jackson Avenue, and has been described as "A place where art, artists and residences share the same address." The property will offer a permanent art collection, a sculpture garden, and a curated gallery space.
In addition to the on-site art, the architecture itself is ambitious, incorporating three distinct styles referencing building types throughout the neighborhood in a single project. According to The New York Times:
"Concrete-framed sections of the facade have factory style windows that hark back to the steel versions on the area's 19th-century industrial plants. Sections with more traditional punched-out windows are brick, like the older portion of P.S.1. And a curtain-wall component at the top of the complex resembles the glassy structures prevalent across the city today (and provides unfettered views of the Manhattan skyline)."

The 182-unit building will feature over 13,000 square feet of amenity space, including a pool, fitness center, children's playroom, library, and landscaped roof deck. Two-thirds of the apartments are one- or two-bedrooms and, as of early December, offers had been accepted for approximately half of the units since sales opened in February.

Of course, nothing within Amazon's gravitational field can remain unaffected. This past November, The Real Deal reported that in anticipation of the big HQ2 announcement, two Amazon employees from New Jersey and Queens preemptively purchased units at Galerie. In the two weeks immediately following the Amazon news, 33 deals were closed at the building, and developers have since filed paperwork with the state to raise unit prices -- which currently range from $550,000 for a studio, to $2.55 million for a three-bedroom penthouse -- with another price hike expected for this month.

According to The Real Deal, "Tweaking prices in the midst of marketing a project is not unusual, but it's rare in the weeks before the winter holidays," and more uncommon still in Long Island City in general. With the arrival of HQ2, 'unusual' may become the norm in Long Island City.
Mike Odenthal is a staff writer at The Cooperator.