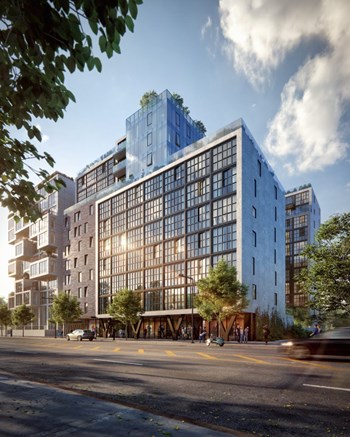 One such project is Galerie, a new luxury condo building from developer Adam America that is set for occupancy earlier this year. Designed by ODA New York, Galerie is located at 22-18 Jackson Avenue, and has been described as "A place where art, artists and residences share the same address." The property will offer a permanent art collection, a sculpture garden, and a curated gallery space.
In addition to the on-site art, the architecture itself is ambitious, incorporating three distinct styles referencing building types throughout the neighborhood in a single project. According to The New York Times:
"Concrete-framed sections of the facade have factory style windows that hark back to the steel versions on the area's 19th-century industrial plants. Sections with more traditional punched-out windows are brick, like the older portion of P.S.1. And a curtain-wall component at the top of the complex resembles the glassy structures prevalent across the city today (and provides unfettered views of the Manhattan skyline)."

The 182-unit building will feature over 13,000 square feet of amenity space, including a pool, fitness center, children's playroom, library, and landscaped roof deck. Two-thirds of the apartments are one- or two-bedrooms and, as of early December, offers had been accepted for approximately half of the units since sales opened in February.