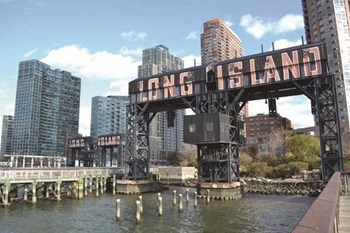 When you think of Jersey mobster Tony Soprano, fashionista Carrie Bradshaw, perpetual food-stained clothes wearer Liz Lemon, neurotic, scatterbrained Hannah Horvath and socialite Serena van der Woodsen, Long Island City might not spring to mind, but it should because all of the hit television shows by the aforementioned actors and actresses, and (not to mention tons of feature films) were all filmed In New York City's largest film and television production facility, Silvercup Studios, in Long Island City.
But Long Island City or LIC to New Yorkers is so much more than the A-listers who work there. You're more than likely to see a mishmash of artists, investment bankers, many of whom are living or working in and around defunct factories and there's the influx of families who are taking up residence in buildings that are being razed and rebuilt into luxury co-ops along the waterfront at a head-spinning rate.
The neighborhood is bounded on the north by the Queens neighborhood of Astoria; on the west by the East River; on the east by Hazen Street, 31st Street, and New Calvary Cemetery; and on the south by Newtown Creek, which separates Queens from Greenpoint, Brooklyn.
The Early Years
The first settlement within in the limits of what is now Long Island City was made in 1640 by the Dutch blacksmith Hendrick Harmensen. Shortly, thereafter Harmensen was captured and scalped by an Indian.
During the Revolutionary War most of the region sided with the British that led to a 1776 resolution by the colony of New York to put the bulk of Queens residents (including what is now Long Island City) out of protection of the United Colonies.
Dutch and English settlers trickled in and established detached villages which became known as Hunters Point, Blissville, Astoria, Ravenswood, Dutch Kills, Middleton and Steinway. By 1853, this group of villages had merged into one community. Around this time on the southern tip of L.I.C, the East River waterfront became linked with the North Fork line of the LIRR (Long Island Rail Road) and ferry service began between Wall Street and 34th Street.
Long Island City and its band of villages were formally incorporated under that name in 1870. It remained a separate city until 1898 when it surrendered its independence to become part of the city of New York.
LIC has a long-established commercial history with factories such as Pepsi Cola, the Swingline Staplers Plant, Fisher Electronics and Chiclet Gum once calling the area home. The 160-year-old Steinway & Sons is still located there. Many of its former factories have been converted into luxury condos.
As soon as the Queensboro Bridge opened in 1908 and the original Pennsylvania Station in 1910, development surged eastward into Queens. By 1940, with the completion of the Triboro Bridge and the Queens Midtown Tunnel, Long Island City and its Sunnyside Rail Yards had become a world class industrial center, and more or less a passing-through point for commuters between Manhattan, Eastern Queens and Long Island.
Transformed into Artist Lofts
By the mid-1970s, a huge portion of businesses had migrated out of the area, leaving behind empty factories and warehouse spaces. Artists and musicians, who had been priced out of Manhattan, arrived en masse to take full advantage of spacious lofts, unhindered light and a calming rural quality that was unheard of in New York City. World-renowned artists Isamu Noguchi (his studio is now a museum) and Mark DiSuvero, who would go on to establish the Socrates Sculpture Park, were just a few of the neighborhood artists in residence.
In the 1980's, the film and television industries came onto the scene with the birth of SilverCup Studios, converted from an old bread factory into what is the largest, independent, full service film and television production facility in the northeastern United States. A few feature films shot at SilverCup include Tower Heist, Julie & Julia, Date Night, The Devil Wears Prada and The Gangs of New York.
LIC Today
The industrial vibe and a large, dynamic artistic community co-exist side-by-side. Long Island city is home to 5 Pointz, a building housing artist studios, and you will also find The Fisher Landau Center for Art, The Socrates Sculpture Park, the Isamu Noguchi Foundation and Museum and MOMA PS1, an affiliate of the Museum of Modern Art.
Long Island City also boasts the largest fortune cookie factory in the United States. Owned by Wonton Foods, the factory produces four million fortune cookies a day. Online green grocer FreshDirect also services the greater New York City area from a Long Island City-based warehouse. The 8th Annual Taste of LIC took place on June 4th in Gantry State Park.
In addition to the influx of new condos that have been built in the area like The PowerHouse, the Murano, and the Industry, the 3,142-unit Queensbridge Houses, which were built in 1939, are still on record as the largest public housing complex in North America. New units at Five27, a new condo building at 5-27 51st Street—are on the market ranging from a $440,000 for a studio to $950,000 for a two-bedroom. It's just a short trip from the hustle and bustle of Manhattan but we guarantee you'll feel at home in Long Island City.
Christy Smith-Sloman is a staff writer for The Cooperator and other publications.