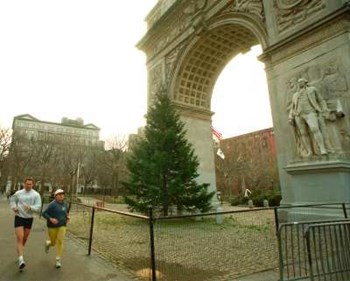 Meandering cobblestone streets lined with 19th century brownstones. Tiny parks and postage-stamp sized courtyards tucked away in odd corners. Cafes and shops where hipsters, yuppies, and urban archetypes of all kinds rub shoulders in peace and harmony. Just as a certain nasal whine screams "Brooklyn" to New Yorkers and "New York" to everyone else, so too has Greenwich Village come to represent a particularly romantic image of the city to the outside world.
Wedged between 14th Street and West Houston Street to the north and south, and Broadway and the Hudson River to the east and west, Greenwich Village is now regarded as the quintessential downtown New York neighborhood. But it was once an uptown haven for those fleeing the slums of what is now Lower Manhattan. Founded on former marshland reclaimed by Dutch farmers in the 1630s, the area had acquired its present name by the early 1700s. (The Dutch knew it as Noortwyck, while the native Americans whom they displaced called it Sapokanikan.)
A Green Haven
For much of its early history, the Village remained a secluded pastoral outpost. In the early 1800s, however, it became a refuge for New Yorkers seeking respite from the cholera and yellow fever outbreaks to the south. The area began to develop rapidly, and the once rural enclave became a favorite settling spot for the middle and upper classes, whose presence fostered the growth of art clubs, picture galleries and literary salons.
In the late 19th century, large numbers of German, Irish and Italian immigrants came to the area in search of jobs in the warehouses and factories that had sprung up along the banks of the Hudson; by World War I, the Village had become an ethnically and economically diverse neighborhood with a reputation for harboring avant-garde artists and writers. Its image as a bohemian paradise was further entrenched during the 1950s, when it became the unofficial headquarters of the Beat movement, and the preferred hangout for writers like Jack Kerouac and William S. Boroughs. In the 1960s, the Village became home to a large and highly visible gay community; and in subsequent decades, it emerged as a rallying place for Vietnam War protesters and AIDS activists.
Missing the Beats
The most radical changes to the Village have occurred in recent years have been driven by the neighborhood's superheated real estate market. According to figures provided by Chris Grunow, an associate broker at William B. May, property values at the Cezanne, a postwar co-op building on Jane St., have increased five-fold since 1993. A 760 square-foot. one-bedroom apartment in the building recently sold for $725,000, while a two-bedroom unit sold for $1.395 million.
As in other neighborhoods, condos tend to be even dearer. A 715 square-foot, one-bedroom in the Memphis, a postwar condominium building on Charles Street, recently went for $995,000, while a 1,426 square-foot, two-bedroom fetched $2.25 million. Peter Kelleher, who manages the Waverley Place office of Prudential Douglas Elliman, says that one-bedroom units in one of the neighborhood's prewar Bing and Bing condominium buildings are currently selling for $1.4 million, and studios for $700,000. As one might expect, rental prices are high, as well. A small one-bedroom apartment might rent for $3,000 per month, while a two-bedroom unit in a prewar building could cost as much as $6,000.
"Real estate prices in parts of the neighborhood are literally unfathomable," says Andrew Berman, executive director of the Greenwich Village Society for Historical Preservation. As a result, Berman continues, only the affluent can now afford to buy in the area, and the face of the neighborhood has changed.
"You're not going to find a lot of struggling artists in the Village," Berman says, "unless they got themselves a good rent-stabilized apartment or bought early." Berman contends that the neighborhood's history as an artistic hotspot continues to attract people in creative fields, but they're now more likely to be successful architects or communications professionals than unknown painters and writers.
"There's some resentment about the fact that only wealthy people can afford to live in the neighborhood," says Marilyn Dorato, a longtime Village resident who presides over the Greenwich Village Block Association. Dorato's husband, a dentist, grew up in the Village; her mother-in-law, who is now 84, moved to the neighborhood when she was 13. When Dorato and her husband bought their brownstone 30 years ago, $125,000 to $200,000 was considered a reasonable asking price, and the Federal-style houses on Barrow Street typically sold for $85,000.
Today, says Leslie Mason of Prudential Douglas Elliman, a small Federal fixer-upper might fetch $4 million. A mint condition brownstone on a desirable street could go for as much as $12 million.
Business Matters
The booming market doesn't just affect prospective buyers. According to both Dorato and Berman, many small local businesses—butcher shops, dry cleaners, stationers, and the like—have been forced out by rising rents, only to be replaced by upscale boutiques and restaurants.
"Anyone who's lived in Greenwich Village for a while can point out businesses that were once one thing and are now restaurants," Dorato says. Berman notes that lately, even local theaters have begun packing it in.
Nonetheless, one can still find colorful independent businesses like Bleecker Bob's, a vinyl record shop located, oddly enough, on West 4th Street. A dinner at a restaurant like celebrity chef Mario Battali's Babbo might set you back a pretty penny, but the food is divine—and you can still eat well for less at a neighborhood joint like the Kati Roll Company on MacDougall. And even if the Beat era itself is nothing but a fond memory, you can always get your java fix at the same coffee shops once frequented by Kerouac and Boroughs, like the Caffe Reggio, or Café Figaro. And you can still hear some of the city's hippest jazz at venues like Sweet Basil and the venerable Village Vanguard.
Architecturally, the Village has remained remarkably stable over the past several decades, thanks in large part to a strong historic preservation movement and determined neighborhood activists. In the early 1960s, the urban theorist and activist Jane Jacobs, whose book "The Death and Life of Great American Cities" remains a classic of modern urban planning, led the fight to prevent the neighborhood from being razed after Parks Commissioner Robert Moses designated it a "blighted" area. Earlier, Jacobs and other Villagers had rallied against Moses' plan to build a Lower Manhattan Expressway through the heart of the neighborhood. (In the 1950s, another neighborhood activist, Shirley Hayes, convinced city officials to eliminate the roads that once ran through Washington Square Park). In 1969, one-third of the Village was designated an Historic Landmark District—one of the first in the city, and still one of the largest.
Berman points out that while new development is permitted in the landmark district, "It must be compatible with the scale and style of the neighborhood." In other words, no bulldozing 19th century brownstones to make way for glass-and-steel high-rises. As a result, the Village has retained much of its period charm. But the same zoning regulations that have allowed the Village to maintain its physical identity have also contributed to the market pressures that are slowly changing the demographic character of the neighborhood.
"There's no more middle-class housing left to build in the Village because of the historic landmark status," Grunow says. And the new luxury buildings going up along the waterfront, which is exempt from the landmark designation, are far from middle-class. Nicole Kidman, Martha Stewart and Calvin Klein are among those who have purchased units in architect Richard Meier's two towers on Perry Street, while Meier's Charles Street tower made news this past spring when one of its studio apartments sold for a record $1.425 million.
Ironically, the Charles Street tower stands on ground once occupied by the Pathfinder, a defunct socialist publishing house. Meier's earliest neighborhood project, completed in the late '60s, involved converting the old Bell Telephone Laboratories into the Westbeth, the nation's first subsidized housing complex for artists—and an early example of the "adaptive re-use" of industrial buildings for residential purposes.
In addition to the recent influx of jet-setters, however, the Village has also seen an increase in couples and families with young children. With its relatively calm, winding streets and numerous small parks, the neighborhood is extremely kid-friendly. (Local schools include PS 41, where over 93 percent of students meet or exceed state grade-level standards in English Language Arts and 92 percent meet or exceed them in Math; PS 3, the Charrette School, where the stats are 74 percent for ELA and 91 percent for Math; and IS 896, the Greenwich Village Middle School. An older breed of student can be found on the campuses of the New School University and New York University, both a short walk from Washington Square Park.)
And while its population may be changing, the Village retains to a surprising degree the spirit of tolerance that once made it a magnet for radicals and counter-culture types. When it comes to lifestyle and vocation, in the Village, Dorato says, "Nobody really cares, and nobody makes judgments."
Alexander Gelfand is a freelance writer living in Queens.