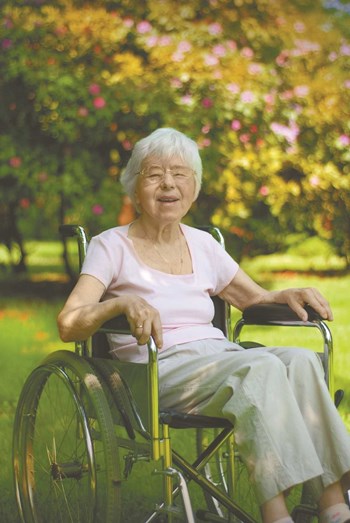 New York City is famous (perhaps infamous) for its residents' philosophy of minding their own business—dress as a giant chicken, sport a revolutionary haircut…nobody minds. This attitude is great if you're a young person expressing your inner bohemian—but somewhat less great if you're an elderly person or someone with a mental or physical handicap, or a kid with working parents taking care of younger siblings. Who looks out for these folks when there is a fire, power outage or other emergency?
Of course we all want to look out for ourselves and our family, but building managers and staff should have a plan created in advance to manage any emergency situation and include the special needs of certain residents who may need additional assistance. Planning ahead gives you and your residents a better chance for survival in case of disaster.
To determine which residents need special assistance, Matthew Sapolin, executive director of the Mayor's Office for People with Disabilities, suggests soliciting the entire building, not just select residents. "Put it out to your whole population, you never know by just looking at someone if they have a special need and you should never assume," he says. "Let them know you are creating an emergency and evacuation plan."
For example, while some elderly residents can tend to themselves in an emergency, others may need assistance. Robin Fenley, director for the New York City Department for the Aging Alzheimer's and Caregiver Resource Center says that, for example, those with early onset of Alzheimer's disease may need assistance, but it may be a challenge for the manager to find which resident has what condition, so it's important to tread carefully.
"Their hearts are in the right place, but I think if you walk up to someone you think might have dementia and ask them, you might find that most people will resent being asked, and legally it may not be allowed," says Fenley. "Managers should get to know the residents and be friendly with them. The supers will also tell you what they know; they see the residents every day."
To prevent any legal troubles, he also suggests that management confer with their attorneys for the building to review or draft a letter to make certain the wording is correct.
The Disabled and the Elderly
According to the United States Access Board, an independent federal agency whose primary mission is accessibility for people with disabilities, during the terrorist attacks on the World Trade Center, two men carried a woman who uses a wheelchair down 68 flights to safety moments before the tower collapsed. This and other stories have shed light on what hardships people with disabilities face in any crisis and the importance of taking into account the needs of all persons.
"There's a large vulnerable population in New York, including the frail elderly and others with a cross-section of disabilities—including significant physical and mobility disabilities, such as blindness and hard of hearing, to be considered when planning for evacuation or an emergency," says Sapolin.
According to the Americans with Disabilities Act (ADA), one of the most important roles of local government is to protect its citizens, including helping people prepare for and respond to emergencies.
"After Katrina, the state was mandated to have the conversation to include people with disabilities and how they will be participating in evacuation planning," says Sapolin. "[But while] states are charged with having a plan, there is no specific do 'x' and 'y.' There is no cookie-cutter solution to this. What else could buildings do? Go above and beyond."
Sapolin also explains that after the tragedies of 9/11 and various other national calamities, there is also a portion of New York residents who suffer from post-traumatic stress disorder. According to the U.S. Department of Veterans Affairs, Post-traumatic Stress Disorder (PTSD) is an anxiety disorder that can occur after you have been through a traumatic event. A traumatic event is something horrible and scary that you see or that happens to you. During this type of event, those who are going through it may think that their life or others' lives are in danger. They may feel afraid or feel that they have no control over what is happening.
"These residents can inhibit a smooth evacuation because they may get scared," says Sapolin.
Fenley explains that this can happen to those suffering from early Alzheimer's too. "There can be a potential for resistance," she says. "It's part of the disease process."
The responsibility of the manager is not to be a caretaker to these residents, but to know which residents may have difficulties during evacuation so emergency personnel can step in and help.
Caring for the Children
According to the U.S. census, one third of all school age children in the United States are, for some part of the week, latch key kids, which means that they go home to an empty house or apartment. Most parents tell their children not to open the doors to strangers, and in an emergency, this is a dangerous issue. It's up to the parents and building managers to work together in case of an emergency situation.
"The point would be to think in advance of every thing that could or might go wrong—lots of worst case scenario thinking and then going through each one step-by-step and making up a plan," says Rebecca "Kiki" Weingarten, M.Sc.Ed, MFA, co-founder of New York City-based Daily Life Consulting.
"Hopefully, it will be a lot of work for nothing, but if it could help one child, one family, it is all worth it."
Weingarten suggests that building managers (should) be notified on a weekly or monthly basis as to which apartments will have children in them after school or even home from school for the day.
"Parents might not be comfortable giving out that kind of information, but no one wants to think about the alternatives," she says.
Weingarten also suggests that parents provide building managers with photo ID and contact phone numbers for all the children in case of an emergency. "[This is] in case the children freeze and can't remember their info," says Weingarten. "Also languages spoken by the children should be noted. Never make any assumptions about what a child knows or doesn't know, or what they understand."
If possible, the building manager could also exchange an agreeable "secret" word with the kids, says Brenda Nixon, M.A., author of "Parenting Power in the Early Years."
"Before any crisis the parent and child agree on a word to be used when there's an emergency and another adult can take charge of the child. In my family it was the word 'blue-jay,' then if there was a crisis I revealed the word to the other adult (i.e. building manager) who would go get my child for me. If the building manager doesn't have a code word from the parent, he could say there is a problem with the building and the child must come outside with other people, never say something like, 'come to my office,'" she advises.
If a child is still resistant, Nixon advises managers to get a uniformed individual such as a firefighter or police officer to accompany him/her to the child's apartment to explain the emergency.
Resources and Training
Like it's been said, there is no cookie-cutter emergency plan to help managers, but there are resources for managers to use.
Fenley trains members of SEIU Local 32BJ on aging, elder abuse, Alzheimer's and the services that the department offers. "The more people that have the information, the better the older person might be," says Fenley.
Managers can use resources such as Ready NY for Business, (found at http: //nyc.gov/html/oem/downloads/pdf/Business_Guide_Final.pdf), to help create an emergency plan.
In this brochure (which is geared to business owners, but has terrific tips that building managers can use too), managers are advised to talk with disabled residents (once you have put out the request for assistance with all of your residents) in emergency planning. Ask about communication difficulties, physical limitations, equipment instructions and medication procedures. Address their needs at each step of the planning process. Identify residents who are willing to help other special needs residents and be sure they are able to handle the job. This is particularly important if someone needs to be lifted or carried. Plan how you will alert people who cannot hear an alarm or may not understand instructions. Practice your plan to ensure employees with disabilities and their helpers know what is expected of them.
Another terrific resource to help with elderly, disabled or other home-bound residents is the Carrier Alert program, begun in 1982 by President Ronald Reagan. Carrier Alert is a cooperative community service program to monitor the well-being of elderly and disabled by mail patrons. As one of the few—and some days only—point of human contact for home-bound patrons, letter carriers are particularly attuned to signs that could mean an accident or illness. Carrier Alert is a system to tap into that sensitivity.When a volunteer carrier notes something unusual concerning a patron registered with Carrier Alert, he or she reports it to a postal supervisor or other designated individual who in turn contacts the sponsoring local agency. They check on the person and if something's wrong, contact family, police or emergency services as appropriate. Participation is voluntary, but this program can help managers assist their residents.
Lisa Iannucci is a freelance writer, published author and mother of three living in Poughkeepsie, New York.