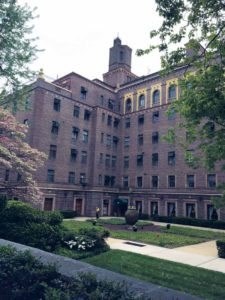 There was a time some hundred years ago that Great Neck -- not the Hamptons -- was the weekend and summer playground of the rich. A short drive away from Manhattan (there was no bumper-to-bumper traffic then) brought city dwellers to 'the country' for respite from the pressures of urban life. The faded history of F. Scott Fitzgerald's pastoral playground still lingers in Great Neck today in the form of Kenwood Gardens, a 69-unit, seven-story apartment building constructed in 1925, designed by Leroy P. Ward and developed by Charles E. Finlay.
Kenwood Gardens was the first co-op building constructed on Long Island, and was recognized by the Great Neck Historical Society in 2016 for its place in local history, commemorated with a Heritage Recognition Plaque mounted on the outside of the building and a certificate with the history of Kenwood Gardens on display in the lobby.
The community's original apartments featured spacious, oversized rooms, with 12-foot ceilings and wood-burning fireplaces. The floors of individual units were solid red oak, and the common hallways clad in imported Portuguese tile. Electric refrigerators replaced antiquated iceboxes in every kitchen, and apartments featured dumbwaiters to dispose of garbage and refuse. Additional amenities included separate maid's and chauffeur's quarters located on the main floor, and a large laundry room that housed permanently-mounted ironing boards, washing sinks with attached wringers, and gas-fired drying racks was available for use by residents or their domestic staff.
Originally, the building also housed a beauty salon, barber shop, drugstore, valet service - even a dress shop. In addition, there was also a fine-dining restaurant which featured music and dancing every Wednesday and Saturday evening, as well as room service to all residents. The offices of the Village of Great Neck Estates were originally housed in the building. And since most residents had their own chauffeurs and there was adequate street parking, a parking garage was never considered.
To complete the outside of the property, the prestigious landscape design firm Lewis and Valentine was engaged to create a formal garden surrounding the building. The company was known for its ability to replant mature 20- to 30-foot-tall trees, and placed 12 grown silver maple trees around the grounds to offer shade as guests walked the lovely garden paths. Sadly, many of the trees - some of which had reached nearly 100 feet - had to be removed a few years ago due to blight and storm damage.
Bruce Funk, longtime resident and a former president of the Kenwood Gardens co-op board explains that 'The building was promoted as being 'Where Town and Country Meet.' In newspaper advertisements for the newly-built complex, New York City residents were enticed to move to 'The most luxurious multiple-dwelling ever built.' "Ads said," Funk continues, "that residents could come from their upscale city apartments to experience elegant living in a country atmosphere." Today, the atmosphere is decidedly suburban, with commuters shuttling back and forth daily - not for the weekend - on the Long Island Railroad, and soccer moms and dads transporting their children from school, to sports, to the supermarket and home. "I have a passion for living here," says Funk. "I live my life as aesthetically as possible in my apartment. It's an enjoyment that's hard to explain. My wife and I appreciate what it must have been like to have lived here when the building was grand, in Great Neck's Gilded Age."