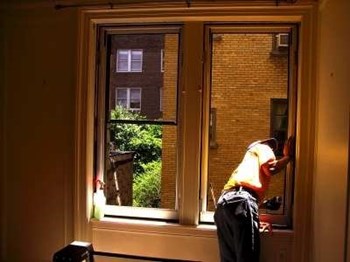 Few things matter more to a co-op or condo owner than living in a place with good light and a good view. That's why windows serve as one of the biggest selling points and most important physical aspects of a building. The right windows can give a building panache and style and, most of all, the light and look that today's homeowners crave.
What happens, though, when those windows start to turn from an asset to a liability? There comes a time in every window's life when it begins to fall apart, when glass begins to separate from frame, when hinges begin to rust and the window's simple mechanics begin to fail. Resident complaints increase, utility prices rise as heat escapes through leaks, repairs become more frequent and pricier.
That's when a board must come to terms with the fact that a complete window replacement may be in their future. It's a daunting decision, both financially and in terms of planning. With the proper assistance and plan of action, however, the task is not insurmountable. And ultimately, the reward is worth the investment: happy residents looking out across New York's unforgettable urban landscapes through clear, new, energy-efficient windows.
Looked Great 40 Years Ago
After a few decades, even the best cleaning may not be enough to give a building's windows that same luster they had when they were new. For high rises especially, the wear and tear of high winds and harsh rains can do a lot to erode frames and weaken seals. In industrial areas, rainwater infused with mild toxins or chemicals can contribute to a window's deterioration. In other cases, outside elements may have little to do with how a window ages. "It could be the overall quality of the manufacturer's product," says Evan Ross of Ross Window Corp. in Mt. Vernon. "It also could be tenant use." Too many years of a window being banged on or yanked open will have an adverse effect on that window's life expectancy.
Certainly, it is possible to hold off the inevitable by replacing individual windows here and there. There likely will come a time, however, when a broader solution is needed. If the board thinks that time has come, there are a few factors they should consider. "How many times have they had to service the windows?" Ross says. "They should look into the number of complaints they have from residents about their windows. Are they spending a lot of money on servicing those windows?" Ross asks.
Another consideration is energy costs. Are the windows old enough that people are losing significant amounts of heat through leaks and fissures? Does the building pay for the heat, and could it be saving money with more energy-efficient window options?
In higher end buildings, issues like air quality and sound also may factor into the final decision. "Folks are purchasing some pretty expensive residences these days and sometimes the only downside is the noise from the street," says David Skudin of CitiQuiet Windows in Long Island City.
Taking the Plunge
If the board and manager determine that it is indeed time to pull the plug on those existing windows and invest in some newer alternatives, then the first step is to contact either an engineer or a window installer. "Get an estimate," Ross says. That estimate will include answering questions on the number of windows, the color, size and other specifications. Once everything is agreed upon, the contractor will often ask for a deposit, depending on the size of the job.
After the order is placed with the window installer, Ross says the windows themselves should arrive in five or six weeks--after that, with conditions and other factors allowing, the installation process can commence.
Boards and managers should use those five to six weeks before the windows arrive to prepare their residents for the disruption that is about to ensue. Windows are replaced from the inside out, meaning that contractors will need access to each and every apartment and room with a window. Residents need to "look at furniture, artwork, blinds, curtains," or any other even remotely sensitive pieces of furniture or décor that could get damaged in the installation process and remove those items to another, safer room. Even photos hanging from the wall could be susceptible to pounding from hammers or other tools. "There should be a good five-foot workspace," Ross advises.
Residents or building staff also should remove any window air conditioners. "Ninety percent of the time, the installer does not want to be responsible for removing the air conditioner," Ross says. If something gets dropped or damaged, the liability headaches are simply not worth it for the replacement crews.
Caution is key in ensuring that residents are more happy after the window replacements than before. Things should go smoothly, though, as long as everyone is informed and knows what to expect well ahead of time.
What Are the Options?
The most popular option for window replacements continues to be the double-hung window--a favorite that never goes out of style. Window walls, which mirror the look of more newly constructed buildings with their larger panes of glass, also are becoming more common.
Thanks to advances in window technology in recent years, there are many more options available for buildings, including custom-crafted windows that can render total replacements unnecessary. Companies such as CitiQuiet Windows and Cityproof Windows, both in Long Island City, offer interior custom-made windows that fit over existing windows, eliminating noise, enhancing air quality and improving energy efficiency. The windows are designed to perfectly mimic existing windows, and function just as traditional windows do, opening and closing with ease.
This option is not for every building, however, and is usually used when a building may be replacing its windows for reasons other than deterioration. "We recommend that if exterior windows are in disrepair, they should be replaced," says Michael Damelin of Cityproof. "Putting a good interior window over a bad exterior window is like putting on a Band-Aid," he says.
For buildings with windows in good enough shape to consider this custom option, it could pay off in increased tenant satisfaction. "It could save a lot of money in the long run," Damelin says. "In terms of energy conservation, the building could earn its money back in three or four years."
The product also can work well in historic or landmark buildings. Instead of replacing very expensive older windows that may be of a unique design, interior alternatives can be fashioned. "Since we make each window, we have the ability to line up with existing windows in terms of style and color and size," Skudin says. His company recently did the landmark Sherry Netherland Hotel with 80 to 85 condo units.
Sound may be the biggest factor in determining whether buildings will go with interior window solutions if they think their existing windows may still last a while longer. Sound reduction "can dramatically improve the quality of life" for residents, Damelin says.
Depending on the type of window, noise can be reduced anywhere from 75 to 95 percent, based on the type of material used, how much air is left between the existing glass and the new glass, the thickness of the new glass, the quality of the exterior window and dozens of other factors. People can be dealing with garbage truck noises, sirens, bus stop sounds, local bars. "We run into all types of situations," Damelin says. Once the windows are installed, most residents seem quite pleased with the results, he adds.
Save Those Nickels and Dimes
With all the great options out there, it can make a board's collective head spin. And given that for most buildings, the biggest factor in window replacement feasibility is the financial bottom line, it is important to know you're getting the best bang for your buck. That is why it is imperative to meet with experts before the process begins. Shopping around, getting a number of quotes, meeting with installers and technicians--all of those actions will help improve the chances of getting a good price for a good product.
For custom-manufactured interior windows, prices can run anywhere from $400 to $1,300 for an average, normal window. Prices vary depending on size, style and thickness. For regular replacement windows, prices can vary but an average price falls somewhere in the neighborhood of $250 to $350 per window.
Total window replacement is certainly a major investment, but with the right fiscal planning and a careful review of the options, it shouldn't be too painful. Just remember to keep those lines of communication open with residents. It will help determine exactly what your current unit owners and future owners may want, an important factor to include alongside what the building needs. For residents, windows can make or break a co-op or condo. After all, everyone deserves a million-dollar view.
Liz Lent is a freelance writer and a frequent contributor to The Cooperator.