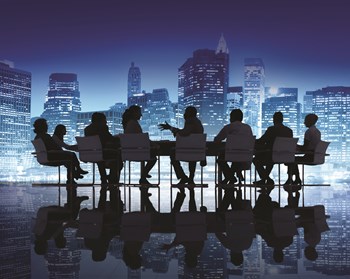 Who would visit a medical office that did not have running water? Many would question whether the office was sanitary. This occurred to a doctor who used a Forest Hills co-op unit as his office. Management placed a notice under residents' doors the night before stating that the water in the building would be cut off during the morning hours to make plumbing repairs. Unfortunately, that was too late for the doctor who didn't receive his notice until he walked into the office that very morning. This is a prime example of how important good communication is to the smooth running of a co-op or condo.
Create Satisfied Residents
The importance of good communication between the board and residents cannot be emphasized enough. Keeping residents informed about building-specific information through open lines of communication encourages them to become more involved in the community. Helping foster feelings of pride and community is likely to produce residents who are eager to become involved in and protect their surroundings. These attributes raise the desirability of the building which increases its monetary value.
Without proper communication efforts from the board, residents become dissatisfied and suspicious. They feel kept in the dark about what is happening in their own building. If there is damage that needs repair, residents should be made aware of it in it's earliest stages. And, owners who are required to pay an assessment to repair aging balconies, for example, won't be shocked and angry because they weren't informed sooner.
Distributing newsletters is one of the best ways to communicate information to shareholder/owners, however, they are not utilized as often as one might think. David Kuperberg, president of Cooper Square Realty in Manhattan says that of the 65-plus co-ops and condos he manages, approximately half maintain good communication with occupants. Attorney Howard Schechter, a partner at Schechter and Brucker in Manhattan concurs, stating that a surprisingly small percentage of the co-ops and condos he services have newsletters.
One Forest Hills shareholder expresses dissatisfaction with the communication efforts of her co-op. A building resident for 21 years, she feels her board has made fewer and fewer attempts to keep the shareholders abreast of what's going on. "Shareholders want to know where their money goes," she says. "I want to know the facts [about the daily issues affecting her co-op]." She feels that they need to make the extra effort to give the residents information that is pertinent to her building including repairs, new personnel, renovations and other actions.
At best, she says she receives written communication in the form of a newsletter three to four times a year. This newsletter, however, does nothing to inform her of the issues affecting the building. Comparing its format to that of an elementary school newsletter, she says the pages are filled with nonsense: poetry, and, say, a profile on the super. "Everything is a mystery," she states.
Schecter states that most cooperatives were formed under the Business Corporation Law (BCL) which does not require the co-ops to disclose much information unless it is requested; requiring the board to give shareholders financial information about the co-op within five days of a request. It also requires the corporation to make available the names of other shareholders upon request. The BCL does not specify how far in advance shareholders must be notified of repairs or other renovations and construction.
A building's lease and bylaws do, however, cover these bases. Most have a notice provision which usually requires the board to send shareholders yearly financial statements, tax deduction information and mortgage and real estate tax information. Some leases may include guidelines as to when residents must be notified of work within the building like repairs, painting, exterminating and other events. Schechter believes that there is additional information that should be made available to occupants, including changes in rules and regulations, elections, new as well as departing employees, changes in service procedures, and board minutes and summaries.
Often finances dictate whether a board can produce an informative newsletter for its residents. Smaller co-ops and condos may not have the money to hire a professional to create and maintain a newsletter. And because producing a newsletter can be quite time-consuming, many board members may not be willing to volunteer to produce it. This leaves building residents at a loss for concrete information regarding their homes.
The failure of the Forest Hills newsletter was not that it includes poetry, but that it does not include information pertinent to building business. A newsletter's content should primarily inform residents about what is going on in their buildings: scheduled repairs and renovations, construction, physical appearance of building, board meetings and other issues concerning shareholders and owners should be included. Other items such as birth announcements can be included to add flavor to and personalize the publication.
As far as what information should not be communicated via newsletter, website or other medium Schechter recommends that items such as pending lawsuits, personal information relating to a specific person (such as who is in arrears), opinions or predictions pertaining to the building, and any topic considered 'questionable' should not be addressed publicly. Schechter says boards should consult legal counsel to be on the safe side. He states, "Accuracy is a key ingredient" and warns that releasing erroneous information can lead to misrepresentation of the building which can lead to legal problems.
One good example of a newsletter is "Warbasse World," created as a joint effort between the board and management of Amalgamated Warbasse Houses, a self-managed co-op in the Brighton section of Brooklyn. "People look forward to it," explains manager Rochelle Captan, nyarm, CPM. Captan has worked with Warbasse for the last 23 years and has noticed a very positive reaction to the newsletter which is printed nine times a year. It includes construction updates including dates of completion of projects, the minutes of board meetings, as well as information about Social Security and recycling. It covers many topics affecting the Warbasse community. "[Shareholders] know exactly what's been going on," confides Captan.
Another success story is " The Co-op & Condo Communicator," a quarterly newsletter distributed to shareholders and owners in the 56 buildings managed by Manhattan's Midboro Management. Midboro president Michael J. Wolfe says that the reception of the newsletter has been overwhelmingly positive; there have been no negative aspects. He says, "The newsletter includes everything an occupant needs to know at a glance. The information is purposefully tailored to address the concerns of co-op and condo owners." Wolfe says he compiles his information by researching the current real estate trends as they apply to co-op and condo owners. He then customizes that information to suit the issues facing his readers. Some of the topics covered have been who's responsible for repairs, tips for a successful board package, protection from lead, tax issues, and residential real estate market trends. Wolfe has also created a semi-annual newsletter specifically for board members called the "Board Informer."
A new trend that can also assist communication efforts are websites. They are a fast, easily accessible way to bring important information to the fingertips of residents at their convenience. Midboro has a website which is updated regularly, including a breaking news feature that consists of constantly changing information. The firm encourages residents to send their comments and questions via e-mail and the response has been promising. Wolfe says that the number of e-mails they receive are steadily increasing. The website has information for current occupants, as well as a host of information to attract new clients.
AKAM Associates, a Manhattan management firm with a portfolio of approximately 80 co-op and condo properties in Manhattan, has a website called genesis which includes specific portals for each individual property managed by the firm. Residents can log on to their specific buildings with a password, and view information specific to their buildings. Leslie Kaminoff, AKAM's chief executive officer, says that in the three months since its inception, the website has been visited constantly.
Genesis features board meeting minutes, notices which are constantly updated, work orders, building documents, bylaws and house rules, a professional directory where occupants can list their business services, a bulletin board for residents to post announcements, sell things or use in other ways. In addition forms can be downloaded from the website such as applications and resale documents. "[The website] makes managers much more efficient," comments Kaminoff. Occupants are able to express their needs and concerns via e-mail to management or the board and receive responses oftentimes outside of the normal nine to five business day.
Amalgamated Warbasse has instituted yet another communication medium: an in-house television station. It is used to inform residents of current news relating to the complex including current board issues and concerns. They produce two or three broadcasts each year on a public access channel.
As for the future Captan says that the management and board members are working on developing a private telephone system for the residents. Every apartment would have a device similar to an intercom which would provide a direct line to management. Residents would have the opportunity to call directly and explain their problem or need; management, in turn, could respond to requests via the same device. Management would also be able to leave messages for tenants regarding upcoming repairs so that if they are out, the message will be waiting when they return. Captan expects the phone system to be up-and-running next year.
When considering a form of communication that will best suit residents, a multifaceted approach is best Many people see the more modern forms of communication as more desirable because it enables them to streamline many tasks, Kuperberg explains. But he believes that it is crucial to maintain the older forms as well. Although newsletters and websites are great tools of communication, flyers and bulletin board notices can be used.
To be successful, the board and management must be able to communicate effectively on every level. Websites, newsletters, flyers, phone calls, mailings, bulletin boards, and e-mail are all valuable communicative tools. "The quality is paramount not the form of communication," Kuperberg states. All in all, boards that are most outgoing in their efforts at communicating are the most effective in everyday operations.
Ms. Terrell Ernest is a freelance writer living in Queens.