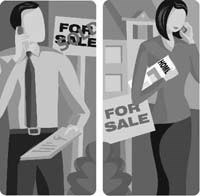 Whether you're buying or selling a condo or co-op, the goal is to engage a real estate broker who will get you the best price or the best apartment in the shortest period of time. Unless you already work in the real estate industry, you likely will not have an ongoing relationship with an individual broker. When engaging a broker—either as a buyer or a seller—there are 10 essential qualities to look for when seeking a superior broker.
Experience: Of all the qualities that a good real estate broker should have, experience is one of the most important. For a buyer, the experienced broker will know the neighborhoods and the quality of buildings where you may want to make a purchase. In addition, a broker should be familiar with each building's requirements to win board approval for a new co-op tenant. In fact, the dedicated broker will first pre-qualify the buyer, then meticulously prepare a complete board-approval package that will ensure acceptance by the board. The seller's broker will then go over the package with a fine-toothed comb to make sure that it will meet with all of the board's criteria."
Knowledge: When representing either a seller or a buyer, a broker should have exhaustive knowledge of pricing in a building and neighborhood. Many brokers are not up-to-date on sales prices.
For example, a broker recently told a prospective client that shares in his building were $600 per share, when—in fact—share prices had reached $900. The broker was off by $300 because he hadn't sold a co-op in that particular building for nearly two years and had failed to investigate current market prices, which can fluctuate from season to season.
A buyer's broker should be expert in not only finding a dream apartment in the right neighborhood based upon a client's needs, tastes and perhaps the school districts, but also in quickly finding a building that fits the client's financial profile. Without that critical factor covered, there will be no board approval, and the deal will evaporate. Once the appropriate building has been found, the broker should endeavor to find the client the most attractive financing in a timely fashion.
Presence: It's all too common a practice for brokers to have their assistants—who may have little experience—show apartments to prospective buyers. In such cases, the seller may be unaware that an inexperienced assistant or an agent trainee is showing the apartment and is perhaps ignorant of the apartment and the building's attributes and amenities.
In addition, some sellers' brokers simply leave keys for the buyer's broker and expect that person to act as the stand-in advocate for the seller—hardly an ideal approach.
All apartment sellers should make sure that the brokers they have engaged are the ones who will personally be showing their apartments to prospective buyers; if not, the apartment may go unsold. One's apartment is a valuable asset, and should be treated as such.
Availability: Prospective apartment buyers may not be able to inspect an apartment between 9 a.m. and 5 p.m. Yet, too many brokers refuse to show apartments before 9 or after 5, and fewer still refuse to show apartments on weekends. If you want to maximize the chances of closing a sale or finding your dream home, look for a broker who is available when buyers are available, whether its 10 p.m., 7 a.m., or on weekends.
In addition to being available, a dedicated broker will go the extra mile to make the most of the time he or she has with the prospective buyer in an apartment. That could mean arriving early enough before an appointment to make sure that the apartment looks presentable—turning on lights, opening curtains, even making a bed or tidying up the kitchen, or whatever else is necessary to make an apartment look as attractive as possible. There are some sellers whose lack of neatness may require a broker to arrive 15 to 30 minutes before an appointment just to get an apartment up to snuff.
Marketing/Advertising: Many brokers are kept on short financial leashes, and are not permitted to advertise a property on an ongoing basis—in many cases, print or web listings are so small that many prospective buyers miss them. That makes it all the more important to get the widest, most attractive exposure possible for a client's property.
Upon getting an exclusive, the conscientious broker will immediately send the listing to the entire brokerage community. The broker should also oversee the creation of top-of-the line marketing pieces, complete with eye-catching photographs.
Unfortunately, too many photographs of apartments are not taken by experienced photographers, and don't do the properties justice. All apartments should be shot with a wide-angle lens to encompass the full beauty of all the rooms. Magnificent views should be included, and not covered up by curtains or drapes.
In addition, the floor plans of the broker's listing should be professionally executed in a large size that shows the dimensions of all the rooms.
Speed: Once an owner puts an apartment on the market, it is essential that the apartment be put on the broker's website, floor plans be made available, and ads placed all within twenty-four hours. Taking weeks to get all the marketing materials assembled is too long—the rapid deployment of marketing materials is essential if a broker is going to attract the largest possible number of potential buyers.
Staging: Just as people dress up before going on a date, so an apartment must be made as attractive as possible before it is presented to potential buyers. The process is called "staging," and it involves everything from getting rid of clutter to placing flowers or plants in appropriate places, ensuring that the lighting is more than adequate, moving furniture, and cleaning windows. Professional staging companies exist, but an outstanding broker should have some helpful tips on how to stage your apartment.
Cosmetic Renovation: A talented broker may also recommend minor renovations that will result in a major increase in the apartment's value. For example, it may be possible to put up a couple of walls with French doors to create an extra bedroom.
Consider the case of a recent client who wanted to sell his condo for $750,000. After investing about $6,000 and four days of work with an experienced contractor to have the apartment painted, new granite counter-tops and appliances installed in the kitchen, and a new vanity and lights in the bathroom, he netted an additional $100,000 on the sale of his apartment. A superior broker will not only advise a client about specific renovations that should be made, but will also recommend contractors who can get the job done quickly and economically.
Perseverance: When representing a buyer or seller, this quality is essential. A buyer's broker must relentlessly search for the right apartment, regularly updating clients on the newest listings as quickly as they come on the market. They want to make sure that their clients will be among the first to view newly listed properties. A seller's broker must be tenacious about marketing an exclusive listing, regardless of whether it is the first week or twelfth week that an apartment has been on the market.
Trust: As when choosing a lawyer, a doctor, a stockbroker, or an accountant, one should expect a level of comfort with a real estate broker. The best real estate brokers are trustworthy, have integrity, are passionate about their work, and are dedicated to their clients' goals. When interviewing a broker, you should get an understanding of the broker's past performance—don't be afraid to ask for referrals. Word of mouth is a valuable tool—and both buyers and sellers should seek out and hire brokers that come with the highest recommendations possible.
Carol Levy is founder and president of the Carol E. Levy Real Estate brokerage in New York City.