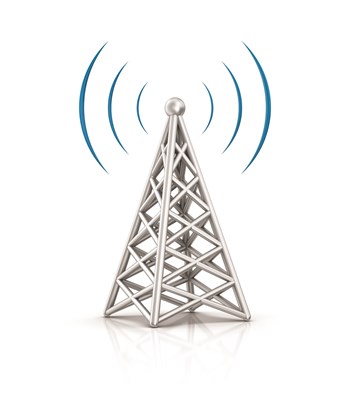 Never before have there been so many ways to become "wired" in The Big Apple. Innovative companies are readying New York City's co-ops and condos for the new millennium by making state-of-the-art electronic amenities a mere click away from realization. These "bundled services" provide co-op and condo residents packages of high-tech building features, such as local and long distance phone service, multiple TV channels, video conferencing and internet service that zooms to your computer screen in the blink of an eye. According to Howard Slavin, asset manager of the New York real estate investment firm, Allied Partners, "No sophisticated buyer today would move into a building that didn't have some type of satellite and high-speed internet access."
Individual contractors may be hired to install each service, or one company will bid to provide the whole package. To prepare a building for bundled services, if pathways are not already present, companies will drill vertically through the center of your building (called "core drilling"), through dumb waiter shafts, elevators or utility closets, to install the wires. The process is similar for buildings under construction and pre-existing properties. Wires can be hidden from view by placing new molding around them, entailing minor construction. After that, horizontal cabling is passed onto each floor and into each apartment. If and when service providers work within an individual unit, the average visit is 45 minutes.
Local and long distance phone service are features of wired buildings. Although the standard for local service is still Bell Atlantic, many smaller players are getting into the action. Bell, which hopes to provide long distance service soon, either bulk-bills a co-op as a whole, or charges residents directly.
"Some buildings offer integrated cable–meaning several services run along the same cable lines," notes Owen Kurtin, a telecommunications lawyer and partner in the New York office of Duane, Morris & Heckscher. Kurtin's own 272-unit dwelling in the Upper East Side uses a proprietary phone service (it belongs to the company providing the bundled services–RCN in his case). All of RCN's services and wiring are their own–they compete "head-to-head with the incumbent providers," says Jim Maiella, RCN spokesperson. Their package includes local and long distance phone service, cable TV, and high speed Internet access, as well as traditional dial-up access. Although customers are billed separately for each service (except for long distance phone service, which shows up on their local service phone bill), RCN is working on a merged bill to make paying more convenient.
High Speed Internet Access
Along with listed features like "doorman" and "laundry room" property managers such as Matthew Adam Properties in Manhattan now include "high-speed Internet access" on a property's profile for sales purposes.
Even 'ole Ma Bell has gotten a facelift with its ADSL service, which sends high speed data over your phone lines to your computer. Ideally, Bell will use existing cabling to enter a building, rather than drill anew.
On the cutting edge of new technology is Advanced Digital Internet (ADI), which provides wireless internet access at a rate of 11 million bits per second. Fiber optic cables are installed vertically through the building, and Internet service branches onto each floor through radio signals emitted from a small transmitter placed in the basement or a stairwell. An ADI technician installs an interface card into your computer, and you're ready to go.
"First we do a site survey, which might take two days," says Andy Benson, president of ADI. The longest wait, according to ADI, is ordering the circuit to connect the building to their central office; maybe four weeks. "A lot of people who want high speed Internet access already have it at the office," points out Benson. "When they get home, a 56K modem won't cut it." The beauty of wireless access is that you can use your laptop anywhere in your apartment without having to worry about finding an electrical outlet.
"I downloaded a Microsoft program," says J. Jay Mautner, an ADI-user in his 100-unit co-op on the Upper East Side. "My computer estimated a download time of 44 minutes. It took four minutes." ADI engineers admit that certain barriers, like steel, may slow down the radio signals, but the problem can be remedied. Mautner claims that since his apartment is at the building's farthest end, the signal was weak. However, "they put a transmitter in my apartment and an antenna at the building's main transmitter," says Mautner. "Now it's works beautifully."
According to Victor Cruz, director of sales/special markets at Time Warner, his company has a franchise with the City of New York, "so we already have 99.9 percent of buildings here covered." As well as ruling the cable television empire, Time Warner has just introduced Road Runner high speed Internet access to The Big Apple. The service, which runs from fiber optic cables in the street into apartment buildings, is "50 to 100 times faster than the average dial-up phone line service," claims Cruz. "We spent $400 million over the last five years upgrading the cable system."
"Road Runner is terrific compared to dial up," comments Jay Silverzweig, who, as a vice president of his 320-unit East Village co-op board, is experimenting with the service for his building. "The installation was a little difficult because the old wiring was inadequate to carry the signals, so Time Warner replaced it. It was a little disruptive, but no big deal. It took them about three weeks to do 26 floors."
Netlink, a small Internet service provider affiliated with Bell Atlantic, is presently debuting in several New York co-ops. Netlink's package includes high-speed internet access, long distance phone service, and–through Bell Atlantic–local phone service and Direct TV. "If more users come on board, making faster speeds necessary, we can add lines so everyone has adequate bandwidth," explains Helen Fisher, chairman and chief executive officer of Netlink. The company has the ability to provide wireless service, but the its engineers are worried about interference and security. Fisher points out, "You don't want someone tapping into your computer when you're downloading your Merrill Lynch asset account."
"We put a satellite dish on the roof for our video option," says Greg Mooney, director of multi-dwelling unit sales at Bell Atlantic. "For Direct TV we put a box on top of your television and program it."
Time Warner is testing digital distribution for cable TV signals, to be ready by the year 2000. "There will be more channels, sharper pictures and better sound," says Bob Watson, director of Time Warner's strategic marketing division.
ADI provides video conferencing, streaming video (which accesses interactive sites like CNN for digitalized broadcasters' announcements); and web cams. The latter are cameras that let residents view parts of the building. "You can look into the laundry room or gym to see if all the machines are taken–or to check who's there," says Benson. While this technology can be of assistance, its use in residential dwellings must be employed with care. As one property manager pointed out, "No one wants a situation where someone in their building is spying on them."
There are less controversial options. Trump Place at 180 Riverside Boulevard is contemplating an ADI roof web-cam, so people can see the views and check the weather. The management office of the dwelling can track overnight packages and book airline reservations for residents–all through cyberspace. They also avoid hefty phone bills by holding coast-to-coast 'net meetings' where participants hear each other through microphones and see each other through video cameras perched atop computer monitors.
Property Expenses and Money-Makers
Most companies will do the initial wiring at no cost to the co-op or condo, since they make their revenues off subscribers who pay for the individual services. The average monthly fee to ride the superhighway's fast lane is $49.95. More complex features up the price, and there may be installation fees for some equipment.
There are ways to make money on these integrated amenities–or to at least save money. If your board or management company has a savvy negotiator, they might be able to convince a telecommunications company to return five to ten percent of the profits it makes from your building's subscribers to your property.
"In most New York City condos and co-ops, the communications infrastructure is owned by the providers, like Bell Atlantic or Time Warner," notes Herb Hauser, president and chief executive officer of Barnes Wentworth, a technology engineering and consulting firm in Manhattan. "Typically, they mine the value out of a property without returning a dime. We design ways for properties to retain more of their information rights." Hauser believes there are two basic models for super-speed Internet service. "One is where all the Internet users in a building get together and share the cost of a bulk pipe (broadband Internet connection). In this scenario, only the subscribers save money. In the second model, one company assumes full responsibility Internet access. In return, the board requests a certain percentage of each unit's monthly service bill, which flows back to the co-op."
With stiff competition in the cable industry, a new niche–rooftop management–has arisen. "Telecommunications companies approach buildings to lease roof space for antennae or satellite dishes," explains C. J. Manolescu, vice president of Subcarrier, a telecommunications company in Old Bridge, New Jersey. "Since building owners don't have the background to know if they're getting a good deal, they hire us to interface with these companies."
Your managing agent, with the help of your super, might soon be able to run your building like a tight ship without leaving the comfort of his office. "We envision a central monitoring station that can signal if the air conditioning's gone down, the furnace is too hot, or the building's using too much electricity," says Tom Josephson, director of technology at ADI. "By hooking buildings together by the Internet, a management company with 30 separate properties will be able to check them all at the same time," he adds. "Hopefully, it will lower management costs for co-op and condo boards."
Time Warner's future digital cable will include 40 CD-quality music channels separated by genre and programmed by experts in the particular areas of music. "You can hook up your cable box to your stereo," exclaims Watson. "And no commercials!"
Netlink offers a "virtual private network" that links your home computer to your office computer. "People can actually sit at home and access all the data and files from their office's computer system–such as Lexis/Nexis," says Fisher. Of course, users need workplace approval.
Netlink will be providing Internet access for a celebrity-filled Soho condominium, the apartments of which are also wired for home entertainment systems. "Each unit has wiring coming from a central point, set up for speakers," says Slavin. "You can hook up your CD player and pipe music throughout your apartment." A two-bedroom in this millennium-ready co-op ranges from $1.5 million to over $4 million. "The Chelsea Atrium, a new 40-unit luxury loft, will house a large, Internet-ready conference room," says Ira M. Meister, president of Matthew Adams Properties. A video system may also be installed.
Not all real estate experts see the "wired" craze moving as fast. "I can't say that prewired services or dedicated computer lines are deal-makers yet, because they're not criteria that will sell one apartment over another," says Giorgia Iavarone, a sales agent with The Corcoran Group, a real estate brokerage firm in New York. "Most buildings still don't have it. However, it's certainly helpful to present it to a perspective buyer–high-tech wiring relates to the computer buff's needs and lifestyle." As Manolescu points out, "You can't offer a 1940's building to a 1999 resident."
At this rate, the only thing apartment dwellers will have to worry about is whether they'll ever want to leave home again.
Jean E. Herskowitz is a freelance writer living in Manhattan.