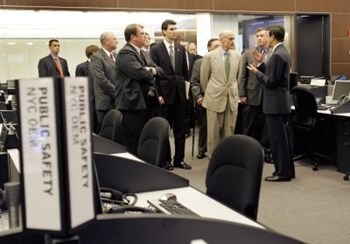 In 2004, a NewsChannel 4 helicopter corkscrewed and slammed onto the roof of a Brooklyn apartment building, shattering into pieces. In July 2006, Dr. Nicholas Bartha blew up his Upper East Side townhouse that he was about to lose in a divorce settlement. That explosion leveled the four-story building. In October 2006, New York Yankees pitcher Cory Lidle and his flight instructor were flying a small plane that crashed into The Belaire, a 40-story apartment building with 183 apartments.
Earlier this year, a nasty odor blanketed New York City and a few months ago, a steam pipe exploded under apartment and office buildings that created a gaping crater in the middle of Lexington Avenue, exiling hundreds of neighborhood residents to hotels until the situation could be contained.
Steam pipe explosions, plane crashes, cars crashing into buildings, shootings, gas leaks, toxic smells—oh my! While it might sound like a scene from Bruce Willis' action-packed thriller Die Hard, these events have really happened, and any building serious about the safety and security of its residents has an action plan that will go into effect for the more typical types of emergencies—for example, fire, flood and even in today's environment, terrorism.
But what about those unusual dramas that arise (hopefully) just once in a lifetime? Can managing agents actually prepare for something that is seemingly impossible to plan for?
Yes, says Adrian Zuckerman, who heads the Real Estate practice section of the law firm of Epstein Becker & Green, P.C. in New York.
"That's the misconception. People believe you can't plan for these events, but you can," says Zuckerman. "You can plan escape routes, you can plan for how you can assist people, when they can come back in afterwards. You can plan for who is going to be in charge and who makes the decision to evacuate. You can have a plan for evacuating the elderly or others who need help. As a resident, you can plan where you are going to meet your family and your children once you are outside, and residents can plan what they will have stored in case of an emergency."
Suzanne Loughlin, the chief administrative officer/executive vice president of Firestorm Solutions, LLC, a firm headquartered in Colorado, that analyzes client exposure and vulnerability to disaster, agrees that most disasters are predictable.
"But people think that it's 'never going to happen to me' or 'if it's so bad it's something I can't do anything about anyway,'" says Loughlin. "But if you work or live in a high-rise, at any point in time your building could be the subject of an event that could lead you to evacuate."
Loughlin explains that her company's motto is predict, plan, perform. "You have to predict what your vulnerabilities are, whether terrorist attacks or hurricanes, for example," she says. "Once you've identified them then you can create plans to mitigate them and the damages that flow from the disaster. How do you do a proper evacuation? When should you and when shouldn't you? Of course, you may want to get out of the building, but what are you evacuating into?"
Next, perform the drills—do a run through, but not when you are smack in the middle of a crisis.
"Have the residents walk down the stairs when they are not under stress," says Loughlin. "In some buildings, the stairs don't go all the way down and you'll have to move to the other side of the building. Also, if there is an explosion and you need to get out, you don't want to go down the staircase that lets you out into the explosion. You'll need to find a different staircase."
Zuckerman does admit, however, that there might not be such thing as a perfect plan. "There is no perfect answer to planning for all of these emergencies," he says. "But at least the issue will be given some thought. I don't know if any plan takes into account every contingency."
Maybe so, but some managers try their hardest to think of every scenario. When Michael Berenson, president of AKAM Associates, a residential management firm in New York, heard about the Lidle crash, he made sure to discuss it with his emergency crisis team at their monthly meeting.
"We have our own emergency crisis team—three individuals at AKAM who are trained to handle crises so it's not just on the property manager—and we reiterated what happened with the Lidle crash and made sure we knew how to handle it if it happened to us," says Berenson.
The team, says Berenson, is well-versed in dealing with insurance claims, has taken classes through the New York Association of Realty Managers (NYARM), communicates with residents and helps them get placed when they may not be allowed back into the building.
One problem with any emergency is the fact that while managers want to help residents, and residents ideally want to listen to their managers for their own safety, everyone has their own family that they want to reach when tragedy strikes.
"What every business needs to understand is family is going to trump business every time," says Loughlin. "Family first—this is why in the planning stages you are only as good as your employees. They need to do what they need to do and take care of their families too. So help every employee to develop a family plan too."
Zuckerman says that overcoming this obstacle is a matter of education. "Tell people what their choices are—not a lot of people know. You can't make them do what you want them to do, but it's a process of education and having a plan and a contingency plan. It's better than nothing."
In one Florida development, managers dealt with a situation they never thought they'd see—a steam pipe burst, sending its elderly residents scurrying into the streets at 3 a.m., watching as the pipe damaged their property and left them temporarily without shelter.
Carol Schecter, district manager of the Southern Nevada region for the Eugene Berger Management Corporation, explains that this was a startling event because the development was brand new and had just received its certificate of occupancy. They found out later that a glue holding the pipes together didn't set properly, setting off the scary incident.
Schecter said that even though they never thought of an incident like this occurring, their disaster plan still helped to work through it.
"The first thing we did when we received the call was call the police and fire departments and go to the building," says Schecter. "We didn't know what was happening and we just saw people screaming. We got as much staff as we could and helped to evacuate the residents, contacted the board of directors and let the pros do their job. We also helped residents contact the insurance agents and a security company to secure the building."
Afterwards, the board and management reviewed what happened and discovered that contacting the staff and board wasn't easy when people were fleeing the building, so they purchased walkie-talkies for the staff.
Schecter urges board members and management to remain calm in a crisis. "Make everyone feel that you're in control," she says. "Act like you're in control. As we are professionals, we need to always make sure we are on top of what we are doing. Clients have confidence in us. Look into the future and develop a core plan; it's easier to deal with it if you're organized."
If you don't have all your i's dotted and t's crossed, it could come back to hurt you. Zuckerman says that there are legal consequences if a thorough emergency plan isn't in place when a disaster strikes.
For example, in the 1993 World Trade Center bombing a car bomb was detonated by terrorists in the underground parking garage below Tower One, resulting in the deaths of six people and injuring of more than one thousand.
"The trade center was found two-thirds liable because it was foreseeable that this type of incident would occur and it didn't adequately prepare for it," says Zuckerman. "There was no good evacuation plan. If you analogize that, 'is there an obligation of the board to come up with plan?' The answer is 'yes.'"
And plan on the media to be with you every step of the way, even if Britney Spears is not involved.
"One thing we see in every crisis situation now is so much media presence," says Loughlin. "Look at the shootings at Virginia Tech. You're compounded by the media afterward, so have a very clear communication strategy in place. Who is your spokesperson, and how will you deal with the media?"
Of course, dealing with the media is secondary to the safety and well-being of your staff and residents, but it is still another thing that needs to be dealt with, so it's better to think about it now in the planning stages.
Another important aspect to consider when dealing with the unknown is the fact that no matter how good your plan is, law enforcement might have other ideas and may need to make other arrangements.
When a crisis occurs, not only do you have to put that important plan into action, but you need to think on your feet. "There is never a cookie-cutter crisis, so you need to take it one step at a time," says Berenson. "It's important to have a chain of command and know what to do."
So what's the number one thing you can take away from this article? Stop saying, "It can't happen to us," and start thinking, "What if it happens to us?"
Lisa Iannucci is a freelance writer, published author and mother of three living in Poughkeepsie, New York.