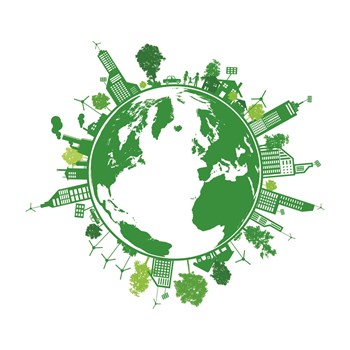 When the Bloomberg mayoral administration launched PlaNYC in 2007, New York City took notice. The program focused on the environment, and included everything from planting street trees to reducing carbon emissions, upgrading building codes to prepare for extreme weather, and cleaning up air pollution by phasing out Number 6 heating oil in commercial and multifamily buildings. One hundred percent compliance on phasing out dirtier heating oils has been achieved.
Greater, Greener, Better
Another component of PlaNYC was the 2009 introduction of then-Mayor Michael Bloomberg's Greener, Greater Buildings Plan. Patrick Love, Carbon Challenge coordinator for the Mayor's Office of Sustainability, says that first, the mayor's office convened a Sustainability Advisory Board that included elected officials and experts from various fields in the private and public sectors. Then, says Love, "The city spent 15 months researching and developing a package of energy initiatives, and on Earth Day 2009, the Greener, Greater Buildings Plan was announced."
According to Phil Madigan, manager of multifamily programs for Con Edison, "Greener, Greater Buildings is more of an overall theme than a plan." It is a broad umbrella that includes a variety of measures, some of which are applicable to co-ops, condos and other multifamily buildings.
According to the website of the city's Office of Sustainability, the program concentrates on larger buildings. "The city's square footage," it reads, "is highly concentrated in less than two percent of its properties; two percent translates into 15,000 properties over 50,000 square feet, which account for almost half of New York City's square footage and as much as 48 percent of New York City's total energy use." Madigan explains that in general, for multifamily buildings, 50,000 square feet basically translates to 40-to-50 units and up.
The Big Four
The original Greener, Greater Buildings consists of four local laws supplemented by job training opportunities and a financing entity known as the New York Energy Efficiency Corporation. These laws, says Love, "easily passed" the City Council in December 2009. They are:
Local Law 84: Benchmarking, or requiring owners of large buildings to monitor their annual energy and water consumption. The law specifies that this is for buildings 50,000 square feet and up, although there is a lower floor for city-owned buildings.
Benchmarking, says George Crawford, principal of Manhattan-based energy efficiency consulting firm Green Partners NY, can be the "canary in the coalmine," or a warning signal." If a building's score is in the 60 range out of 100, it's about average. If it's higher, it's even better—you could qualify for Energy Star. But if the score's low, it's time to fix things fast. The first thing to do, he says, is to determine what building component is responsible for the problem, by doing an audit. Look elsewhere in this issue for a feature article on benchmarking compliance.
Local Law 85: This is the city's energy code. Although the provisions are rather complicated, briefly speaking, any new project involving a building's envelope, mechanical systems, water heating systems and lighting requires an energy analysis by a qualified professional, in accordance with the Energy Construction Code of New York State. Historic buildings and city landmarks are exempt from the building envelope and exterior lighting provisions of the code.
Local Law 87: This mandates that buildings 50,000 square feet and up submit to energy audits, which are surveys and analyses of energy use, and retro-commissioning, which is the process of ensuring correct equipment installation and performance. The audits are conducted every 10 years.
The energy audit, says Michael Scorrano, managing director of the White Plains-based En-Power Group, "requires analysis for potential reduction in energy use and/or the cost of "base building systems," including the building envelope, HVAC systems, elevators, hot water and electrical and lighting systems. The energy audit must be performed by or under the supervision of a registered design professional and must be at least as stringent as the American Society of Heating, Refrigerating and Air-Conditioning Engineers (ASHRAE)'s Level II Energy Survey and Engineering Analysis, 2004 edition.
Local Law 88: centers on lighting upgrades and submetering, but for non-residential buildings.
The De Blasio Administration
Current Mayor Bill de Blasio has continued his predecessor's plan, and put his own stamp on it. In September 2014, he announced the "One City: Built to Last" program, which aims at "Transforming New York City's Buildings for a Low-Carbon Future."
Importantly for our readers, two-thirds of these will be multifamily buildings. (The city describes its Retrofit Accelerator as "a one-stop resource provided by the City of New York to help owners and operators of privately owned buildings reduce operating costs and increase the sustainability of their properties through energy and water upgrades." It includes a team of building and customer service experts.)
Madigan also said that de Blasio also is making a concerted effort to bring energy efficiency to low-income neighborhoods such as those in Eastern Brooklyn. For example, of those multifamily buildings helped by the aforementioned retrofit accelerator program, about 40 percent will be government-assistant affordable or rent-stabilized buildings.
Of course, there are many entities that have been doing the same thing—energy reduction, energy efficiency—for quite a long time, and the Greener, Greater Buildings Program has partnered with them, especially in getting the information to your buildings.
Some of the Details
As with most energy efficiency programs and legislation, an entire cottage industry has sprung up of firms that have the expertise to perform these measures—and of organizations that serve as clearinghouses for this information. That says Crawford is when his company came into being as well to address the program's local laws.
Different firms and entities perform different functions. For example, Local Law 87 mandates an ASHRAE-style energy audit (see above), in which, as Madigan says, the entire building is analyzed "from the outside in." However, says Madigan, sometimes boards may want simpler measures done, smaller components with quick paybacks."
Con Ed, in its Equipment Rebates for Multifamily Buildings program, provides rebates for some such measures, along with a list of approved contractors. Among the measures are LED light fixtures, heating controls, high-efficiency boilers, pipe insulation, roof insulation and energy management systems (also known as building automation systems).
The program also performs a common-area survey. Separate incentives are available for affordable-housing buildings.
Crawford believes that one of the best ways to save energy for a multifamily building is to retrofit with LED lighting. You may remember when compact fluorescent lighting was considered the living end in energy-saving lighting for buildings. Now, LED is considered the cutting edge.
"With today's LED technology," says Crawford, "LED lighting products consume only a fraction of the energy consumed by any type of fluorescent or incandescent lighting product." General Electric, he adds, has announced that it will stop making compact fluorescent lights by the end of this year.
He also reminds readers that Con Edison, in its Multifamily Program (see above), will give incentives that will help fund the conversion of incandescent or fluorescent lighting to LED.
Most buildings, Crawford continues, pay 20 to 24 cents per kW, or kilowatt-hour. Replace a 60-kW incandescent bulb with an 8-watt LED fixture, and the savings are dramatic. Replacing a compact fluorescent bulb with and LED light will produce less savings, but it will still be substantial, says Crawford.
Summing up the impact on multifamily buildings of the various Greener, Greater Buildings measures, Scorrano says, "Greener, Greater Building codes require multi-family residential buildings such as condos and co-ops, to look at their usage of their current use of energy and develop ways to reduce their consumption. The goal is to reduce not only cost, but to reduce citywide greenhouse gas emissions by 30 percent by 2030."
Once a building does a Local Law 87 audit, he elaborates, the building management can consider various energy-saving measures "These can include a whole host of measures, including lighting, insulation, heating and cooling upgrades, cogeneration and other renewable energy systems."
As for benchmarking, Love says that "the data collected through benchmarking allows owners and decision-makers to consistently measure their efficiency, track energy and water performance, and create a baseline for recommended improvements." To help with the process, the city relaunched the New York City Benchmarking Help Center for information and assistance. For more information, contact them at 212-566-LL84 (212-566-5584), email: questions@benchmarkinghelpcenter.org or visit the website at www.nyc.gov /ll84helpcenter.
Reducing energy costs, of course, isn't the only object of the Greener, Greater Buildings and allied programs. As of 2013, 17 of the largest property management firms in the city have committed more than 700 multifamily buildings to the New York City Carbon Challenge, pledging to reduce GHG (greenhouse gases) emissions in selected buildings by at least 30 percent as a by-product of making energy efficiency improvements.
Among these firms are AKAM Associates, Douglas Elliman, Charles H. Greenthal, Midboro Management (which specializes in managing co-ops and condos), Riverbay Corporation (Co-op City). Solstice Residential, Argo and others.
Getting Information Out
The city has partnered with the Urban Green Council to offer free presentations to building industry organization, building owners, managers, boards and others. The presentations review all four laws, focusing on benchmarking, audits, retrocommissioning, lighting upgrades and submetering. Funding is provided by Con Edison and the New York State Energy Research and Development Authority (NYSERDA).
Also, as we've mentioned, the city sponsors the New York City Energy Efficiency Corporation, which provides financing for energy-efficiency projects and comprehensive information about funding and tax benefits.
In addition, the Urban Green Council and the American Institute of Architects, New York Chapter, have joined together to provide half-day training sessions funded by NYSERDA. Classes specifically on benchmarking are given by the Association for Energy Affordability, also funded by NYSERDA.
For information on OneNYC, according to Love, board members and managers can visit www1.nyc.gov/html/onenyc/index .html or look through a list of Mayor's Office's social media channels at www1.nyc.gov/connect/social-media.page.
And for more information on the Mayor's Office of Sustainability, you can visit the office's website at http://www1.nyc.gov/site/sustainability/index.page, the Green Buildings and Energy Efficiency website at http://www.nyc.gov/html/gbee/html/challenge/nyc-carbon-challenge.shtml, or look up @nycsustainable on Twitter.
Ranaan Geberer is a freelance writer and a frequent contributor to The Cooperator.