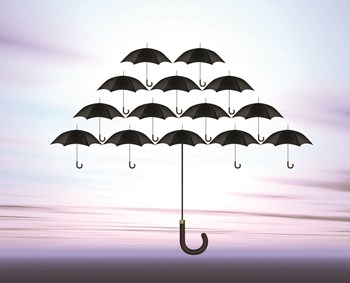 The 1990s were good times for those paying insurance premiums. "We had almost a decade of severe, severe cost cutting," says Coletta Kemper, vice president of industry affairs for the Council of Insurance Agents and Brokers. "They were about as low as anybody could probably take them, and the industry had been suffering underwriting losses for many years."
Typically, co-ops and condos hold five types of insurance: directors-and-officers (D&O), umbrella, liability, workers compensation, and fire. Many also carry boiler insurance and insurance against commercial crime.
The last decade has been characterized by fierce competition among insurers. Throughout the 90s, more people got into the underwriting business, which in turn encouraged cutthroat pricing. Capacity was also high, which meant that serious investment capital was pouring into insurance company coffers. With more money available to them, insurers could afford to offer low premiums. The stock market boom contributed too, enabling companies to take losses on claims because they were flush with brand-new, dotcom cash.
But around 1999, things changed. Like others playing the market, insurance companies took hits on their Wall Street investments. With stock profits stalling, the only means of moneymaking was to raise premiums. A slew of corporate mergers also gripped the industry, compounding an already tense situation. With fewer insurers vying for customers, competition began to sag, and the reinsurance market stiffened.
In response, prices started creeping upward, slowly but steadily. According to Kemper, the most marked increase began in 2000, when commercial insurance on co-ops and condos shot up about ten to 20 percent. A recent Council of Insurance Agents and Brokers survey of the nation's top 250 insurance agents and brokers, who place about 80 percent of all commercial insurance premiums, shows the trend continuing through the first quarter of 2001. Almost 60 percent of the survey respondents said insurance prices across the board were up 10 to 30 percent for the quarter.
Today, though premiums are steadily increasing, Kemper is quick to point out, "This doesn't mean the prices are excessive now, though."
Insurance prices were depressed for so long that an upturn was bound to happen, according to Nancy Gelardi, senior vice president of the Arthur J. Ghallagher and Co., insurance brokerage. Prices dropped every year for the last 15 years, she says. "Now companies are saying 'We can't do this anymore, we want what we consider to be fair market value.'" It may be fair, but policy buyers don't think so, says Gelardi. "People got so used to the low premiums that now they say, 'Oh my God.'"
Gelardi says that even buildings that have seen their premiums climb 22 to 28 percent in the last year alone are paying reasonable prices nonetheless, because premiums were so low to begin with.
In the current insurance climate, it is "high-risk" buildings that have endured the most acute price-hikes, says Charles J. Weisblum, Chairman of Barkly Coverage Corp., an underwriter. "If you have a building that's leaking, and they should be doing maintenance and aren't, they will have a higher cost," he says. Weisblum adds that, whereas underwriters might not have been as concerned about these types of risks ten years ago, they certainly are today. Co-ops and condos are finding this new concern reflected either through higher deductibles or higher insurance premiums.
In addition to the sagging stock market, constricted reinsurance has been a huge rate inflator, Weisblum says. Through re-insurance, insurers are able to lay off some of their risk by selling part of a policy to a reinsurance company. This way, insurers don't need as much money on hand to back the policies they issue. Mergers, however, have tightened the reinsurance market, according to Weisblum. "If it costs insurance companies more to buy reinsurance, then they'll charge more."
It would seem intuitive that any upswing in premiums would immediately be felt by co-ops and condo-dwellers, but for now at least, that does not seem to be the case.
Relative to other building and business expenses, insurance is nominal, says George Tunick, board president of a mid-sized co-op on Madison Avenue. It comprises only one percent of his $2 million-a-year operating budget. "Remodeling our building and putting in elevators cost us more, " Tunick says. "Taxes are a greater concern to us." Indeed, taxes constitute 30 percent of his budget, followed by payroll costs, which are 20 percent.
Tunick says he has noticed an eight to ten percent rise in the building's insurance payments over the past couple years, but it hasn't been a problem. His co-op has been able to decrease maintenance costs by 17 percent over the last four years by cutting costs in other areas, like buying cheaper fuel.
Many say that even on an individual homeowner level, the effect of increasing premiums has been minor. Tom White, who lives in a mid-sized Manhattan co-op said he hasn't noticed much of a change. Neither has Richard Levine, another Manhattan co-op-dweller.
In general, cutting your building's insurance costs isn't as simple as inflating deductibles or cutting off certain types of coverage. It's more effective to stay on top of your building's upkeep and hold claims at a minimum. "Buildings that do what they should to maintain themselves are good risks," says Weisblum of Barkly Coverage. "For good risks, it will be a more rational market."
Buildings that install safety and security features will not only rate higher in underwriters' eyes, but the improvements will also prevent problems that could lead to claims. Plumbing and electrical system updates and roof and siding repairs are helpful. "Most co-ops are old buildings and have grounds and concrete work that need upkeep," says Larry Kinitsky, board president of a large Queens co-op.
Kinitsky ventures that liability insurance is likely the culprit contributing the most to premium increases. "New York City has become a very litigious community," he says, speaking of residents who sue their buildings for mishaps they blame on negligence or poor maintenance. In turn, insurance companies have to fork out money for the claims, and as the number of claims rise, so do premiums.
People are thrilled at the prospect of collecting a few thousand dollars from an insurer. "'So what', they think, 'maintenance will go up a few bucks a year'," Kinitsky says. "They'd rather have the money, but what people don't realize when they sue the co-op is that they are kind of suing themselves."
Whither Goest Thou, Premiums?
Insurance is a cyclical industry, which means that after rates have been at a peak for some time, they invariably slide back down again. The big questions are whether current rates have hit that peak yet and if they have, how long they will remain suspended? Many in the industry say rates don't look like they are going to fall any time soon.
"A lot of it is a function of the stock market," says Weisblum. "If it goes down, down, down than rates will go up-these companies need to get their money from somewhere." In sum, he believes that because rates were pushed down for so long they will most likely rise to some degree, no matter the overall economic scenario. He acknowledges, though, that rates will still vary according to whether properties are good or bad risks.
For all the speculation, however, no one can truly predict the course rates will take in the upcoming months. "Anyone who says they know what the prices will be next year," Weisblum warns, "is making it up."
Ms. Malek is a freelance writer living in Manhattan.