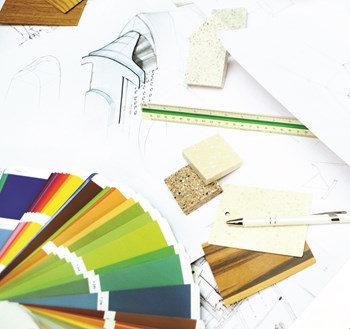 Walk by 502 Park Avenue and you'll find a vision in progress. There stands a classic example of a gracious Park Avenue building with one remarkable, eye-catching addition: an ultra-modern glass tower on the roof that is home to the kind of apartments most of us can only dream of, with large living rooms and dens, spacious bedrooms, foyers, and formal dining rooms, all located in one of the most upscale neighborhoods in Manhattan. The owners of the penthouses on the 25th through 30th floors of the building will enjoy 4,200 square feet of interior space, as well as breathtaking views of the city skyline.
The building is the Trump Park Avenue, and like a lot of things Trump, number 502 strives to embody luxury living at its finest - one thing it has in common with a lot of other Trump buildings is its architect, Costas Kondylis.
"Donald's buildings usually have a lot of bronze and gold," Kondylis says, but notes that this project is a little different. "This one is more understated. There are, of course, some Trump-brand elements in the project, but overall the building has more of a Park Avenue flair to it."
For Kondylis and the other elite architects who help create the look of Manhattan, each building has it own challenges. How do you best utilize the space available for apartments? How do you make it fit your clients' needs? How do you make something distinct while also making sure the building fits in with its neighborhood? There's a lot more to what an architect does than what meets the eye.
Creating in New York
Ask people to close their eyes and think of New York, and chances are they will envision the city's famous skyline. Being an architect in New York means realizing a vision that fits the city and the particular neighborhood you're working in. Kondylis cites a Riverside South apartment building he's working on as an example of the synergy between building and neighborhood.
"It's a curved building that follows the curvature of Riverside South," Kondylis says. "It's all out of cast steel and glass; it's like the crown jewel of the Riverside South project." The intent is to stand out as special while assimilating and merging with the existing neighborhood.
Robert Siegel of Manhattan's Gwathmey-Siegel & Associates says a project his firm is working on is likewise unique to its site. The firm is building a 25-story condominium in Cooper Square near Lafayette and Astor Place between the East and West Village.
"What's interesting about our building is that the buildings around the site - which is a little like an island similar to Times Square, where there are many streets intersecting - are masonry buildings from the 1940s and "˜50's. So our idea for the site was to make a real object, a special piece that would be seen in counterpoint to these buildings."
Siegel describes the building as curvilinear, meaning that it is shaped in a unique way, even as it projects upward. "It's the first curvilinear tower-form building that I know of in New York City," Siegel says.
Any good building is going to be designed with the intent of fitting in with its neighborhood, but Siegel says there are different ways to go about that.
"Sometimes you make a building that is contextual in the sense that it appears like the buildings that it's next to. And sometimes you make a building that is [a counter point], that is seen in contrast to its environment. A lot of that has to do with surrounding buildings and the dynamics of the site."
Siegel compares building in a mid-block situation - with buildings on either side of a new project - to something that allows for more freedom, like in Cooper Square. Options for the space are going to be limited, and zoning laws are more likely to affect plans. In that kind of situation, Siegel says architects are better off trying to fit in with existing buildings that surround the project.
"In a city like New York, you have certain sites that are really special and are seen in unique ways," Siegel says. "Those are opportunities for the architect to make a building that is more dramatic and more interesting because it's capitalizing on these opportunities, whereas often you have a mid-block site, or one that is bounded by buildings forming the "˜street walls' of the city. Those sites are much more limited. It's not so much about the particular city, but about the particular site."
At the same time, says Paul Millman, an architect and founding principal with SUPERSTRUCTURES Engineers + Architects in Manhattan, "You might not notice individual architectural landmarks in New York, but there is a background texture that you become accustomed to and that does help define the city."
And defining the look that is integrally New York, says Millman, a professional engineer as well as registered architect, says, can sometimes be difficult. "When a building comes to us and asks if we can help them strip the terra cotta off their building because there's a possibility it's unsafe, we wouldn't be involved. We'd make an effort to dissuade them from doing that because we think - especially with older buildings - that their look is an integral part of the fabric of New York. To some extent, they form a background for the city."
Beneath the Skyline
There's a scene in Woody Allen's film Hannah and Her Sisters where an architect rides around New York City with two women and points out his favorite buildings. Not once do they get out of the cab. But while the skyline and exteriors of buildings are what most of us imagine when we think of the word "architecture," most of an architect's work happens on the inside.
"The inside is probably the most important part of an architectural project, because that's where people live and work," says Peter Eisenman of Eisenman Architects in Manhattan. "We spend more time on the interiors of our projects."
Eisenman has designed many buildings for public use - like museums, concert halls, stadiums, libraries - and while the exterior is important to those, it's the inside that really counts: "When attending a concert," observes Eisenman, "are you thinking about the outside of the theatre?"
But even if you take a walk inside a building, you won't see everything an architect has done to it. "And I don't mean decorating," Eisenman says. "I mean working out how the buildings function"¦the lighting, the air conditioning, the acoustics. There are so many things to deal with in regards to interiors. We spend much more time on interiors than exteriors."
For the addition Kondylis designed to crown Trump Park Avenue, few changes were made to the exterior, since it embodied the type of Park Avenue elegance people are looking for in such properties. So the real work was done on the inside.
"We renovated the lobby," says Kondylis, "and what we tried to do here - and I think we were very successful - was to introduce the idea of contextual architecture into the interior design of the building. So when you walk through these apartments, you would know that this is Park Avenue. The building feels more like an understated Park Avenue building, rather than a 1980s Trump Building."
With prices for apartments being what they are and the market being as competitive as it is, developers are looking for every edge they can find. Siegel says this has led to people paying more attention to interior details than before.
"What we're finding," says Siegel, "is that our firm - which is very design-oriented - is more able to use design as a very powerful marketing tool, when historically we might not [have been hired] by residential developers because they had architects creating repetitive buildings that were cost-effective. Particularly with buildings designed by well-known designers, it helps the developer market the quality aspect of the building. It's a method of branding."
Historically, the architect who designs the exterior of a building is not necessarily the one who does the insides as well, says Eisenman. "In New York, when you have an apartment building"¦the interiors are always done by different architects - not the one who designed the exterior, necessarily. When we did a co-op, we had a different architect do the interior. When people rent apartments or floors in a building, they have their own architects come in, so what we do is the rough finishes."
And the interplay between one or two architects, interior designers, and contractors can make for quite the frustrating experience for new apartment buyers itching to move into their space. "Given time, budget, availability of good craftspeople, and the restrictions co-ops often have, I've never heard of any residential [project] getting done on time," Eisenman says, half-jokingly. "You tell a client it'll get done in nine months, and it takes a year and a half. The client gets furious; and they have every right to be."
Building and Rebuilding
Some projects start from nothing, while others entail reworking an existing building. For example, in its first incarnation, the building now called Trump Park Avenue was known as the Hotel Delmonico. In re-imagining the structure, the goal was to preserve the building's 1930s-era structure while giving residents the best modern amenities.
"What we tried to do," says Kondylis, "is combine the best of modern technology - the mechanical systems, the electrical, the windows - with a very classical prewar layout. We tried to make it very interesting for people who [want] a classical Park Avenue apartment [but also] allow for them to move into a building that would be fully renovated."
Kondylis also has prior experience turning a hotel into an apartment building. He transformed the old Mayfair Hotel at Park Avenue and 65th Street. Of course, architects sometimes start with nothing except land. While pride permeates any project, it would seem that starting from scratch allows an architect to create the exact type of building that he or she envisions.
"When we were doing the Mayfair Hotel, somebody asked me, "˜What are you most pleased about, and what part are you not too happy with?' I said that as an architect, I wasn't too happy that I was not able to design a new exterior for the building. And the person told me, "˜That was exactly the point!' The building was successful because we did preserve the old exterior. People liked the idea of moving into a building that had an understated Park Avenue elegance."
Whether building from the ground up, or re-imagining something that's already there, says Millman, "You certainly have a responsibility to whatever you define as the "New York tradition. You're not making a building look exactly like the other buildings in the neighborhood - if you did that, there'd never be any progress - but you have a responsibility to respect the context in which you're building."
Blueprints for Success
Like any art form, architecture can be approached in different ways, but it seems all good architects have to have a few things in common, like talent and dedication.
"I was very good in design in school, and I had a mother who detected my talents early on and pointed me in the right direction," says Kondylis, who grew up in Greece, Switzerland and in the U.S. He attended architectural school in Switzerland and graduate school at Columbia University, where he received a master's in architecture/urban design. His firm, which has 85 employees (about 50 architects, 15 interior designers, and 15 administrators), is also something of a family business - his daughter runs the design department. During his 30-year career as an architect, Kondylis has more than 60 current and completed high-rise and mid-rise residential towers and apartment buildings, hotels, dormitories, and mixed use residential projects to his credit.
Siegel graduated from Pratt Institute in 1962 and Harvard in 1963 before becoming an architect. He attended the High School of Music and Art in New York City and was mainly interested in the fine arts. After enjoying an architecture class he took, he found out he enjoyed it even more than the fine arts, and thus, it became his career.
"It takes a lot of passion and commitment to wanting to make good buildings," Siegel says. "There are so many opportunities that are wasted - you have to believe that design and good architecture is meaningful."
Millman, who received his bachelor's degree in architecture from Cooper Union and master's degree in civil engineering from MIT, agrees. "To some degree, I'm a little disappointed with certain trends in the city's [residential] architecture. Zoning restrictions have led to buildings being created just to fit the most apartments into an allotted amount of space. The buildings look okay," he says, "but people aren't taking chances, and a lot of the new buildings look essentially just like all the others."
Something else that is needed for the job is more on the practical side, but is perhaps most important of all.
"You have to find a patron," says Siegel. "Unlike painting or sculpture, which you can make without a client, an architect can't make his art unless he's hired by someone, and that's very challenging. And that's why I think many people in art who might like it shy away from it."
"It takes hard work," Kondylis adds, "being good at it, and continuously improving and always trying to do better and better. It's a challenge; when I wake up in the morning, I look forward to taking on whatever challenge it will bring me. If I wasn't an architect professionally, it would be a hobby of mine. I enjoy what I do very much, and that's what drives me."
Anthony Stoeckert is a freelance writer living in New Jersey.