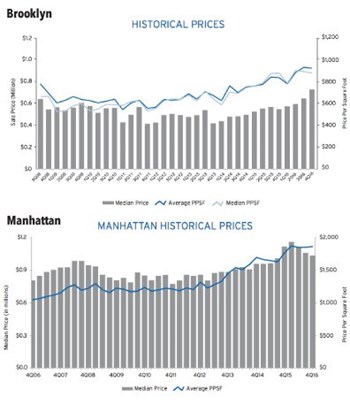 By all accounts, the New York City co-op and condo market is continuing its healthy, active trend of the past few years (although the frantic activity of the immediate post-Recession years seems to have eased somewhat—particularly at the uppermost end of spectrum), and there's every indication that this trend will continue during the coming year.
An Overview
"This past year saw an easing in the overall market, with the high-end luxury segment bearing the brunt of it," said Julie Park, a real estate agent from the Level Group based in Manhattan. "Frenzied bidding wars were less common, and buyers gained leverage, but at the lower price points, inventory still remained tight and it remained an active market."
Similarly, Richard Grossman, president of Halstead Property, which has locations in New York and New Jersey, says, "Firstly, I think for many properties, especially those at the higher end of whatever market you are in throughout the tri-state area, we have seen some retreat in selling and asking prices over the past 12, 16 months; somewhere between three and eight percent.
"Secondly, now that the election has been decided, buyers are regaining confidence and we are starting to see normalcy in all segments of the market," Grossman continues. "I have already seen several properties go to contract above $10 million, $20 million and even $30 million within days of the election, and other buyers submitting bids in that range. That said, the contract prices were made with negotiation."
In general, Grossman says, "Sellers want last year's prices, and the buyers want next year's. The deals that are happening now are in the middle of that equation."