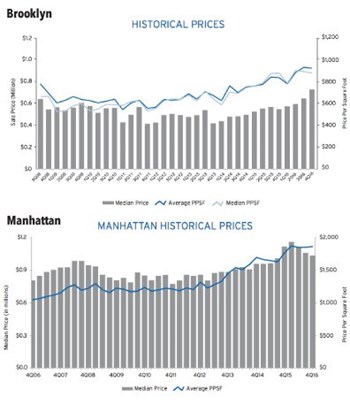 By all accounts, the New York City co-op and condo market is continuing its healthy, active trend of the past few years (although the frantic activity of the immediate post-Recession years seems to have eased somewhat—particularly at the uppermost end of spectrum), and there's every indication that this trend will continue during the coming year.
An Overview
"This past year saw an easing in the overall market, with the high-end luxury segment bearing the brunt of it," said Julie Park, a real estate agent from the Level Group based in Manhattan. "Frenzied bidding wars were less common, and buyers gained leverage, but at the lower price points, inventory still remained tight and it remained an active market."
Similarly, Richard Grossman, president of Halstead Property, which has locations in New York and New Jersey, says, "Firstly, I think for many properties, especially those at the higher end of whatever market you are in throughout the tri-state area, we have seen some retreat in selling and asking prices over the past 12, 16 months; somewhere between three and eight percent.
"Secondly, now that the election has been decided, buyers are regaining confidence and we are starting to see normalcy in all segments of the market," Grossman continues. "I have already seen several properties go to contract above $10 million, $20 million and even $30 million within days of the election, and other buyers submitting bids in that range. That said, the contract prices were made with negotiation."
In general, Grossman says, "Sellers want last year's prices, and the buyers want next year's. The deals that are happening now are in the middle of that equation."
What was more popular last year – co-ops or condos? While as a rule new co-ops haven't been built here for years, there are still more co-op units overall than condos in New York City.
Michael Slattery, senior vice president of research for the Real Estate Board of New York (REBNY), reports that there were approximately 14,900 co-op sales and 10,200 condo sales recorded in 2016, even though the majority of newly-built apartments for sale are condos. Park says that while some buyers have gravitated toward co-ops when they realized they couldn't afford a condo, in general, the two types of housing appeal to different types of buyers: "Co-ops appeal to buyers looking for a long-term primary residence, while investors and buyers looking for flexibility opt for condos."
"There are more condo sales than co-ops," says Kirk Henckels, director of the New York City-based Stribling Private Brokerage, "even though there are more co-ops than condos."
Look at the Numbers
In general, comparing the market with what it was 10 years ago and again what it was five years ago, experts agree that a decade ago, it was very strong, but the burst of the housing bubble was only a year or two away. Five years ago, we were emerging from the downturn with a strong market, and that positive trend has continued.
As Slattery comments, "Ten years ago, in 2007, the market was great – but it was in for a shock. Five years ago we were emerging from the Great Recession. Today, the market is strong, and we expect the good news to continue."
Looking at the numbers, REBNY's fourth-quarter 2016 report shows a moderate quarter, but one that still finished out a year of historic highs. The average sales price of a home, whether a co-op, a condo or a one-to –three-family dwelling in the city, rose 10 percent over the same period of last year. According to the report, "The increase was driven by high-end condominium sales, which brought the average sales price of a Manhattan condo unit to a peak of $2,963,000 this quarter. The average sales price for a condo in Brooklyn increased 12 percent, to $983,000."
In addition, the average sales price for a Queens condo unit was $535,000 – a two percent increase over last year's fourth quarter average.
As far as co-ops are concerned, the average price of units in Manhattan and Brooklyn decreased five percent from the fourth quarter of 2015 to $1,170,000 and $465,000, respectively. The average sales price of a co-op in Queens rose seven percent to $276,000, according to the report, while the average sales price of a Bronx co-op decreased 2 percent to $239,000.
De Blasio and the 2nd Avenue Subway
Mayor Bill de Blasio has been in City Hall for several years, and despite the initial fears of some, he seems to have established a good relationship with many important players in the real estate industry. As some will recall, in early 2014, soon after he was elected, he met with REBNY representatives in a closed-door meeting, and afterward several members praised him and his proposals.
The mayor's proposal for a streetcar line linking several neighborhoods in Brooklyn and Queens—backed by some key Brooklyn developers—is controversial, but it remains a future possibility. As far as 'facts on the ground' are concerned, the biggest recent development in New York City transit is certainly the opening of the first section of the long-awaited Second Avenue subway, which made its first run on New Year's Day. The line's three new stations, at 72nd, 86th and 96th streets, serve the eastern part of the Upper East Side known traditionally as Yorkville.
"The eastern Upper East Side has always been a suppressed market, a value market," says Henckels. Now, he says, the area "is a good place to buy," and "you will see a re-gentrification of that area."
Others active in the industry concur. Grossman says that the subway has made a huge difference in the area, and that Halstead has had buyers asking about Yorkville specifically because of the new subway access.
Park, of the Level Group, believes that although the subway stations will definitely increase real estate values near East 72nd and 86th Streets, "I think the biggest impact will be near the 96th Street stop. With access to a subway, people who would have never considered living so far north may reconsider for the right price, and knowing they can hop on the subway and get across or downtown in no time."
It will be interesting to see whether the next phase of the subway, reaching into East Harlem, will have the same effect, although it almost certainly will take years to complete, just as the first phase did.
Luxurious Amenities and 'Hot' Neighborhoods
As always, buyers—particularly those at the upper end of the pricing scale – want more amenities. Henckels says that millennials in particular want "ease of life." "We used to think of New York as being made up of many little neighborhoods. Now, they want their neighborhood in their own building," he says, meaning that apartment-seekers in that age demographic want a variety of services all under one roof.
Park says she's seen a greater emphasis on "amenities that cater to families, pets and ultra-modern-day conveniences—over-the-top children's playrooms, stroller parking, pet spas or indoor dog runs, wine-tasting rooms and squash courts. The developers have really had to step it up a notch to entice buyers and tenants."
Gary Malin, president of the brokerage firm Citi Habitats, echoes Park's assessment. "Many of today's buildings offer residents a complete lifestyle. Lavish pools, fitness facilities and spas, plus screening rooms, playrooms, art studios and even golf simulators have become (no pun intended) par for the course." He added that many high-end buyers are requesting units with "art walls," meaning large, uninterrupted stretches of blank wall on which they can showcase their art collections.
What neighborhoods are considered hot today? Once again, the REBNY report gives us a clue. For example, in the fourth quarter, the average sales price of a condo in Midtown East increased by more than three times to $6,266,000 compared to the fourth quarter of 2015. This uptick, the report says, was largely driven by sales at 432 Park Ave., where there were 15 sales in the quarter.
Similarly, in Brooklyn, the average sales price of a Williamsburg condo increased 18 percent to $1,193,000. As in Manhattan, closings at one development—429 Kent Ave. – accounted for a large percentage of these sales, a whopping 72 units
And in Queens, Flushing saw the most condo activity, with 68 sales – an increase of 10 percent from the fourth quarter of 2015. The neighborhood with the most co-op unit sales was Rego Park/Forest Hills/Kew Gardens, which had 323 unit sales, a five percent increase from the fourth quarter of last year.
Maintaining Value
As far as value areas are concerned – areas where prospective buyers should be looking if they want to get the most of their money and retain high selling value down the road – the professionals interviewed for this story mentioned a variety of neighborhoods. These include the area near the Second Avenue subway, the East 50s near the East River, the old Fur District in the upper West 20s and lower West 30s in Manhattan, Greenpoint and Bushwick in Brooklyn, and Long Island City, Queens.
Grossman of Halstead Properties says the biggest value in the market today is not a particular neighborhood, but rather a type of apartment – co-op apartments. "[Cooperatives] are often in established neighborhoods, the apartment layouts are typically generous, and the monthly carrying costs can be very favorable. Compared to condominiums, they are very well-priced."
He also has an interesting answer to the question of what constitutes a bargain in New York real estate: "A bargain," he says, "is finding a home that you love living in."
Forecast
Going forward, industry insiders see the year 2017 as continuing the basic upbeat trend of 2016, with some stipulations.
Park believes that buyers will enjoy "a bit more breathing room, and the less frenzied pace of the market." The ultra-luxury market, she says, will continue to see easing, but the market for properties at $2 million and under "will still remain busy because of the limited inventory, and perhaps a little pressure from rising interest rates." Grossman says that "Buyers are definitely back in the market – but they are not overpaying, and they are looking for value."
All in all, New York City will still be seen as one of the most attractive places to live in the country, if not the entire world. For 30 or more years, young professionals who were brought up in the suburbs have been moving back to the city, and there's no indication that this trend has any intention of slowing down. In addition to young professionals and families, Baby Boomers often see living in the city as an attractive alternative to moving to Florida or Arizona. The city's cultural attractions and high-profile industries are always a selling point, as is its 24-hour entertainment scene. And let's not forget that, according to the Brennan Center for Justice, New York is still the safest big city in America.
Ranaan Geberer is a freelance writer and reporter, and a frequent contributor to The Cooperator.