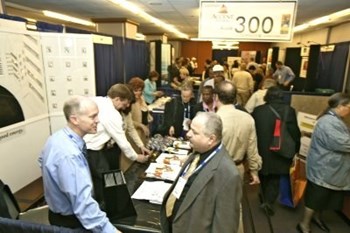 For the past two decades, The Cooperator's annual Co-op & Condo Expo has been a destination event for anyone and everyone associated with the tri-state area's co-op and condo building communities. Vendors, service providers, board members, building staff members and residents alike have been coming to the Expo since 1987 to learn about new products and technologies, exchange information, network and improve how their buildings are run.
This year's Expo was no exception—4,000 attendees mobbed the New York Hilton on Wednesday, April 25th to browse in nearly 300 exhibit booths spread over three floors and sit in on any of a half-dozen educational seminars.
"The goal of the Expo is to provide a setting for managing agents and building board members to network with vendors and service providers and to gain information that will ultimately help them run their buildings better," says Yale Robbins, president of Yale Robbins, Inc. and publisher of The Cooperator. "That our event grows larger and diversifies its offerings every year is proof that we're accomplishing what we set out to do."
Perennial Favorites
Back for a repeat performance in 2007 were some favorite features from previous Expos. The ever-popular NuVisions cyber café was in full swing on the top floor of the show near the bustling food court, and the array of industry professionals who generously donated their time to man the free advice tables found themselves very busy, as usual. This year, the attorneys volunteering their time were joined by mortgage lenders, accountants, managing agents and insurance brokers, as well as a building systems expert, all of whom took time from their own busy schedules to field questions from attendees. Those questions ranged from issues of board impropriety to whether now is the time to refinance a co-op's underlying mortgage and everything in between.
Of course, no Expo would be complete without drawings and giveaways—this year, lucky visitors won gift certificates, transit passes, an iPod and the Grand Prize, a month's worth of free maintenance, courtesy of The Cooperator—which was taken home by Mark Froimowitz of the Bronx.
New Offerings
This year marked the expansion of the Expo to three floors from just two the year before, and brought nearly a thousand more attendees to exhibitors' booths.
"We're always impressed with the sheer numbers of people who come to the Expo, and I think our exhibitors are as well," said Henry Robbins, vice president and director of sales for Yale Robbins, Inc. "It's an excellent opportunity for managers and board members to meet face-to-face with professionals in the industry, and to expand their own knowledge and resources."
2007 also saw the introduction of some new attractions at the show—among them the debut of The Cooperator's first ever Co-op/Condo Bookstore on the first floor of the exhibit hall.
The bookstore was stocked with a wide array of titles, including historian Andrew Alpern's Luxury Apartment Houses of Manhattan, Neil Binder's Ultimate Guide to Buying and Selling Co-ops and Condos in New York, The New York Co-op Bible and The Mortgage Encyclopedia. Especially popular were pocket-sized copies of Robert's Rules of Order, a must-have for anybody who's ever tried to run a board or shareholders' meeting. A number of the bookstore's featured authors, including 740 Park's Michael Gross and High Rise Low Down's Denise LeFrak Calicchio and Kathryn Livingston, were on-hand, in person to talk about their work and sign copies for attendees.
Learning from the Pros
Also reappearing this year—though in an expanded format—were The Cooperator's extremely popular educational seminars. Six different sponsors presented seminars this year, up from four in 2006.
Kicking off the day was Meridian Capital, where senior associate Steven Geller presented "Funding Capital Improvements" to a packed audience. Geller presented an overview of the current lending market, offered thoughts on where interest rates might be going (as well as decades of perspective on where it's been), and then fielded questions from the audience about their own buildings' financial outlooks.
After that, Con Edison Steam Division's Patrick Wheeler and his associates presented "Challenges and Solutions in Heating and Cooling Residential Properties." The Con Ed team started the seminar with a slick video presentation, and then launched into the meat of the session, offering an array of strategies buildings could use to optimize their physical plants and conserve energy.
At noon, Robert Welch and Joseph Sasala of Hess Corporation presented "Surviving the New Energy Reality," illustrating the state of the energy market to the audience and offering guidance for buildings that are looking for ways to cut their energy expenses in an increasingly pricey market.
After lunch, David Byrne of the law firm of Stark & Stark and Edward Corless of Wentworth Management presented "Understanding Association/Cooperative Governance" to a standing-room-only crowd. Once the speakers had finished their initial remarks, a line of shareholders and board members snaked around the room from the microphone as audience members stood to direct questions to the panelists.
"It was great to see so many managers, professionals, board members and condominium and cooperative members present to listen about fiduciary duty," said Byrne after the seminar. "It is such an important topic, especially in this day and age. The audience was engaged and full of great questions and comments."
Later in the afternoon, Verizon's Daniel O'Connell delivered his company's presentation, "Telecom for Value," which provided information on how voice, data and video services can be packaged and combined to increase convenience and value in both co-op and condo communities.
Rounding out the day, Jack Boyajian of ROA Hutton and a trio of associates presented "Co-op to Condo Conversion: A How-To." This final seminar focused on the delicate task of converting co-op communities to condominium status, and how to handle the transition each step of the way.
Overall, the seminars were extremely well attended, giving audience members plenty of helpful information and food for thought—as well as resources to call upon to help their own buildings. Seminar CD's are available for purchase by calling The Cooperator at 212-683-5700 or by emailing liz@cooperator.com.
Looking Forward…
Each year, the Co-op & Condo Expo has grown. From its modest beginnings in the early 1980's, the show has expanded to include an ever more diverse array of exhibitors and a broader cross-section of the city's co-op and condo dwellers. This year was no exception, and next year's show (to be held at the Hilton on April 29, 2008) promises to be larger and more all-encompassing still.
Stay tuned to The Cooperator, The New Jersey Cooperator, and the newly relaunched www.cooperator.com for information and important dates for both exhibitors and attendees for next year's Co-op & Condo Expo—we hope we'll see you there!
Hannah Fons is associate editor of The Cooperator.
Editor's Note: Mark your calendars for the 21st annual Co-op & Condo Expo on Tuesday, April 29, 2008 or visit www.coopexpo.com for more information.